11/15/06 09:37 AM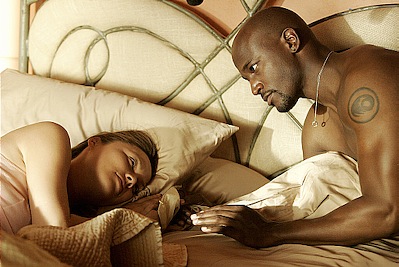 Taye Diggs & Moon Bloodgood: If only every day could stay this way.
Premiering:
Wednesday night, Nov. 15 (8 central, 9 eastern), ABC
Starring:
Taye Diggs, Moon Bloodgood, Victoria Platt, Meta Golding, Adam Baldwin, Ramon Rodriguez
Created by:
Paul Zbyszewski
By ED BARK
Groundhog Day
meets
The Fugitive
meets
24
meets
The Twilight Zone
. And that's the shorthand description of ABC's
Day Break
, scheduled to replace
Lost
for the next 13 weeks unless too many viewers find themselves way too puzzled to participate.
Taye Diggs stars as detective Brett Hopper, fated to repeatedly wake up at 6:18 a.m. in bed with sumptuous girlfriend Rita Shelten (Moon Bloodgood). It's the only good part of a day in which he's mysteriously charged with murdering a Los Angeles assistant district attorney. He'd better run for his life if he can, which he does. But Hopper can't escape his daily grind -- a rewind. He's beaten, shot, betrayed and traumatized, all before he's even had a chance to have his coffee. And then he's back in the sack again, wondering what course of action to take this time around.
"I'm just trying to get control of this day," the poor guy laments.
ABC is kicking off
Day Break
with a furiously paced two-hour pilot replete with gun battles, chases and bloodletting. All the while, Hopper's had a cautionary warning pounded into his psyche by a thug in a nylon stocking mask. "Just remember, for every decision, there's a consequence," he's told. "Decision. Consequence. Decision. Consequence."
The upside is that all of this supposedly will be resolved within 13 episodes. That's a welcome departure from fall's onslaught of stringalong serial dramas, some of which already have been canceled.
Day Break
, unlike
Lost
, is promising a payoff in relatively short order. Still, 13 episodes can be a long pull. And if you aren't there at the starting line, you almost certainly won't be around for the finish. Weekly "Previously on
Day Break
" summations just aren't going to cut it on a show where whatever happens one day informs what happens on the next. It might be easier to explain
Finnegans Wake
to Pauly Shore.
Hopper is the only one who knows what's happened all along. Pity his poor girlfriend, Rita, who has no clue and must keep being told to trust him. He has a very good reason to be ultra-concerned with her safety. You'll know what that reason is about one-third of the way through Wednesday's opener.
Diggs is solid and empathetic in the lead role. You want him to get to the bottom of all this. Still, it's going to be tough duty to stick with him. Many viewers might opt to say, "Good luck, man, but this is just too much for me." If that's the case,
Lost's
scheduled February return with an uninterrupted run of 16 episodes might be too long a wait for ABC.
Prospects:
Day Break
likely will open the door to even further audience gains by CBS' competing
Criminal Minds
. Still, it should at least be able to finish second opposite NBC's
The Biggest Loser. If not, the hook will be quick, with Day Break instead whiling away its days on ABC.com.

Grade: B