21/01/07 10:28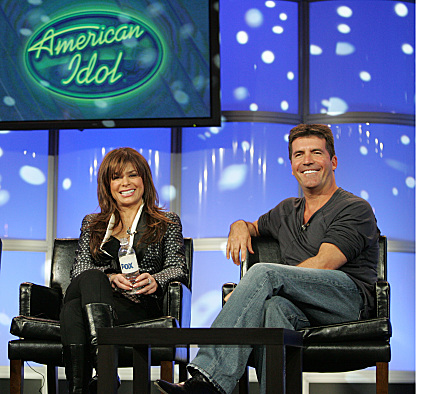 What, them worry? American Idol's Paula Abdul and Simon Cowell.
By ED BARK
PASADENA, Calif. -- Paula Abdul didn't play chicken with TV critics this time. Unlike last January, she showed up Saturday to address her latest mess.
Abdul's discombobulated satellite interviews with Fox TV stations have been a YouTube smash, particularly the one in which she seemed smashed while talking to a Seattle outlet. Seated next to a supportive Simon Cowell Saturday, Abdul still contends she was on the receiving end of technical difficulties that had her hearing voices from both Seattle and San Francisco.
"It's so silly. It's hard to explain unless you're in there," Abdul said after unclebarky.com opened the line of questioning in a packed hotel ballroom. "But it's very simple. I had two different cities in my ear. I was answering questions to -- apparently it didn't make sense to the person who was asking them."
Abdul also was swaying on camera and slurring her words. Here's her verbatim explanation: "I had no idea that there were two different cities. So when they started to have technical difficulty, I was holding on, waiting. And I'm in a swivel chair and I'm swiveling and I'm very animated with my hands. And had I known that, you know, it's cropped here and that I'm actually, oh, answering questions. It was very weird, because what you're hearing is not exactly who I was answering questions to. And I was waiting for the glitch to get better."
Let's not even try to make sense of that. At one point in the Seattle interview, Abdul blurted, "Any publicity is good publicity." And in fact that may be the case in her case.
Idol
was hotter than ever last week, opening its sixth season by averaging 37 million viewers for both its Tuesday and Wednesday audition editions.
"America loves her," Fox entertainment president Peter Liguori said earlier Saturday. "She's successful on the show. We're pleased with what Paula does for
American Idol
."
Liguori suggested that Abdul also might have been fatigued from three consecutive hours of satellite interviews with 30-some Fox stations.
"After that amount of time and questions coming from all angles, personally, I would probably be a little slap-happy at that point as well," he said.
So is she being worked too hard?
"One thing about Paula, she does a great job about managing her schedule," Liguori demurred.
Last January, Fox said that a last-minute eye infection prevented Abdul from participating as announced in an
Idol
panel. Critics had been prepared to ask her about allegations she'd had an affair with an
Idol
contestant who was still on the show at the time.
This time Abdul gamely hung in there, taking more questions from a gaggle of critics after the interview session ended. She even shooed away a Fox publicist, telling him, "I'm OK. I'm OK."
Abdul said it would be "a little paranoid and over the top" to think that people are out to get her. "But I do feel that somehow being nice has turned into a disease. My parents are nice. I'm a relatively decent human being."
The View's
Rosie O'Donnell has been ragging on her, too, giving Donald Trump a rest for a while.
"It's one of those things," Abdul said. "She doesn't know the truth. And I don't have any apologies to make. I didn't do anything wrong. If she wants to take shots like that, I can't make her not do that. I don't care. I really don't care. I work my butt off. I'm proud of what I've done, who I am."
Cowell said he wouldn't do
American Idol
without Abdul, fellow judge Randy Jackson and host Ryan Seacrest.
"We're all a bit nuts occasionally," he said. "We all say things we're going to get criticized for. But don't condemn someone for being a bit wacky occasionally, or whatever, because it makes it interesting. Otherwise it's going to be just a boring show, and I don't want to work with boring people . . . To me the whole thing (with Abdul) was overblown. I've done it so many times, these public interviews. By the end I'm talking complete and utter rubbish. And if anyone had put the same clip as me on YouTube or anything else, it would have been even worse."
Cowell and Jackson figure that
Idol
will survive because it's not
Survivor
-- or
The Bachelor
.
"It is a real reality show," said Cowell. "I mean, we're not handing out weird roses or talking about 'journeys'. "
"Nobody's eating any weird bugs in any weird jungle that none of us will ever be in," Jackson added.
Now if they can just work out the technical bugs on those satellite interviews. Not that anyone entirely believes that story.