Ready for its closeups? Tyler, TX going national in Fox's Anchorwoman
24/07/07 16:43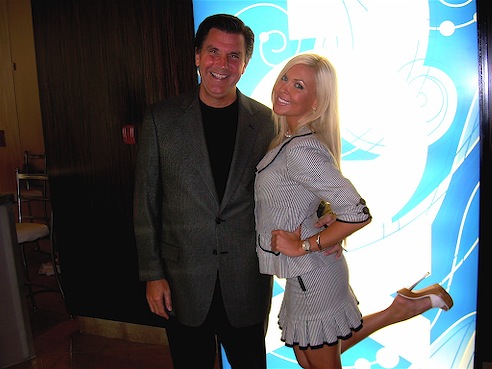 Leg up on the competition. Phil Hurley, president/GM of Tyler, TX-based KYTX-TV and made-for-TV anchor Lauren Jones Photos: Ed Bark
By ED BARK
BEVERLY HILLS -- Score one for Fox entertainment chairman Peter Liguori. He makes a hard-to-refute point when asked whether his network's latest reality concoction,
Anchorwoman
, might accelerate the ruination of television journalism.
"First of all, in Tyler, Texas, let's not forget there already is Stormy the Weather Dog," he told unclebarky.com.
This is true. And as
previously detailed
in these pages, Stormy is prominently pictured with Tyler's KYTX news team and happily barks at visitors to the station's website.
The mutt didn't particularly like former model and wrestling villainess Lauren Jones, though. They never got along during her recent one-month stint at the station, where Jones provided material for a five-episode "comedy/reality hybrid" scheduled to premiere on August 21st.
"He's a butt-head," Jones said of Stormy Monday night during a Fox party at the Santa Monica Pier's Pacific Park midway.
Earlier in the day, Jones, KYTX president/GM Phil Hurley and
Anchorwoman
executive producer Brian Gadinsky met informally with TV critics to mostly defend what they've done.
Hurley, who launched the CBS station in April 2004, is a likable and unabashed businessman whose main goal was to boost KYTX's ratings in the country's 111th biggest TV market.
"It's the first time that I've taken a model and turned her into an anchor-reporter," he acknowledged. "I'm still surprised at all the attention around the country on the journalism/entertainment issue. I've been around a long time and it's always been that way. It's entertainment, and we just weren't cutting any new ground here."
Not all of the station's news staffers signed on, but
Anchorwoman
has prominent roles for Stormy (who probably had little choice), news director Dan Delgado, and anchor-reporters Annalisa Petralia and Michele Reese. Pioneering Dallas TV anchor Judy Jordan ("she was a sweetheart," says Jones) also will be in the picture.
"We probably had two out of 25 that really didn't want to have anything to do with it," Hurley said. "And so we just excluded 'em."
Jones, 24, primarily anchored and reported on the station's new 5 p.m. newscast. A promotional clip from
Anchorwoman
shows her riding to the scene of a story while asking, "When we get where we're going, are we gonna like run out of the car and act all newsy?"
She's also shown learning the trade from news director Delgado, who tells her to stop winking at the TelePrompTer. And Jones is taken aback a bit after reading news copy that says, "Gunshots ring out at a Tyler nightclub."
"There's nightclubs here?" she asks.
Circled by TV critics Monday, the former "Barker Beauty" speed-talked her answers and challenged some of the questions.
"To hire a woman who's attractive to go ahead and do the news -- there's nothing wrong with that," Jones said. "We're boosting ratings, and to boost ratings is important for the show. I mean, I'm an educated woman."
She's also in the TV news game for keeps -- at least for now.
"I'm definitely going to stick with this career," Jones said. "If modeling opportunities arise, and I can do it as a hobby, so be it. But right now I am an anchorwoman, and I take it very seriously and want to continue my career for a very long time. I'm willing to do whatever it takes . . . In no way are we mocking journalism. It's my passion to become an anchorwoman, regardless of my background. I was given the opportunity, so I'm taking the bull by the horns."
Her idol is Katie Couric, with whom "I'm completely fascinated," says Jones. "I love her career and I've always wanted to emulate something comparable to that. She's a feisty, beautiful woman, and I'm very impressed by all the things she's had to endure and all this controversy and conflict. I feel like I can kind of relate to her at this point a little bit. Just a little bit. She sort of has more experience than me."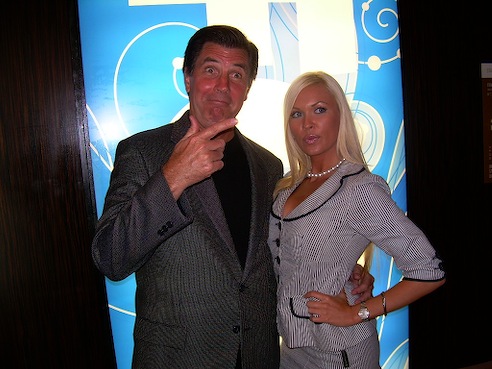 Hurley said that Jones has a standing offer to re-join KYTX as a full-time anchor/reporter. He doesn't expect it to happen, though.
"You want me to tell you what I think? I think she'll get a better offer than mine," Hurley said.
The Tyler area's Fox affiliate station, based in Longview, is unlikely to air
Anchorwoman
because it mainly promotes a competitor. All the better, said Hurley, who has permission from both Fox and CBS to air it himself. The show also could be seen by Tyler cable subscribers via Fox4 in Dallas.
Initial Fox promotional materials promoted
Anchorwoman
as the saga of a big-city sophisticate coming to Hicksville to cover "bake sales, cowpie-tossing contests and county fairs like they were Watergate."
The updated pitch pitch tries a different tack: "Can this bombshell make it as a serious reporter? Will she save KYTX, or make it the laughingstock of the Lone Star State? Lauren wants to show everyone she's no airhead, and this is her big chance to prove she's more than a pretty face."
Executive producer Gadinsky said he at first envisioned
Anchorwoman
as a variation on Fox's
The Simple Life
. But it came out more as
Legally Blonde
, with Jones as a TV newsroom equivalent of Reese Witherspoon's initially clueless Elle Woods.
"She came in and she kicked butt," Gadinsky said. "And others (in the newsroom) saw that very quickly, and they adapted to it . . . To my surprise, the overriding controversy is about this whole issue of journalistic integrity, which has sort of clouded the whole hayseed angle of going down to a small Texas town. But it's really not about Tyler. It's about the news."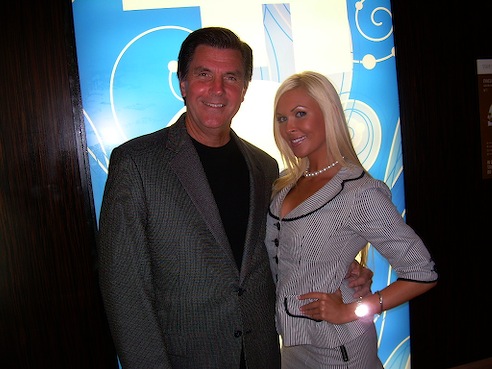 Fox's Liguori said that Jones' ambition to be a real-life news anchor is "at the core of where the storytelling is coming from. If she didn't go into it with that kind of approach, then I think the criticism would be further warranted. But she actually wants to develop the chops to do this. That's where a lot of the comedic tension of the show comes in, because it ain't easy.
"You see someone who's not a professional giving it a whirl and coming at it not from the Columbia School of Journalism but from the school of hard knocks. And I think that's a refreshing approach."
After a month of crash training, Jones said she now feels "no different than any other journalist that's currently on the news right now."
She began with "softer, lighter news stories" before working her way up to a piece on an allegedly drunken woman who hit a 16-year-old boy.
"That was tough," Jones said. "It was tough to see the blood in the street."
On the other hand, "We had fun in that newsroom," she said. "We sprayed a lot of cotton candy perfume."
Acting is a big part of the job, too, Jones said. And who can dispute her point that "the part of anchoring that's acting is when you're reading the TelePrompTer. Any anchor is acting as an anchor when they're doing the news, because you have to put on a certain persona. You have to play an anchor.
"It was more work than I expected, but it's not rocket science. You see it all the time -- former models who become journalists. This isn't news."
Jones now considers herself very much in play.
"All the stars aligned for me (with
Anchorwoman
)," she said. "But at some point this career would have happened for me, because it's been my passion since I was a little girl. So I welcome all offers."