26/07/07 13:46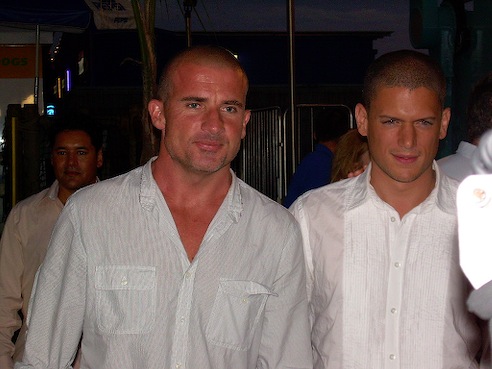 Prison Break stars Dominic Purcell, Wentworth Miller. Photos: Ed Bark
By ED BARK
SANTA MONICA -- We're at an amusement park on the Santa Monica pier. Where better to interview
Prison Break
's wild-riding Wentworth Miller and Dominic Purcell?
Miller's character, resourceful Michael Scofield, was last seen in a stinkin' free-for-all Panama prison housing a fine collection of kingpins, prostitutes, drug smugglers and full-blown degenerates.
"It's a
Lord of the Flies
scenario. It's mayhem," Miller says at a Fox party this week. "It makes Fox River (the penitentiary from Season 1) look like Club Med."
Production on Season 3 of
PB
began earlier this month, with Dallas and surrounding areas again serving as home bases. Last season was spent on the lam. Now it's back to basics.
"I figure the show's called
Prison Break
. Chances are there's going to be another break," Miller says. "These things have a way of coming full circle. People, at the end of the day, love prisons. It's what made us a success to begin with. So it's kind of a return to form."
Michael's brother, Lincoln Burrows (Dominic Purcell), now is on the outside looking in. That's a role reversal from Season 1, when Michael willfully became a prison inmate in order to engineer the escape of his incarcerated but otherwise protective older sibling. His roadmap was a full-body tattoo with a hidden road to freedom.
"Michael has no big brother to keep him safe this time, no tattoo to refer to," Miller says. "He's very much chum in the water . . . His hands are dirty at this point. A lot of lives have been damaged and even lost so that his brother could go free. Maybe there is a part of Michael that thinks being in prison is where he should be. That's the only way to atone for his sins."
In real-life, ex-
Prison Break
castmate and former Dallasite Lane Garrison pleaded guilty in May to vehicular manslaughter and drunk driving after an accident in Beverly Hills. He's facing up to six years, eight months in prison in connection with the death of a 17-year-old girl who was a passenger in his car.
"Lane and I have had a little bit of communication since everything that has happened," Miller said. "There's not a whole lot I can say except that I think he's handling himself with as much grace as possible considering the situation. It's obviously a tragedy, and my heart goes out to everyone involved whose lives will never be the same. Not least of all, Lane, of course."
Garrison, who's awaiting sentencing, recently told
People
magazine, "I realize I will live with a sense of guilt for the rest of my life."
Miller said he's acclimated himself to life in Dallas, where he's still living "not too far" from Southern Methodist University.
"Absolutely. There's still a lot to explore," he says. "I try to go out to these little towns on weekends and see what there is to see. It occurred to me on my summer break in L.A. that I don't live in L.A. anymore. I actually live in Texas for 10 months out of 12. So the reality is that Dallas is my home for the time being."
Purcell is of a different mind. For him, Dallas isn't so hot, even when it's not so hot.
Asked if he's enjoying the city, he says, "No, of course not. I'm away from home. But that's part of the deal. I get to play, I love what I do and I get good money. I'm not gonna sit here and whine and bitch about how bad my life is because I'm in Dallas. It's hard being away from my kids and the surf and water and stuff. But it is what it is."
Season 3 of
Prison Break
will be "by far" better than the first two, Purcell says.
"Everyone was concerned whether or not we could maintain the fun of it, the creativity and the dimension. Quite frankly, I thought the second season kind of dragged in the ass a bit in the middle and towards the end. This year it's going to be hard not to be entertained."
Purcell's Lincoln Burrows now is intent on freeing his younger brother from a prison full of "psycopaths and nut cases."
They include three
Prison Break
regulars -- FBI agent Alexander Mahone (William Fichtner), former penitentiary guard Brad Bellick (Wade Williams) and super-sadistic Theodore "T-Bag" Bagwell (Robert Knepper).
"Mahone's losing his mind because he doesn't have his pills, Bellick's walking around in a diaper and T-Bag is just the personification of evil," Purcell says.
Lincoln supposedly will be less stoic and monotonic this season this season.
"It's going to be a different Lincoln," says Purcell. "He's a free man but he's still got to get his brother out. We're going to see a lot more of his street smarts this year. He'll be a more charismatic kind of guy."
New episodes of
Prison Break
are scheduled to resume on Sept 17. As in the previous two seasons, Fox again expects to take a midseason break at the series' halfway point.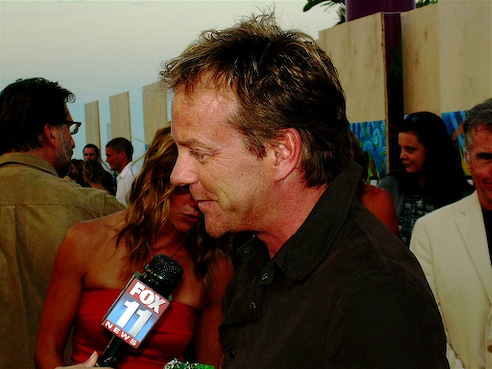 Accommodating Kiefer Sutherland talks up 24's seventh season.
***
24
's seventh season will find agent Jack Bauer CTU-less.
Its signature hub, the L.A.-based Counter-Terrorism Unit, "will be a factor in the fact that it's been disbanded," actor Kiefer Sutherland says.
Jack also will working for, or maybe against, a new woman president named Allison Taylor. Fox has named Tony Award-winning Broadway veteran Cherry Jones (
The Heiress, Doubt
) to play her.
"I was very proud that we had the first African-American president on television," Sutherland says. "I think a female president will give a very interesting political perspective for us."
The show's sixth season played dead for much of its second half in the view of many TV critics and fans. Sutherland says the first four episodes "were probably the best we've ever done to start the season. I also thought we closed the show really well, and we hit some rough roads around episodes 13 and 14.
"It's a very difficult show to write. We're accustomed to running into things that we don't all agree with. But by virtue of our schedule, we've got to plow ahead . . . I felt it was no different really than any other season. We've always had our strengths and we've confronted some bumps and hiccups."
24
's producers and writers begin each season with a basic road map, but "it's just that every year we've never stayed on the map," Sutherland says. "By the time we get to the last eight or so episodes, someone's got another idea and we veer off course. For the most part that's always been for the better."
Still, "we took the criticisms to heart" last season, he says. "We're not getting defensive about it. And there are some things we want to fix."
A
24
feature film is still planned, but "there's just no time" to make it until the TV version wraps up for good, he says.
"It's not a film that you could do in nine weeks" during hiatus.
24
will return in January, again on Monday nights.