Friday Night Lights: Are you (not) ready for some football?
18/07/07 08:24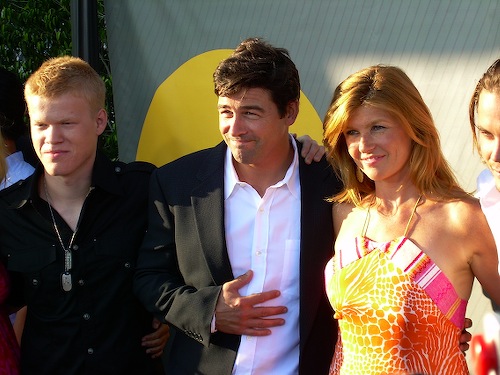 Friday Night luminaries Jesse Plemon, Kyle Chandler and Connie Britton make the scene at NBC's "All-Star Party." Photos: Ed Bark
By ED BARK
BEVERLY HILLS -- It's tough being
Friday Night Lights
. Everyone knows its premise is football. And there's the dilemma.
Even co-star Connie Britton, acclaimed for her performance as the coach's wife, has no use for all that smash-bang.
"I say with my head hung low, I'm not a fan," she said after
' Tuesday afternoon press conference broke up.

Britton joins legions of women in making that declaration. So would she watch the show if she weren't in it?

"That's an interesting question. I don't know. I think eventually, maybe, I would have gotten around to it. But our challenge is to really get people to realize that the football aspect of it is where this town's passion lies. And we all have passions about something. If people realize that, then they can get on board and know they're not going to be subjected to hours and hours of football, scoring, rah, whatever. I can't even talk about it."

Filmed in Austin and set in the fictional rural Texas town of Dillon, Lights kept being held for little gain in the Nielsen ratings during a first season that otherwise won it a George Foster Peabody Award and mostly uniform raves from TV critics. Cancellation always seemed imminent, but NBC belatedly gave the show a second season while switching it from Wednesdays to Fridays.

New entertainment president Ben Silverman faces the same challenge as his abruptly sacked predecessor, Kevin Reilly. He somehow hopes to persuade America that Lights is only peripherally about football.

"No more people in helmets," Silverman said of the NBC marketing division's "new attack plan" for the series, which returns on Oct. 5 after a first season DVD set hits stores at half-price ($29.98) on Aug. 28th.

Lights' freshman season got a heavy promotional push on NBC's Sunday Night Football. The network's sports czar, Dick Ebersol, now says that was a bad idea.

"It may be our best soap opera," he said. "I think we were part of an early mistake of letting people think it was too much about football, which was not good for the show."

Even Football Night in America co-host Cris Collinsworth, a former NFL receiver, has been coached to see Lights as "a Dallas or soap opera kind of thing. And that's what my kids like about it."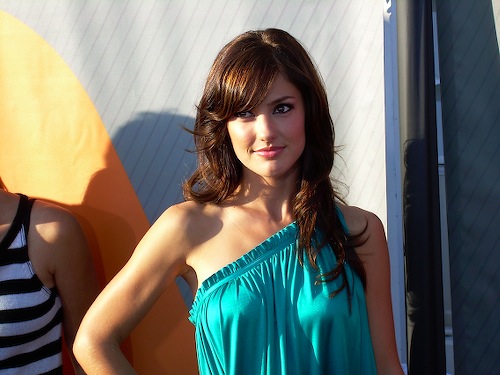 Minka Kelly plays "conflicted cheerleader" Lyla Garrity in Lights.
Last season ended with coach Eric Taylor's (Kyle Chandler) Dillon Panthers winning the state championship before he took a college coaching job in Austin.
Wife Tami (Britton), who stayed behind in Dillon, is in labor with the Taylors' second child as Season 2 begins.
"So that brings him (Coach Taylor) back for the first episode," said executive producer Jason Katims. "The next several episodes are really the story about this decision to live separately, and whether or not they made a mistake. So it's not like we're going to see five episodes where every once in a while they'll talk on the phone. They're going to be intensely connected from the very beginning."
Chandler, married for 11 years in real life, said he's "sort of bringing a little of what I know" to his challenging TV marriage with Britton. "I know how to be frustrated with a woman. I'm
good
at that."
He's also accommodated himself to Austin, where filming resumes next month.
"It's like doing a Tennessee Williams play on a stage outside down South as opposed to being in an air-conditioned studio in California," Chandler said. "There's a real energy. I don't know what the most exciting interview for you would be. But for an actor, the most exciting thing we can do is work on this show right now."
The Dillon Panthers will have a new football coach at the start of the season. An actor's been chosen, but the deal isn't quite done yet, Katims said. Former quarterback Jason Street (Scott Porter), paralyzed at the start of last season from an on-field injury, will be an assistant coach after graduating from high school.
"A great majority of the fan letters I get are from people who have suffered either a career-ending injury or any injury that is paraplegic or quadriplegic in nature," Porter said. "They say it's the most realistic view of a quadriplegic's life in a long time. I just take it as such a huge compliment."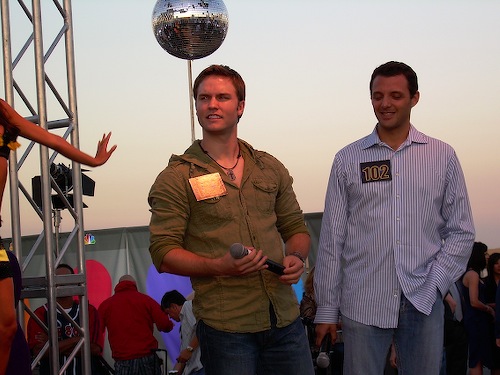 Lights co-star Scott Porter (left) gets ready for a Singing Bee competition at NBC's "All-Star Party" Tuesday night. He didn't win.
Porter's character, who remains determined to walk again, is buoyed after getting movement back in one of his hands early in the second season. This also leads to his reconnecting with former girlfriend Lyla Garrity (Minka Kelly) and renegade Panthers running back Tim Riggins (Taylor Kitsch), who used to be his best friend.
These are just a few of the many extracurricular activities designed to get
Lights
at least inching upward in the Nielsen ratings. NBC's patience with the show is commendable but not bottomless.
"We think this is a show that should reach a female audience as well," Katims said. "Because of the football thing, it's been a challenge for women to know that they would like the show. That's what we're trying to sort of overcome. It's really about marketing."
A TV critic from Philadelphia wondered whether it's "possible that people in the United States just don't want to look at Texas, just don't want to go there."
Katims, a native of Brooklyn who didn't play football, said he's nonetheless "decided to dedicate my life to the show. I feel like it's something that people will connect with."
Porter sees Austin as a real world alternative to "the hype machine of L.A. or New York. It just allows us to bring more reality to our characters. We just keep on investing ourselves in the city and the state of Texas . . . This is real life. This isn't a show that overplays all the drama."
That's called talking a good game. NBC and
Friday Night Lights
soon will learn if America at large is ready to play ball.