Screen savers: PBS presents another batch of talky "pioneers"
10/07/07 23:43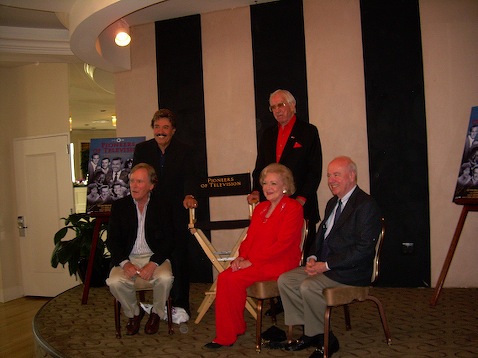 Museum pieces? Not yet. Still standing -- and seated -- are (left to right) Dick Cavett, Tony Orlando, Ed McMahon, Betty White and Tim Conway. But ill health waylaid comedian Phyllis Diller. Photo: Ed Bark
By ED BARK
BEVERLY HILLS -- Dick Cavett still has a way with words, but the so-called "intellectual's alternative" to Johnny Carson doesn't always set the bar as high anymore.
In the midst of a Tuesday evening photo shoot, he spurts, "Did you hear the one about the two bald guys who put their heads together and made an ass of themselves?"
His fellow "TV pioneers" -- Ed McMahon, Betty White, Tim Conway and Tony Orlando -- groan in unison as the cameras keep shuttering. Thanks for the memories.
The quintet is missing scheduled participant Phyllis Diller, who had a "very serious health issue" Monday, TV critics are told. Hoping to turn 90 next Tuesday, the self-deprecating comedian instead is represented in an old film clip in which she cracks, "I once had a peekaboo blouse. People'd peek, then they'd boo."
It's all part of an upcoming four-part PBS sequel to 2005's
Pioneers of Primetime
. That one-hour special followed a now storied TV "press tour" session in which cock-of-the-walk Red Buttons shredded Mickey Rooney with a fusillade of barbed jokes while a game Sid Caesar grinned from his wheelchair. It turned out to be Buttons' last big hurrah. He died in July of last year at age 87.
Tuesday's oldest attendee is Betty White, 85. She's mostly content to let the others yap, particularly Cavett, 70, and Orlando, 63.
Cavett, proud to have been on Richard Nixon's enemies list ("I'm glad the sonofabitch is still dead"), isn't all that thrilled to be called a pioneer.
"I expected us to all enter in a covered wagon with Daniel Boone makeup on," he says.
Orlando, who hosted the first "multi-ethnic" variety show with "Dawn" (backup singers Telma Hopkins and Joyce Vincent Wilson), tells an exceedingly long but colorful story about how guest star Jackie Gleason pointedly derided the group during rehearsals.
"I hear him say, 'Who's this 'Amateur Night in Dixie' and these two
shvatzes
?' " Orlando recalls. "It was in a show business kind of way, so it wasn't in a racial way. But I was appalled by it."
New to television, Orlando nonetheless demanded an apology from "The Great One," who supposedly retorted, "I'm outta here, pal."
But Gleason stuck around, as did his gofer with a ready pack of smokes.
"All he ever did was follow Jackie around," Orlando says. "He had an ascot and a plaid jacket and a plaid shirt. It was horrendous. And Jackie would snap a finger, and the guy would open his Parliament box, and he'd push three Parliaments up and hold it for Jackie. And Jackie would take the pack, and the guy would hold a lighter."
But Orlando keeps promising a "good ending" to the story, which winds through fellow guest star Nancy Walker's heroism (she smacked Gleason during a production number), more toadying from the Parliament guy and the host's fears that he'd never work again in television.
Gleason eventually summoned him to his dressing room, where he was making himself a stiff libation.
"The sound of the glass as he's mixing his drink still reverberates in my brain," Orlando says.
He ordered Orlando to open one of the show's script books to the first page. And there he had written, "Dear Tony, I apologize. I was wrong. You were right. How sweet it is to tell the truth."
The big Hollywood ending -- Orlando still has the script book -- draws applause and then another crude one-liner from Cavett.
"I think we should caution ourselves that, despite Tony's story, there are schmucks in our business," he says.
Despite his trials with Gleason -- and Cavett for that matter -- Orlando frets that today's show business stars are too self-involved.
"I see too much bickering and too much putting down and too much irreverence in the comedy," he says. "There is a lot, and I think, too much maliciousness, in television."
Conway, 73, picks his spots, finding an opening when White is slow to answer a question on whether retirement is "out of the question" for her.
"Is getting a hearing aid out of the question?" he asks before White says she "just can't imagine what retiring would be."
McMahon, 84, continues to worship at the altar of the late Carson, with whom he teamed for 30 years on NBC's
Tonight Show
.
"No one will ever come near Johnny Carson as far as I'm concerned," says McMahon. "He was really the king of late night. And, no offense, Dick Cavett, but you know he was the best."
"Oh, and how we miss him," White adds.
"Who the hell are we talking about?" Cavett asks before launching into a story about how Carson once told famed party-giver Irving "Swifty" Lazar that "Dick's the only one who could beat me -- if he were on a real network."
Cavett instead was on then woeful ABC, where Carson cleaned his clock in the Nielsen ratings. No matter, says Cavett, because "once or twice I genuinely broke Johnny up with the biggest laugh you could imagine . . . Can I tell you the one that was my favorite?"
There is, of course, no stopping him. While guesting on
Tonight
, Cavett was asked what he had coming up next.
"And the gods came into my head. And I heard myself say, 'I'm working on a sitcom. It's a humorous version of
Gilligan's Island
.' "
It's still plain to see that Cavett was and is no Johnny. But he sure can be a Dick sometimes.