Never-ending story: Keith Olbermann vs. Bill O'Reilly -- Round Gazillionth (But still entertaining)
18/07/07 15:07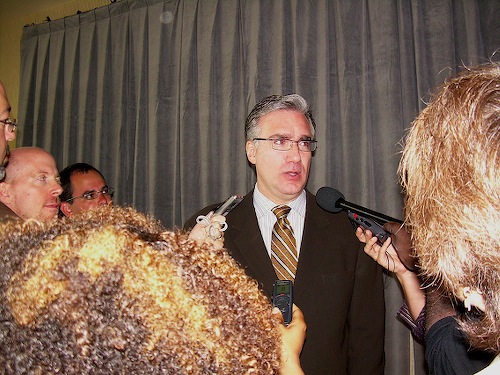 Keith Olbermann throws a few more logs on his continuing firefight with Bill O'Reilly after earlier striking a match. Photos: Ed Bark
By ED BARK
BEVERLY HILLS -- Last summer he brought a Bill O'Reilly cardboard mask with him to the annual Television Critics Association "press tour." This week he waited to be asked about the man he regular dubs the "Worst Person in the World" on MSNBC's
Countdown with Keith Olbermann
.
"My gratitude to him has increased with every passing week, Olbermann said of Fox News Channel's most popular personality, whose
O'Reilly Factor
airs opposite
Countdown
on weeknights from 7 to 8 p.m. (central). "I used to say that I owed him a percentage of my salary . . . And now it's just, 'Good ol' Bill.' Writes half my material for me.
"Every time he does not say my name but tries to pretend he's shooting somewhere around me at the NBC family, somebody writes an article about him that includes me in it. It's to some degree the way a virus feels about the host."
After the formal interview session, Olbermann received thanks from a Denver television critic who was tracked down by one of the
Factor's
staffers after she wrote something critical of O'Reilly and then declined to appear on his show. Olbermann, of course, sounded off about it on
Countdown
.
O'Reilly's aversion to most criticism is the mark of a man who has "personal doubts about whether what you're doing is right," Olbermann opined to a small circle of critics. "If the writer hits a nerve, you might just briefly go off the deep end. Especially if you're already tending towards the deep end, as I think he sort of is."
Olbermann has bounced around a bit before finding his niche with MSNBC. He even worked briefly for Fox Sports.
But O'Reilly's "nomadic career makes me look like a one-team employee," Olbermann said. "How many places did he not succeed? Obviously he's always been fully convinced of his own superstardom. When success comes after that much failure, you wonder, 'Why this time did it work?' And it's quicksilver in your hands . . . You lose a sense of proportion, where any criticism can get you so angry that your logic suspends itself."
Olbermann finished with a roundhouse right, comparing O'Reilly to Sen. Joe McCarthy, the late, discredited Communist "Red"-hunter of the 1950s.
"Joe McCarthy has people to this day who say of him, 'He was right. He really was a great American.' I'm grateful that Bill O'Reilly is on television. I mean, what if he were in Congress? There's always been a little room for some crazy demagogues."
O'Reilly, as with another of his antagonists, Al Franken, does not address Olbermann by name. Olbermann said he's never met O'Reilly either, although they've attended a few large public functions together by happenstance.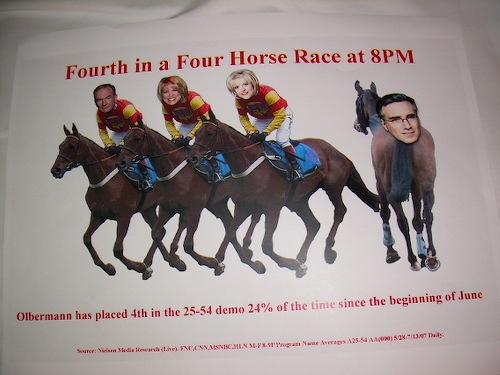 Still, a one-page rebuttal (above) did find its way into the Beverly Hilton press room shortly after Olbermann's session with critics.
Fox News Channel denies being behind the jockey depictions of O'Reilly and CNN's Paula Zahn and Nancy Grace, with Olbermann's face relegated to a horse's behind. But no one fully believes that, especially in light of previous FNC attack materials sent to reporters under the proviso that they not in any way be linked to the network.
Olbermann said he was on vacation for roughly 25 percent of June, which could explain why his show ran fourth for a quarter of that month in the key 25-to-54-year-old advertiser demographic.
Countdown
generally finishes second to
The O'Reilly Factor
, and has gained ground since the two shows began collision-coursing in April of 2003.
***
Olbermann will be moderating an August 7 debate among the major Democratic presidential candidates. The 90-minute faceoff, one of many so far, will originate from Chicago's McCormick Place West.
In contrast, Fox News Channel so far has been unable to persuade Hillary Rodham Clinton, Barack Obama or John Edwards to participate in an announced Sept. 23rd Democratic debate being co-sponsored by the Congressional Black Caucus.
"I don't know whether I would have advised them to avoid free television time, whether it's on Fox or Al Jazeera," Olbermann said of the Democrats. "Realistically if you can get somebody listening to you, that's probably the most important component. But I don't think this is an endorsement of any kind (of MSNBC)."
***
CBS entertainment president Nina Tassler confirmed Wednesday that actor Mandy Patinkin abruptly has decided to leave the network's
Criminal Minds
rather than show up for the production start of its third season.
Patinkin likewise left CBS'
Chicago Hope
in the lurch earlier in his career.
"Right now it's a personal issue," said Tassler, who repeatedly declined to specify any further. "And in the legacy of
ER
and
Law & Order
, the show will go on."
Patinkin's press statement, released earlier this week, cited "creative differences" as his reason for leaving.
"Well, I think 'creative differences' is a euphemism for 'personal issues,' " she said with a wink and to laughter.
Tassler said she hoped that Patinkin will elaborate in the "very near future." He's scheduled to appear in one more episode of
Criminal Minds
, likely the show's second episode, to wrap up his characterization of criminologist Jason Gideon.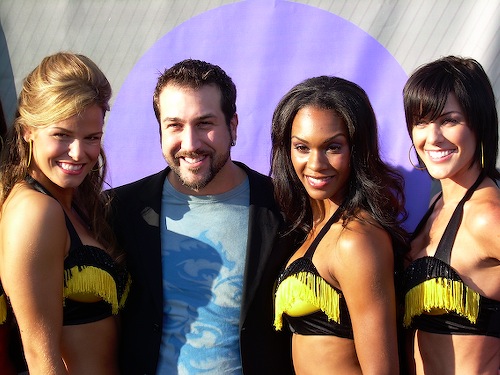 Singing Bee host Joey Fatone strikes a pose with the hit show's dancing "Honeybees" during NBC's "All-Star Party" Tuesday evening.
***
Half a year ago Joey Fatone might have had trouble getting a prime booth at Denny's. Now he's hosting summer's suddenly hottest show, NBC's
The Singing Bee
. Placing second on
Dancing with the Stars
can do wonders for a NSYNC singer who'd been going nowhere fast.
"Of course it was a great kick in the butt for me," he said.
Olympic skater Apolo Anton Ohno took the show's gaudy mirror ball trophy, but Fatone has profited far more from
Dancing
's priceless exposure .
"You give credit where credit is due . . . It's been a good shot in the arm for me to get boosted and to be able to jump-start my career again," he said.
Singing Bee
already has been fast-tracked to NBC's fall schedule. It will follow bloated 90-minute editions of NBC's
The Biggest Loser
on Tuesday nights at 8:30 (central).