Fighting through it: Ken Burns' The War makes peace
11/07/07 19:48
Ken Burns beams after selling critics on The War. Photo: Ed Bark
By ED BARK
BEVERLY HILLS -- He's apparently dodged a bullet.
Ken Burns'
The War
will grow by about a half-hour to appease critics who objected to its virtual exclusion of Hispanic veterans. Public television's franchise filmmaker met with TV writers Wednesday to both tout the seven-part documentary and explain what's being added to it.
"We've done more than we were asked or expected to," he said of extra footage that will run during the closing credits of episodes one, five and six. It mainly consists of interviews with two Hispanic World War II survivors and one Native American.
"It's as far as we can go," he told a packed hotel ballroom during the PBS portion of summertime's annual TV "press tour." "There are a lot of different people with a lot of different agendas . . . We listened as hard as we could."
The War
ostensibly was completed a year-and-half ago, with Burns showing the roughly 15-hour "documentary epic" in its entirety at the recent Cannes Film Festival. But various Hispanic groups and leaders got word that they largely were being left out. PBS president and CEO Paula Kerger said she then left it up to Burns to react in whatever way he chose.
"I have stood by Ken and the story that he wants to bring to the American public," she said earlier Wednesday. "When we first heard from some organizations, I told them that the film was completed, because at the time he had pretty much put the film to bed. But when he made the decision that he wanted to add material, we continued to stand by him."
Burns, 53, has been public television's Steven Spielberg ever since
The Civil War
wowed the masses in fall 1990.
The War
is scheduled to premiere on Sept. 23rd, 17 years to the day that
Civil War
opened to uniform critical acclaim.
"We didn't want to do another film on war after
The Civil War
because it hurt so much," Burns said after the formal session. An estimated 60 million people gave their lives during WWII. One of them wasn't Quentin Aanenson of Luverne, Minn., who flew 75 combat missions over Europe. He joined Burns on a hotel ballroom stage to talk about some of his experiences.
"Once you get down into the intensity of what war is really like, just by the nature of it, it is anti-war," Aanenson said of Burns' unsparing depiction of combat and carnage. But WWII was a "necessary war," as the film also states. And Aanenson has never wavered from that view, despite the nightmares he still has.
"A lot of mistakes were made," he said. "But the end result did more for this country than anything I can think of in our history."
Luverne is one of four towns through which WWII is relived. Also included are Mobile, Ala., Sacramento, Calif. and Waterbury, Conn.
Veterans of "the worst war ever" mostly had kept it to themselves until Tom Brokaw's
The Greatest Generation
books enticed many to talk. The first was published in 1998, with Aanenson eventually opening up. But why silent for so long?
"I think it was probably the degree of stress and trauma and what those days were like," Aanenson said. "So I think we just learned to draw it inside ourselves and deal with it that way. And that is not necessarily the best way."
Brokaw's books weren't the impetus for
The War
, said Burns, who began working on it six-and-a-half years ago.
"A lot of people began speaking to us, and telling their stories in part because 9/11 sort of opened up stuff," Burns said. "But Brokaw had done that a few years before. He had taken this unusually reticent generation and kind of gave it permission to speak, and they did. I think we've all been beneficiaries of that."
"The gift he made to all of us was he gave us a title," Aanenson said. " 'The Greatest Generation.' True or untrue, I can't say."
Also of note is
The War
's soundtrack, which includes both period pieces and Norah Jones' heartfelt performance of the contemporary "American Anthem."
Its main refrain -- "America, America, I gave my best to you" -- still cuts straight to the heart.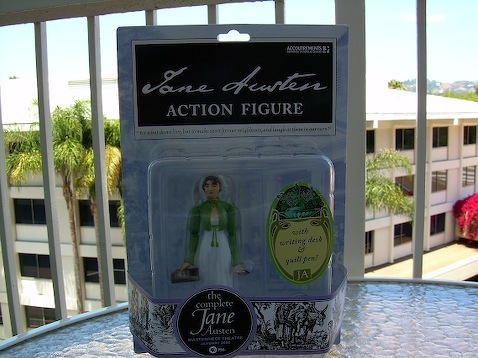 Sunning on the balcony: Jane Austen's "Action Figure." Photo: Ed Bark
PBS's
Masterpiece Theatre
won't be messing around when it comes to Jane Austen. Starting on January 13th, look for a four-month marathon dedicated to England's most famous spinster.
The Complete Jane Austen
will offer new dramatizations of four novels and reprises of her other two,
Emma
and
Pride and Prejudice
.
"What she wrote and when she wrote it was like
Sex and the City
in the 18th century,"
Masterpiece
executive producer Rebecca Eaton said Wednesday. "It's a little bit like extensive hand-holding in the country, but it's the same idea."
In real life, plain Jane was an introvert who lived with mom and dad her entire life and died at age 41 in 1817 after writing all six books in six years. Lately she has 3,000 friends on MySpace and an "Action Figure" with her own quill pen and writing desk. To quote Jane: "I do not want people to be agreeable, as it saves me the trouble of liking them."
Well said, girlfriend. You're going to be great company for the next 16 days.
***
Car Talk
hosts Tom and Ray Magliozzi will become cartoon characters next summer in an as yet untitled PBS series.
The NPR radio mainstays will be voicing "Click" and "Clack" in 10 animated episodes co-starring a wacky crew of mechanics and co-workers.
"We want to apologize in advance to Jim Lehrer, Bill Moyers, the folks at
Frontline, Nova
and
American Experience
for the damage we are about to do to your network's reputation," the brothers say in a statement.