Star Jones: Trying not to be the biggest loser after a lightweight interview
16/07/07 15:11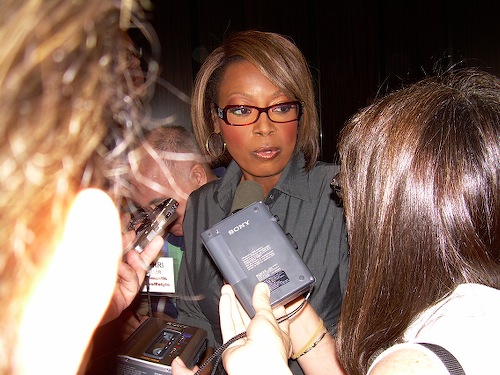 Surrounded by reporters, Star Jones keeps talking. Photos: Ed Bark
By ED BARK
BEVERLY HILLS -- Cynically, it's damage control; charitably, it's a do-over.
Star Jones sought to recover from a semi-distrastrous press conference Sunday by doing remedial one-on-one interviews in her top floor hotel suite with a handful of TV critics.
Her new talk show for Court TV premieres on Aug. 20th. But the post-game talk was all about Jones' almost shockingly slim new look and her refusal to specify in any way how she "lost a whole person."
"I just find it fascinating that you all are so curious," Jones, 45, later told unclebarky.com. "If I start sitting on my butt and watch
The Closer
reruns every day, I'm going to start to spread. I'm not an idiot. I have to get some exercise every day. I have to choose what I eat. I don't over-indulge, but I do eat the things I love. When I came to L.A., I had a Pink's hot dog. Who wouldn't? But I didn't have three. That's the difference."
Jones, dumped by
The View
in June of last year, initially got into trouble by dodging the issue.
"In the coming months I think that I will have answered every question that you want the answers to," she told a roomful of TV critics about her dramatic weight loss. "I guarantee you no one will ever have to ask those questions again . . . I will address it in a more appropriate forum. I think it's a fair way to put it, and not address it right here."
The questions persisted, of course, primarily because Jones at first gave the impression that she had brokered an exclusive interview.
"I don't want to ruin somebody else's opportunity that we've put out there," she said. "C'mon, guys."
The cat-and-mouse game continued until an exasperated critic bluntly asked Jones, "Do you realize the public relations damage you've done by being coy about this upcoming interview?"
Jones could have waylaid such questioning much earlier by revealing that it's not an interview at all. Instead she's written a first-person column for the September issue of
Glamour
magazine that will detail how she dropped from 300 to 150 pounds. But she waited until the last minute to name
Glamour
before adding, "I don't mind saying that at all."
Later, in her Beverly Hilton hotel suite, Jones still declined to say whether her weight loss in part is tied to surgery.
"But I am healthy," she emphasized. "For the people who care, I breathe easily, I exercise regularly. I am healthier than I've ever been, and this is a new beginning for me with this show. So I've turned the page. I want people to focus a little bit more on my brain and not on the size of my butt."
Jones said she had "offers up the wazoo" to do television interviews, although
View
grande dame Barbara Walters "didn't ask."
"I took the time to find me (both physically and mentally)," she said. "Sorry it wasn't on a PR schedule. It was on a health-care schedule. I didn't want to sit down in an interview format where there were some crocodile tears and people milkin' this for all it's worth. That's not me."
Jones said her television show won't be a vehicle to talk about the ups and downs of losing weight and keeping it off. Instead she plans to be her old opinionated self, albeit in a new body.
"I feel that the audience is going to respond to me if they feel like their Star is back, that I'm giving 'em the straight skippy," she said.
The View
is still looking for new bodies after losing Jones, Meredith Vieira and recently, Rosie O'Donnell.
"I was part of an amazing pop culture experience, and Barbara Walters gave me the opportunity of a lifetime," Jones told TV critics. "So I'm not going to do anything that damages that warm feeling that I had. I'm not going to pile on. I'm not going to partcipate in any of the silliness that might make excitement."
She's disappointed, though, that
The View
hasn't yet hired a "person of color" to fill a slot. "You need to make it look like the fabric of society . . . so that's the only thing that I would encourage."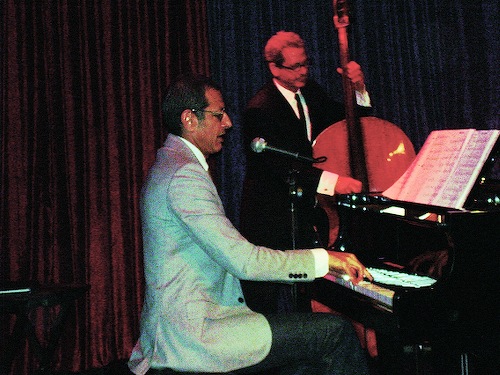 Onstage at the Beverly Hills Friar's Club, actor Jeff Goldblum and a group of fellow jazzmen play the theme to vintage TV series 77 Sunset Strip during a party for AMC's new 1960-set series Mad Men.
***
Matthew Weiner, co-executive producer of
The Sopranos
, is riding a new wave of favorable buzz for AMC's
Mad Men
, which premieres Thursday (July 19).
Set in 1960, it depicts a hard-selling, hard-living group of Madison Avenue marketers. Here's Weiner's perfectly delivered sales pitch, complete with punch line.
"I reached a certain point in my life where I started thinking about myself as a man and where I was and what I was feeling," he said Sunday. "And it had to do with New York at that period. And I looked at these guys, at this world, these men who were overpaid and drank too much and smoked too much and were glib and cynical and bit the hand that fed them all the time and showed up late and had no respect for authority. And I thought, 'These are my heroes.' "
Cigarettes are almost supporting characters in
Mad Men
. That's purely for authenticity, Weiner said.
"The truth is, it's part of the time travel, and it was ridiculous to try and tell the story without it. But you know, it's a self-detructive, horribly addictive habit that these people suffered from. And when I was trying to find these advertising guys who were there and talk to them about it, it was difficult. Because they're all dead."