End around: Sopranos' creator David Chase
22/07/07 17:07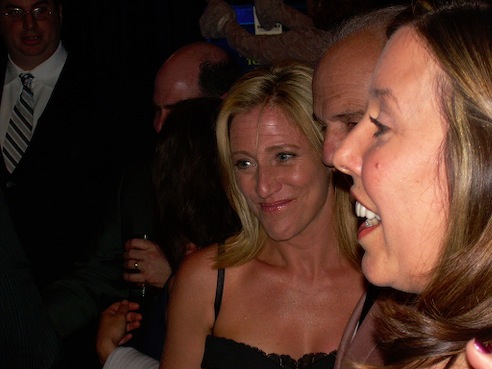 Closeup pictures of David Chase were very hard to come by at Saturday night's Television Critics Association awards. That's him in the middle, with star Edie Falco on the left. Photos: Ed Bark
By ED BARK
BEVERLY HILLS -- Bottom line, he showed up, jetting in from Paris no less.
David Chase, enigmatic creator of
The Sopranos
, otherwise wasn't about to mingle or make small talk with those who honored his show with a pair of Television Critics Association awards Saturday night. He arrived at the last minute, was swept to his appointed table near a hotel ballroom stage and then left before the last award was given. It's his privilege, and no one really took offense.
"Here's another clue for you all. The walrus was Pauly," Chase said in accepting
The Sopranos'
first trophy, for "Outstanding Achievement in Drama."
That's a reference to "Glass Onion" from The Beatles' White Album. For a while it fueled the urban legend that Paul McCartney had died and been replaced by both a lookalike and soundalike. Mobster Pauly Walnuts lives on in
The Sopranos
.
Chase later took the stage again to accept the TCA's "Heritage Award." He first turned to presenter Alan Sepinwall of the
Newark Star-Ledger
, whose paper got a series-long closing credit and was fleetingly seen in many episodes.
"It is very possible to be sitting in a restaurant in New Jersey, and everything stops," Chase said after turning to Sepinwall for confirmation.
Two of Chase's star players, Edie Falco (Carmela Soprano) and Lorraine Bracco (Dr. Jennifer Melfi), joined Chase onstage. But their leading man, James Gandolfini (Tony Soprano), didn't attend after meeting with critics the previous week to promote a new HBO documentary on wounded survivors of the Iraq war.
"Without him, there would have been no show at all," Chase said.
He ended by recalling his initial response to the original 1968
Planet of the Apes
movie after seeing it as a graduate student at Stanford University.
Chase's reaction: "Wow, so they had a Statue of Liberty, too."
"So that's what you're up against," he said in another indirect reference to the puzzling
Sopranos'
ending that still divides its fans.
Chase then left before NBC's
Heroes
received a closing award as "Program of the Year." He mirrors Gandolfini in his aversion to gladhanding or elaboration. So be it.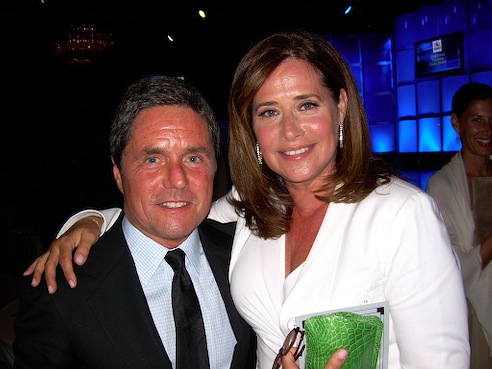 Lorraine Bracco with kingpin Hollywood producer Brad Grey.
Earlier in the evening, Alec Baldwin quickly cut to a Chase story after accepting the "Individual Achievement in Comedy" award for his portrayal of unctuous Jack Donaghy on NBC's
30 Rock
.
Baldwin said he regretted the end of
The Sopranos
in part because he now no longer has a shot at nabbing a guest star role. He then recalled the time he had to meet socialite Georgette Mosbacher to discuss his possible involvement in a fundraising event.
It was a steamy summer day in New York City, and Baldwin mistakenly thought they were meeting at the Four Seasons Hotel. Instead it was the Four Seasons Restaurant. So Baldwin bridged the gap on foot and arrived dripping wet for their meeting. He repaired to the men's room, took his shirt off and was un-moistening it with a hand-dryer when Chase walked in.
"Alec Baldwin?" he supposedly said in surprise in what Baldwin recalled as a Woody Allen stammer. End of story. Hoo-hah.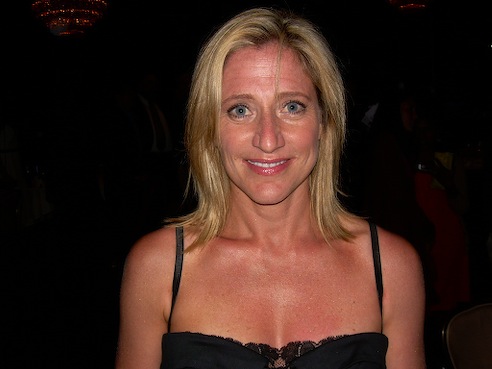 Edie Falco had the role of her lifetime as Carmela Soprano.
NBC's
Friday Night Lights
won the "Outstanding New Program" award after largely being snubbed in the Emmy nominations two days earlier. And the Peacock's
The Office
again received "Outstanding Achievement in Comedy" honors.
"So I spent all day reading
Harry Potter
,"
Office
executive producer Greg Daniels began. "I'm on page 450. It's good."
Other winners were:
Career Achievement:
Mary Tyler Moore, who sent a brief thank you note after belatedly deciding not to attend.
Individual Achievement in Drama:
Michael C. Hall for his starring role in Showtime's
Dexter
series.
Best movie, miniseries or special:
Planet Earth
(The Discovery Channel)
News and information:
Planet Earth
Children's programming:
Kyle XY
(ABC Family)