The Sex Files (but first, The X-Files and Mary-Kate Olsen as a pot-smoking Christian)
15/07/07 14:06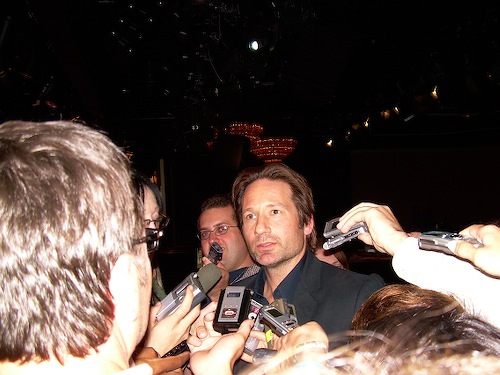 David Duchovny plans to do another X-Files movie. Photos: Ed Bark
By ED BARK
BEVERLY HILLS -- It's been almost 10 years since the first and so far only
X-Files
feature film. Chances now seem fairly excellent, though, that a sequel will be made.
"I really am expecting to see a script next week," David Duchovny told TV critics Saturday during a session for his new Showtime series
Californication
.
Other planets already are aligned. The script is by
X-Files
creator Chris Carter, who also plans to direct. "And Gillian's on board and I'm on board," Duchovny said. "I'm looking forward to seeing what he did."
Duchovny and Gillian Anderson played agents Fox Mulder and Dana Scully on the series, which ran from 1993 to 2002 on Fox. They also co-starred in the 1998 movie.
"It's going to open the same weekend as the
Sex and the City
movie," jabbed
Californication
co-star Evan Handler, who declined to say whether he'll reprise his character of Harry Goldenblatt from the HBO series version.
"We're going to crush 'em," Duchovny counter-punched.
***
Earlier Saturday, waif-ish Mary-Kate Olsen, now 21, joined the cast of
Weeds
for a third-season press conference.
She'll be playing new-to-the-neighborhood Tara Lindman when the marijuana-laced series returns to Showtime on Aug. 13th. Press materials describe Tara as a "good Christian girl-next-door" who quickly romances returning character Silas Botwin (Hunter Parrish).
"Does that mean she's never smoked pot before?" unclebarky.com queried.
"I don't think Christianity and pot-smoking are necessarily mutually exclusive," said
Weeds
creator Jenji Kohan. "I think she's someone who is very comfortable in her Christianity and comfortable in her recreational drug use."
Olsen, reluctant or perhaps unable to be expansive, said her character wants to give Bible lessons. "Maybe she's stoned while doing so, but she wants to tell them about it."
Weeds
will be her first screen role without twin sister Ashley. An earlier solo part in the movie
Factory Girl
was "cut out," she said.
"I mean, it doesn't feel that weird," Mary-Kate said. "I'm doing what I love. And you know, I go out on auditions by myself."
"We didn't know she had a sister," Kohan joked.
"The business of being an Olsen twin," as one questioner put it, supposedly doesn't get in the way of her acting career.
"I'm really passionate about acting and working hard," Mary-Kate said. "And you know, I do a lot of other stuff in my life. I do fashion and Im very passionate about that . . . It will always be that celebrity title or whatever you want to call it, but hopefully my work speaks for itself."
She spoke no further after the press conference. Engulfed by an entourage, Olsen was whisked to a waiting town car and disappeared in a poof. End of story.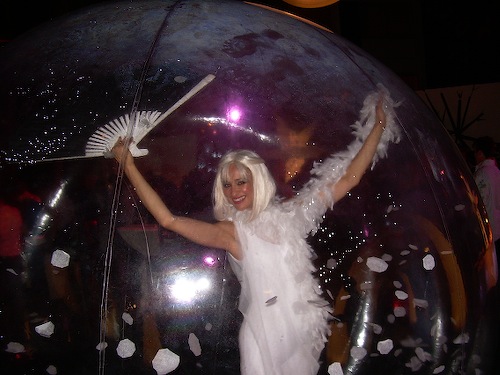 Say hello to a girl in a bubble at Saturday night's Game Show Network party. There was a live band, too. And lotsa pizza.
***
HBO's very sexually explicit new
Tell Me You Love Me
series had tongues wagging during cable's four-day portion of the ongoing summer TV "press tour." Even 67-year-old Jane Alexander, who plays a sex therapist, gets very naked during the course of the 10-episode drama, which premieres on Sept. 9.
HBO entertainment president Carolyn Strauss did something of a pole dance in describing to TV critics what the series is and isn't about.
"I think what we really want to give the feeling of is being in a relationship and being in the nooks and crannies of committed relationships, which are very peculiar and specific things, and mysterious," she said. "So I know that the sex is getting a lot of attention, but you really cannot tell the story of intimacy without using sex honestly as part of your tool kit. And that's a simple way of saying it."
One of the actor's tools -- or a very realistic rendering of same -- is on full display in the first episode as his lover takes her hand to it. In a later episode, Alexander repeats that action with her husband. And there's repeated and realistic-looking coupling throughout, raising the question of whether actors actually were "doing it" in the interest of cinematic art. That's hard to believe, but no one unequivocally said otherwise. Could HBO be leaving the question open as a sales tool in times when it could use another big buzz show?
"The sex scenes in any of the episodes are a pretty integral part of the storyline," said Michelle Borth, whose character, Jamie, is the most active. "We are not porn stars. We're actors. And I think part of our job in any scene, whether it's a sex scene, a fight scene or an emotional scene, is you do the best that you can do it authentically and honestly. So we were doing the sex scenes to make you ask that question, basically."
Executive producer Gavin Palone later deflected a question on whether Alexander had a grip on actor David Selby's hard-drive -- or a stunt facsimile.
"I'm not sure, and I don't think you need to get into it," he said. "The important thing is, when do you ever see people who are that age in a love scene? I don't think I've ever seen it before. And that's the key element as opposed to what Jane may be touching or not touching."
Jane didn't attend the interview session. And series creator Cynthia Mort, whose TV credits also include
Roseanne
and
Will & Grace
, expressed surprise that the sex in
Tell Me you Love Me
is arousing so much interest.
"Maybe other people answer these kinds of questions about violence or murder scenes, but these are sex scenes between two people who are in love in a committed long-term relationship," she said. "It's not marginalized, it's not perverted. It's none of those things."
Actually, Borth's character is trying out other partners after a fall-out with her would-be finance over issues of fidelity. But let's move on to HBO's arch-rival, Showtime, whose entertainment president, Robert Greenblatt, said his network has no corporate policy prohibiting real sex in scripted dramas.
Still, "as a programmer and as a producer, I would never do it," he said. "I would never even think about asking actors to do it. I don't know how you can't sort of simulate anything and get the same effect."
"Simulated sometimes works better, I think," interjected Showtime CEO Matthew C. Blank.
"Even in your own life," rejoined Greenblatt. "Did I say that out loud?"
Showtime has its own sexual romp in
Californication
, scheduled to premiere on Aug. 13 in tandem with
Weeds
' return. Duchovny plays a creatively constipated novelist turned Hollywood writer. He's still prolific in the sack, though. A clip shown to TV critics had him romancing the stone with three different female partners, all seen very much in the flesh.
Duchovny said he wouldn't ask his real-life wife, actress Tea Leoni, to join him on-screen for any of those activities.
"We have always kind of tried not to work together," he said. "And we've been pretty good at that so far, mostly because she doesn't want to work with me. But I can't imagine what would be worse than watching people that actually have sex (in real life) have sex on camera. I can't imagine a creepier thing, so I wouldn't want to inflict that on you. And I wouldn't want to inflict it upon my relationship either."
Even Showtime's press kit for
Weeds
is sexually charged. It depicts star Mary Louise-Parker in the altogether, with her behind in full view and her left breast only partially obscured by her arm and a snake resting on her shoulder.
"I think older women are beautiful," said Parker, 42.
"But not too old," co-star Justin Kirk interjected.
"Anyway," Parker continued, "he's always trying to get into my pants. So don't listen to him."
All of this made
Nip/Tuck star Julian McMahon's comments seem more than a little quaint. Two days earlier, he argued that his already sex-crazed character, Dr. Christian Troy, have even more outrageous exploits in the series' upcoming fifth season on advertiser-supported FX.

"I just want to do weird things," he said. "Kinky. It's a word that I keep using this year. I don't know why. We've got to notch up our kink level a little bit."

If this weren't enough, critics returned to their hotel rooms late last week to find the Independent Film Channel's Indie Sex poster resting on their pillows. The print says, "Featuring Dita Von Teese." Pictured is a topless brunette whose right arm double-crosses her breasts.

The showers are starting to run out of cold water.