Dallas Cowboys Cheerleaders: All that's "sacred"
14/07/07 20:32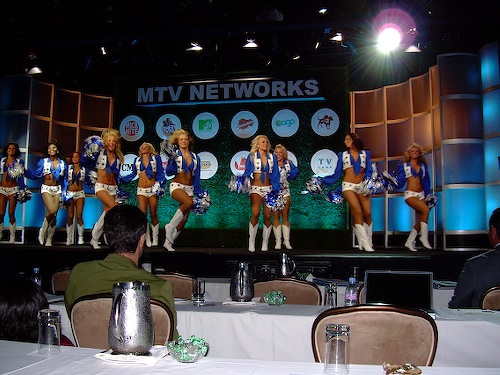 Dallas Cowboys Ch'leaders give their all for TV critics. Photos: Ed Bark
By ED BARK
BEVERLY HILLS -- They danced, they pranced, and also wore short pants.
Your Dallas Cowboys Cheerleaders put on an unannounced show for undeserving TV critics Friday as an appetizer for Season 2 of their CMT cable series.
Then the network's development head, Bob Kusbit, further buttered the bread.
"I just got word that there were two of the girls with strained calf muscles, and we need a little bit of help rubbing out the kinks," he said. "If anybody just wants to volunteer to head back there."
Well, we do have our ethics.
CMT's second go-around with
Dallas Cowboys Cheerleaders: Making the Team
premieres Sept. 14th with an eight-episode run. Press materials tout the "sacred tryouts" that winnow a field of more than a thousand hopefuls to the chosen 36. Only they will be allowed to don "that sacred blue and white uniform."
That seems to be at least a slight overstatement, but veteran head choreographer Judy Trammell didn't necessarily think so.
"Anyone that's worn the blue and white uniform, it
is
sacred," she said. "We do not want to ruin our image in any way, so I guess that's why, to us, it's sacred and we are constantly protecting it."
Cheerleaders director Kelli Finglass took it down a notch or two.
"It's special," she said. "Perhaps you'd like that word better. It's magical. It is a part of the excitement of the National Football League . . . For the people who have worn it (the uniform), yes, we would say it's sacred. For the people that have been fans, it's very magical."
Finglass and Trammell, both former Cowboys cheerleaders, said they haven't junked up the process, and never will.
"The only thing that's different is that it used to be very private, and now it's captured on television," Finglass said. "But the conversations, the emotion, the awkwardness, all of that is very real. I'm not an actress, nor is Judy, and that's quite evident. We say what we have to, and actually, we don't really even notice the cameras."
A clip from the show's second season included Finglass's no-nonsense assertion that "the uniform is very unforgiving in terms of hiding any figure flaws."
Also, one of the under-the-gun rookie hopefuls bawls after telling the cameras, "There is so much pressure, because I don't have a bigger dream."
The Cheerleaders' national profile is helped by successful Cowboys teams and, lately, the popularity of the CMT series. But Finglass said she "cheered in the '80s and had five wonderful losing seasons with Tom Landry as the head coach. It didn't matter to the Cheerleaders' success. We were doing USO tours, television specials. It does have its peaks and valleys, but right now we're on a peak."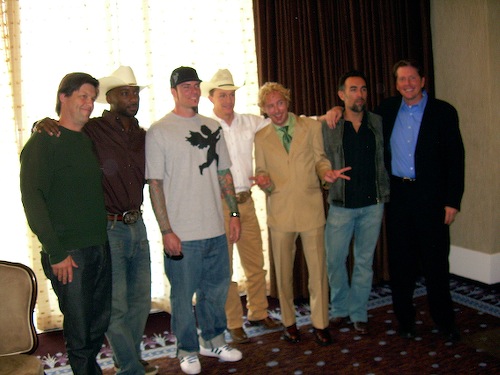 Former Dallas Cowboy "Rocket" Raghib Ismail (second from left) lately has been riding bulls and falling very hard from them.
***
"Rocket" Raghib Ismail was known for being close-mouthed to reporters during his days as a Dallas Cowboy. Put him on a snot-spewing wild animal, though, and he becomes a quote machine.
"The thrill was more like an intense feeling in your gut," he said of his participation in
Ty Murray's Celebrity Bull-Riding Challenge
, a six-episode series premiering Aug 10th on CMT. " 'What the heck am I doing here? And where's the bathroom?' "
Ismail's co-stars include Vanilla Ice, Stephen Baldwin, Francesco Quinn (
24
) and former
Survivor
bad boy Jonny "Fairplay" Dalton. They all journeyed to Murray's Stephenville, TX ranch for a nine-day crash course in staying atop beasts that wouldn't mind breaking every bone in your body.
"On the bull, I felt like, you know, lost in space, man," said Ismail. "It was just ridiculous."
Fairplay cut further to the nub.
"The first second sucks, 'cause you're pooping yourself a little bit. Seconds two through seven are the coolest rush you've ever had in your entire life."
Vanilla Ice noted that the bulls poop, too, "because they're like, nervous."
Back to you, Rocket.
"Poop. Man, that's like explosive -- coming out of that bad boy."
Quinn, a former motocross competitor, kept riding "until he got squished," as Murray put it.
Actors and their bull-riding injuries for $500, Alex. Quinn ticked them off in no particular order.
"I have a broken rib in my lower back that punctured my lung partially. And I have three broken ribs under my armpit. I got two broken ribs right here above my heart where the bull actually stomped with both feet. And you can see, actually, the hoof mark that just went to the side of the vest . . . That vest pretty much saved my life."
Ismail said he wanted to take one more shot at it during a professional bull-riding event in Dallas. But then he and his wife watched a succession of topflight cowboys get "bucked off left and right, slammed against fences, stepped on the head, a lot of this stuff.
"And my wife literally turned to me nice and slow, very serious, and said, 'You're bull-riding days are over.' That was the end of it. What am I going to say?"