Linney still a knockout in Round 2 of Showtime's The Big C
06/24/11 10:46 AM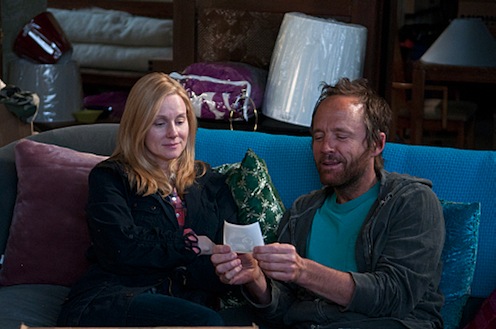 Laura Linney, John Benjamin Hickey of The Big C. Showtime photo
By ED BARK
Laura Linney remains a wonder on
The Big C
, where her lead performance as afflicted Minneapolis schoolteacher Cathy Jamison merits another Great Big A.
Television's one and only dark comedy about Stage 4 cancer returns to Showtime (
on Monday, June 27th at 9:30 p.m. central
) for what looks to be a better than ever Season 2. Although it's still tough to buy the idea that Cathy's stinky, slovenly, trigger-tempered bipolar brother Sean (John Benjamin Hickey) would attract the full-blown interest of Cynthia Nixon's lustrous, blonde and pretty beauteous Rebecca. So much so that he's now her new baby daddy, terminally infected toe and all.
Nixon's segue from her long run as Miranda Hobbes on
Sex and the City
is of great help to Linney's Cathy. They niftily play off one another, with Nixon billed as a "special guest star" in the majority of this season's episodes, including the first four sent for review. She has a way of blurting out that Cathy has cancer. Or of telling her in Episode 2 that now's the time to have a baby shower, "before I get fat and you get all -- cancer-y."
In Showtime press materials, executive producers Jenny Bicks and Darlene Hunt say that Season 2 focuses on Cathy's angry determination to fight her grim prognosis after the first season dealt with grief and denial. To that end, Linney wears big red boxing gloves in one of the show's publicity photos.
Her champion will be the somewhat prickly Dr. Atticus Sherman, a cancer specialist and part-time magician played by Alan Alda. He's recommended by young Dr. Todd Mauer (Reid Scott), who violated the boundaries of patient/caregiver by impulsively kissing Cathy last season. Sherman has a new clinical cancer drug trial ready to roll, with Cathy counting herself in. No guarantees, though.
The Big C
literally unfolds in seasons. So summer has given way to fall as Cathy begins gearing up for the battle of her life. Husband Paul (Oliver Platt) is fighting it with her, with the Jamisons under the same roof again after she finally let him in on her not-so-little secret. He's now her "cancierge," in his words.
Their son, Adam (Gabriel Basso), remains troubled and aggressively flatulent at times. And by Episode 3, there's a fourth wheel when one of Cathy's high school students, Andrea Jackson (Oscar-winner Gabourey Sidibe returning from last season), is invited to move in with them when her parents go on a missionary trip to Ghana.
Sidibe (
Precious
) has mastered the deadpan approach, telling Paul that "I'm cool with jokes about my weight. It's the elephant in the room. That's a joke, too." But it's no joke when she later tells Cathy, "I for one think you've a pretty brave bitch."
Linney's also brilliant in this role, rendering Cathy a sympathetic figure absent any sugar coating. There's a scene in Monday's Episode 1 where she laughs hysterically and at length while on a medicinal marijuana high. I'm not sure how many takes that took, but to do this convincingly is no small task for an actor.
Linney is equally adept at communicating rage, particularly after self-destructive brother Sean cruelly lashes out at her for not telling him face-to-face that she has cancer.
One small complaint. It's be nice if if TV series would get over the idea of having characters not only envision the dead, but converse with them. In this case, Cathy is haunted by crotchety old neighbor Marlene (Phyllis Somerville), who killed herself near the end of last season. Let's give her -- and this plot device -- a good long rest.
The Big C
otherwise is a series that cries out for more attention than it's receiving on Showtime, which most viewers don't have in their homes. Its 13-episode Season 1 is
available on DVD
and via numerous other means, though. And Season 2 eventually should be making its way to itunes, netflix, etc.
You're strongly encouraged to buy in by whatever means necessary. Not everything is letter-perfect about
The Big C
. But Linney sure is -- and that's more than enough.
GRADE:
A-minus