02/07/18 02:39 PM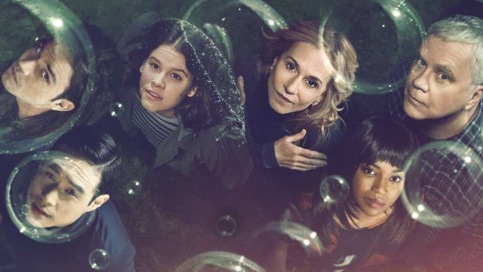 Life's bubbles are bursting in Here and Now. HBO photo
Premiering;
Sunday, Feb. 11th at 8 p.m. (central) on HBO
Starring:
Holly Hunter, Tim Robbins, Jerrika Hinton, Raymond Lee, Sosie Bacon, Daniel Zovatto, Joe Williamson, Andy Bean, Peter Macdissi, Marwan Salama
Produced by:
Alan Ball, Peter Macdissi, David Knoller
By ED BARK
@unclebarkycom on Twitter
Every once in a while, a character in a TV series unintendedly speaks volumes, disparagingly or otherwise, about the TV series he or she is in.
In the case of
Here and Now
, it's Ashley Bishop-Black (Jerrika Hinton), one of three adoptees in this new HBO drama.
"You have potential. But you are slow. And you waste time," she says in dressing down an employee of her online fashion website. It's only Episode 1, but this reviewer already had been getting that sinking feeling. Wearying, preachy, structurally unsound and impenetrably mystical also come to mind.
The creator and principal executive producer is Alan Ball, who has been very good for HBO (and HBO very good to him) with the previous series
Six Feet Under
and
True Blood
. Ball's 1999 feature film
American Beauty
also won the Best Picture Oscar and a Best Actor trophy for the now disgraced Kevin Spacey. So attention must be paid, as they say.
Two accomplished thespians, also with Oscars in hand, are at the initially stormy center of
Here and Now
, which is set in Portland, OR. Tim Robbins (
Mystic River
) plays revered philosophy professor Greg Bishop, who 30 years ago wrote a mega-bestseller. He's now in a deep brood about turning 60 without having divined the true meaning of life -- or whether it has any at all.
Holly Hunter (
The Piano
) is his very hands-on wife, Audrey, a "conflict resolution consultant" with The Empathy Institute.
The Bishops, showcasing their open-mindedness and fealty to those less fortunate, have adopted and raised three children from other countries. The aforementioned Ashley is from Somalia. Duc Bishop (Raymond Lee), now a very single-minded and prosperous life coach, is a native of Vietnam while troubled but talented video game designer Ramon (Daniel Zovatto) was rescued from a Colombia orphanage.
There's also biological daughter Kristen (Sosie Bacon), youngest of the brood and filled with 'tude as a student at the multi-ethnic and thereby increasingly polarized high school where mom consults. Kristen is quite reminiscent of Claire Fisher (Lauren Ambrose), the very troubled teen from
Six Feet Under
.
Before very grudgingly attending a 60th birthday party meticulously arranged by his wife, Greg avails himself of his weekly tuneup from a call girl who's young enough to be his daughter. Meanwhile, Ashley and Duc get loaded, Kristen wears a horse's head and Ramon continues to have some very scary visions in which he always sees the numbers 11:11. He has another such episode at the party after Dad gives a dark speech on how just about everything is a load of crap. Are we having fun yet?
Ramon, who also has a new gay lover named Henry (Andy Bean), reluctantly joins his parents at the office of therapist Farid Shokrani (Peter Macdissi, who in real life is Ball's partner and a co-executive producer of
Here and Now
). It's later learned that Farid also has some serious demons in play. He's otherwise the understanding father of Navid (Marwan Salama), a "gender fluid" teen and classmate of Kristen's.
The other main supporting character is Malcolm Smith (Joe Williamson), an assistant women's soccer team trainer who's married to Ashley. They're the parents of a cute little girl. But Ashley's unfulfilled despite Malcolm's all-around great guy comportment.
HBO made the first four episodes available for review. Production began in earnest after Donald Trump became President. So
Here and Now
is the latest TV drama to ruminate, mostly via Greg, about what America may have suddenly become.
"Anxiety is a completely appropriate response to today's anger," he says at a seminar, disavowing the optimism he championed in his long-ago book. "Thirty years ago, truth was truth."
Well, not entirely. Not ever, really.
But as
Here and Now
digs in deeper, Greg seems to undergo a rather abrupt and puzzling change in temperament. Not to give away too many details, but what's up with that? Many viewers might have given up by then anyway. I mean, who has time for this? Audrey also veers to and fro from being gratingly overbearing to the soul of tact.
There's also a beyond heavy-handed scene in Episode 2. Ashley and Kristen have just exited a Planned Parenthood clinic when a holdover, baboonish protestor confronts them. Bearded, plus-sized and ridiculously prototypical, he brandishes a makeshift cross with a naked plastic baby affixed to it while bellowing at Kristen and finally calling her a "dumb whore." She responds by kicking him below the belt before matters escalate. It later turns out that the protestor is a registered sex offender. The entire sequence has all the subtlety of a carnival barker.
There are moments in
Here and Now
that threaten to turn the corner and reward a viewer's patience. But just as quickly, things bog down again. The acting isn't at fault, but the preachments and overall ponderousness are. Instead of "don't worry, be happy," it's much more a case of "don't hurry, be unhappy." Or vexed if you prefer. With all the TV and streaming choices out there, life's just too short for that.
GRADE:
C
Email comments or questions to:
unclebarky@verizon.net
02/07/18 09:56 AM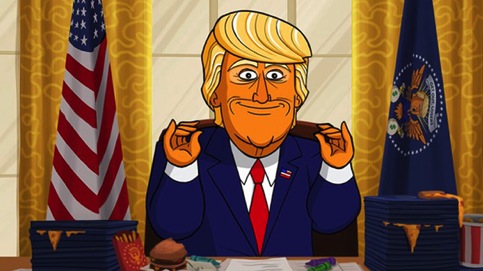 Just when you think you've seen more than enough. Showtime photo
Premiering:
Sunday, Feb. 11th at 7 p.m. (central) on Showtime
Voiced by:
Jeff Bergman, Cody Lindquist and many others
Produced by:
Stephen Colbert, Chris Licht, R. J. Fried
By ED BARK
@unclebarkycom on Twitter
We're at the point where some critics are faulting Showtime's
Our Cartoon President
for "humanizing" Donald Trump.
Yeah, because that would be a disgrace.
Trump already is omnipresent on cable news networks, late night talk shows,
Saturday Night Live
and in countless fever dreams. Comedy Central's
The President Show
began lampooning him last April, with Anthony Atamanuik wearing a wig the size of an eagle's nest. Another little-known comedian, Jeff Bergman, gets the call in
Cartoon President
, an extension of the recurring animated snippets on CBS'
Late Show with Stephen Colbert
. (Other than Bergman and a few others, specific voice credits remain hard to come by.)
Colbert remains in charge for these 10 half-hour episodes, two of which were made available for review. In his opening remarks, Trump boasts that "everyone knows my brain has great bone structure." Housed within is an IQ of "180 over 90," he says with confidence.
Those are some pretty funny lines, and
Our Cartoon President
(double meaning fully intended) isn't entirely short of them. Still, is anyone else out there feeling severely Trumped-out at this point? From a comedy writer's perspective, though, he remains a fool's gold mine of material, far surpassing George W. Bush's misadventures with the English language.
George W., by the way, is the only other President to spawn a TV comedy series while still in office. Comedy Central's live action
That's My Bush!
, created by
South Park's
Matt Stone and Trey Parker, ran for eight episodes in spring 2001. Timothy Bottoms starred, playing Bush as an amiable, well-meaning bumbler. The series supposedly was canceled for being too expensive.
The premiere episode of
Cartoon President
is topical in terms of incorporating Trump's first State of the Union address as the principal "storyline." The President is also taxed with giving First Lady Melania Trump (whom he calls "LaGuardia" at one point) a suitable wedding anniversary gift. It ends up being a one-on-one dinner date with Karen Pence, which further miffs Mrs. Trump (Cody Lindquist). "She told me her favorite designer is Cracker Barrel gift shop" among other things.
Don Jr. and Eric predictably are portrayed as sub-idiots, with Colbert saying in interviews that they're "our Beavis and Butt-head." Episode 2 is built around hapless Eric's yearnings to be noticed. So when Dad authorizes Trump impersonators to stand in for him at boring events (such as visiting disaster sites), Eric is among the eager applicants. This doesn't end well when the fake Trumps, including Eric, cause the President's approval rating to "skyrocket" to 40 percent. "I miss the old Eric who never undermined me by being good at stuff," he tells Eric -- who's happy to hear this.
Cartoon President
has a killer sight gag in its tortoise-like depiction of Senate Majority Leader Mitch McConnell. And top advisor Stephen Miller works on the boss's State of the Union speech as a shirtless, pierced masochist hanging from a hook. His first draft is titled "Blood Horizon." Less effective is a constantly intruding Ted Cruz and his run-at-the-mouth gibberish.
In Episode 2,
Cartoon President
also twits MSNBC's Rachel Maddow, who doles out her observations with a series of short bursts and affected pauses. Fox News Channel's early morning
Fox and Friends
contrastingly is brimming with toadies, but Trump of course is the primary punching bag and lightweight throughout these first two episodes. In one segment, cartoon Trump admiringly watches video of real-life Trump and his "greatest hits" on the campaign trail. They include his infamous mocking of a disabled reporter.
Colbert and his nightly opening demolitions of Trump and company have vaulted his show past competitors Jimmy Fallon and Jimmy Kimmel in the total viewer Nielsen ratings.
Cartoon President
piles on more of the same while at the same time risking over-saturation.
The sight of would-be Trumps in training -- mainlining a bucket of Kentucky Fried Chicken is among the exercises -- is hardly a belly laugh anymore. Nor is a family dinner of nothing but hot dogs while a disengaged President is fixated on an old Cowboys and Indians shoot 'em up rather than any verbiage from his sons, Melania, Ivanka or Jared.
Cartoon President
likely will find this going getting tougher as the show goes on. The first two episodes hit some comedic sweet spots, both visually and verbally. But if the government again shuts down over DACA, Colbert and his writers will be increasingly hard-pressed to find the funny. The idea of Trump meeting his first salad bar or trying to read a coloring book just might not cut it anymore.
GRADE:
B-minus
Email comments or questions to:
unclebarky@verizon.net
02/01/18 11:41 AM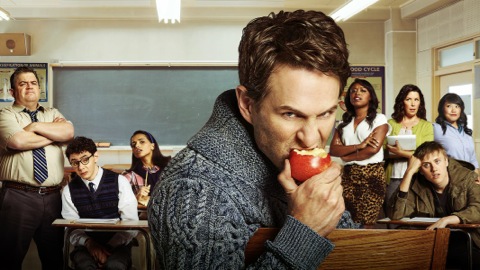 An apple gets you nowhere with this particular teacher. NBC photo
Premiering:
Thurs., Feb. 1st at 8:30 p.m. (central) before returning on Sun., Feb. 25th and then to Thursdays on March 1st
Starring:
Glenn Howerton, Patton Oswalt, Lyric Lewis, Mary Sohn, Jean Villepique, Aparna Brielle, Jacob McCarthy, Nick Peine, Tucker Abrizzi, Allisyn Ashley-Arm, Tom Bennett
Produced by:
Lorne Michaels, Seth Meyers, Mike O'Brien,Andrew Singer, Mike Shoemaker
By ED BARK
@unclebarkycom on Twitter
NBC is hot for this teacher, even if the title doesn't readily suggest it's a school house sitcom.
A.P. Bio
(not a virus) is centered on another teacher who doesn't teach the children well. It gets a special preview on Thursday, Feb. 1st (following
Will & Grace
) before returning on Sunday, Feb. 25th in another showcase slot immediately after the closing ceremonies of the Winter Olympics. After that, it's back to Thursdays, starting March 1st. In the interim, the first three episodes will be available online via nbc.com, Hulu and the network's owned-and-operated stations.
Why such special treatment for a show that's better than a failing grade but won't go to the head of any class? Simply put, it pays to be deferential to a new series whose executive producers include
Saturday Night Live
founder Lorne Michaels and one of his star proteges, Seth Meyers. Duh, buttering them up is a no-brainer.
NBC made the first four episodes available for review. Jack Griffin (Glenn Howerton from
It's Always Sunny in Philadelphia
) struts through all of them as a disaffected Harvard grad and alum of Toledo's Whitlock High School whose agenda includes "firm plans to bang my high school ex- as hard as I can."
He's otherwise non-teaching a classroom of nerdish Advanced Placement Biology students after failing in his grand plan to become head of the Stanford University philosophy department. Jack somehow envisions getting back at his "nemesis" -- the guy who got the job -- by using the students as go-betweens. This makes a bit more sense than the decision to hire him in the first place. Only a principal as ineffectual and befuddled as Ralph Durbin (Patton Oswalt) would make such a personnel move. Check that box. Classroom comedies demand principals majoring in idiocy.
Jack's students are greeted daily with his indifference and opening dictum that everybody "begin to shut up." These kids are actually eager to learn (also a preposterous premise?) rather than do nothing or participate in their new teacher's revenge plots. Some of them stand out, including the very serious-minded Sarika (Aparna Brielle), student body president Marcus (Nick Peine), awkwardly rebellious Heather (Allisyn Ashley Arm) and the mostly clueless Colin (Tucker Abrizzi), who also plays the sax and whose mother is hot (the spotlight storyline of Episode 3).
Three incumbent Whitlock High teachers complete the ensemble. The alpha female among them is Stef (Lyric Lewis), a cosmetics peddler on the side whose sales pitches prey on the more pliant Mary (Mary Sohn) and Michelle (Jean Villepique).
The always welcome Niecy Nash flashily guest stars in Episode 2 as a teachers union rep who goes to bat for Jack and dismisses principal Durbin as "an incompetent little weiner." Episode 4, subtitled "Student Council," pits Jack against Marcus in a battle to keep teech's craved salt and vinegar chips in the school's vending machines. It's marginally the best of the bunch, with repressed Heather delivering a prize creep-out line after Jack commands the students to reveal any skeletons in their closets. "I shoplift magazines to feel alive," she declares. Getting caught is the fun part."
CBS offered a better sitcom in this realm with 2014's
Bad Teacher
, a spinoff of the same-named Cameron Diaz feature film. But it lasted just three episodes, and probably wasn't the right fit anyway on a network with a decidedly older and "traditional" core audience than its three major broadcast network rivals.
NBC is a more compatible venue, and
A.P. Bio
is getting some optimum chances to make the grade. Howerton makes the most of his central ribald rogue role while Oswalt seemingly was built to be a bumbler. Neither character is believably employed -- if that really matters. Beyond that,
A.P. Bio
suffices as a teacher-student comedy in which Jack gets away with writing "Who Will Jack Bang?" on the chalkboard before turning around to learn it's parent-teacher day. OMG. But this, too, shall pass.
Grade:
B-minus
Email comments or questions to:
unclebarky@verizon.net