HBO's Veep is hardly a Washington monument
04/19/12 01:55 PM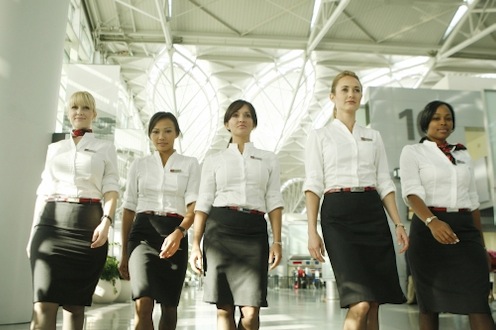 Vice President Selina Meyer and toadying aide Gary in Veep. HBO photo
Premiering:
Sunday, April 22nd at 9 p.m. (central) on HBO
Starring:
Julia Louis-Dreyfus, Tony Hale, Anna Chlumsky, Matt Walsh, Reid Scott, Timothy C. Simons, Sufe Bradshaw
Produced by:
Armando Iannucci, Frank Rich, Christopher Godsick
By ED BARK
Here's a new comedy series for those who expect absolutely nothing but incompetence, cynicism and crass opportunism from their elected leaders in Washington.
Which might well cover most of us these days. Still, the timing may not be quite right for HBO's
Veep
, which is about as far removed from
Mr. Smith Goes to Washington
and
The West Wing
as many able-bodied Americans are from a decent job. And what's so funny about that?
Premiering Sunday, April 22nd,
Veep
is the saga of ideal-less Vice President Selina Meyer (Julia Louis-Dreyfus) and her protective yet divided staff. One-liners zing, expletives fly and laughs ensue if you're in the mood for lines like, "It's going to look like the Veep couldn't be bothered to sign a condolence card for one of the most respected perverts in the Senate."
That one comes from Amy (Anna Chlumsky), the vice president's ring-wise and sometimes punch-drunk chief of staff. And she's referring to a philandering, newly deceased old senator who's also referenced in Episode 3 as "Rapey Reeves" and "Grandpa Fumblepants."
HBO has ordered eight episodes of
Veep
, whose producers say that party affiliations won't be specified. Nor will the president be seen or heard. Instead he's represented by a super-callow young White House liaison named Jonah (Timothy C. Simons). You can find deeper convictions on any of the
Real Housewives
offshoots.
What
Veep
may need more than anything is at least one semi-goodly sunny side up character as a counter-weight to all its upwardly clawing connivers. But there's no Mary Richards in residence. And the staff newcomer is hardly wide-eyed. Instead he's a win-at-all costs stud named Dan (Reid Scott), who worms his way away from imperious Sen. Barbara Hallows' (guest star Kate Burton) staff by leaking damaging information about her.
"He's shitty me. I need a shit," VP Meyer tells a repulsed Amy after she describes him as a "bastard." Coming from Amy, though, this is like Madonna calling Lindsay Lohan a loose woman.
Louis-Dreyfus plays Meyer as a high maintenance, thoroughly shallow veep whose only core value is her craven ambition. Her principal initiative at the moment is a "clean jobs" bill that she views as a way to one-up the unseen president.
At the start of Episode 2, one of three sent for review, chief of staff Amy tells her that a clean jobs task force is on the verge of getting the go-ahead.
"Yeah!" she exclaims. "That is so great for me!"
"And the country?" Amy adds as an afterthought.
"Yeah, yeah, yeah, that's what I meant," Meyer says before rhapsodizing about "polluting corporations being held accountable by me."
The divorced Meyer's underlings also include veteran political operative Mike (Matt Walsh), suck-up Gary (Tony Hale) and blunt-spoken executive assistant Sue (Sufe Bradshaw), who always says "No," when the vice president invariably asks at least once per episode, "Did the president call?"
Already enshrined on
Seinfeld
before the moderate success of CBS'
The New Adventures of Old Christine
, Louis-Dreyfus again exudes a consummate comedy competence. In Sunday's premiere episode, she conveys her varying moods with what seems to be the greatest of ease, particularly in a scene where Meyer storms out of her office to bluster "What the (f-bomb)!!!" to a staffer who's bungled a fake-signing of the sympathy card for Sen. Reeves.
And in Episode 2, her phony relieved smile is priceless after she learns that the President in fact isn't about to die.
The supporting actors add their own nice touches, making
Veep
a well-acted comedy that remains in search of a heart, even a tin one.
The country at large seems to be genuinely fed up with all things Washington, not that this is an entirely new development. And
Veep
looks as though it's working overtime to exacerbate these feelings.
Is it really all that amusing for a vice president to dress down her spokesman by telling him, "Tuck your shirt in, OK? Your dick is hanging out of your pants."
And might it be just a bit much when she's later asked by the deceased senator's widow, "Is it true that the First Lady calls you 'creepy veepy?' "
Maybe Fox News Channel stalwarts can achieve maximum merriment by choosing to see them all as Democrats while MSNBC loyalists laugh it up at the expense of those dumb DC Republicans.
This may not be nearly enough to entertain the rest of the land, though.
Veep
has some funny lines and sight gags during the course of doing its dirty Washington business. Given the overall state of the country, though, it might hurt too much to laugh too hard when VP Selina refers to "that shit for brains president."
With all due respect, of course.
GRADE:
B