Hitting a few beats: TBS' Wedding Band
11/09/12 08:09 AM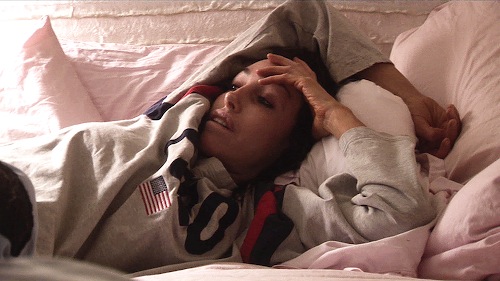 Give it up for Mother of the Bride in Wedding Band. TBS photo
Premiering:
Saturday, Nov. 10th at 9 p.m. (central)
Starring:
Brian Austin Green, Peter Cambor, Harold Perrineau, Derek Miller, Melora Hardin, Jenny Wade, Kathryn Fiore
Produced by:
Mike Tollin, Josh Lobis, Darin Moiselle, Bryan Gordon, Ben Spector, Matt Pyken
By ED BARK
@unclebarkycom
The self-anointed "Very Funny" network at last rises to a modicum of merriment in
Wedding Band
.
It's an aberration in other ways, too. This is a one-hour comedy series without a laugh track. And it's the first original scripted TBS production to get a prime-time Saturday slot. That's usually code for "throwaway," but
Wedding Band
might be worth a fling.
Brian Austin Green, the venerable former heartthrob of
Beverly Hills 90210
, stars as aging bachelor Tommy. Heavily armed with tats -- including a giant python on his arm -- he's the lead singer/Lothario of Mother of the Bride. Tommy and his three mates will play just about any gig, with weddings their specialty but bar mitzvahs, reunions and anniversaries always welcome.
Tommy's married best friend, Eddie (Peter Cambor), is on lead guitar while his Jack Black lookalike brother Barry (Derek Miller) pounds the skins. New to the band is Stevie (
Lost
's Harold Perrineau), a veteran session musician yearning to be an official member of something.
"Nothing against us, but why would you want to play with us?" Tommy wonders. Not a bad line. File under "Modicum of Merriment."
Three episodes were sent for review. And the most surprising aspect is the music. It goes down pretty well, whether the boys are doing a country version of "I Will Survive" (a wedding reception must) or one of their enthusiastically received originals. In the Saturday, Nov. 17th episode, a rockin' bachelor party tune played at a strip club includes the lyrics, "You and me, baby, ain't nothin' but mammals. Let's do it like they do on The Discovery Channel." Not exactly Lennon and McCartney, but kinda
goo goo g'joob
.
Tommy does it like he does it with a variety of women while Eddie juggles the responsibilities of two pre-teen kids and his police detective wife, Ingrid (Kathryn Fiore). Their disparate lifestyles clash, crash and sometimes burn.
Wedding Band
is basically supposed to be a comedy of errors, which also makes it hit 'n' miss.
Badly missing is a sequence in which Tommy's ex-girlfriend still pines for him on her wedding day after hiring Mother of the Bride to play the tunes. He talks her down and then pops a celebratory bottle of champagne backstage. But the errant cork deflates one of the bride's breast implants, which doesn't go well with her wedding dress. Low comedy has its place, but not in this case.
Wedding Band
also enlists primo event booker Roxie Rutherford (Melora Hardin) and her rookie assistant, Rachel (Jenny Wade rebounding from
The Good Guys
). Roxie is a prototypically bullying boss, informing Tommy, "You screw up this wedding and I will cut off your balls and wear them as earrings." That said, she's soon in bed with one of the boys.
Episode 2 is on better footing during Tommy's attempts to baby-sit Eddie's six-year-old daughter. Green has some amusing scenes with her. And the hour also includes a genuinely nifty cello & xylophone version of "West End Girls" by Barry and Stevie. But Episode 3 is mostly lame, with the band coming to the aid of two sex-starved nerds by throwing a party for them.
Wedding Band
all in all is more of a reach than a grasp. It's not an embarrassment, though. The music has its moments and the comedy occasionally rattles home. Not nearly often enough to make it "Very Funny." But worth a few grins and maybe even a shimmy shake.
GRADE:
C+
unclebarky@verizon.net