House of Cards: the last shuffle
11/01/18 10:00 AM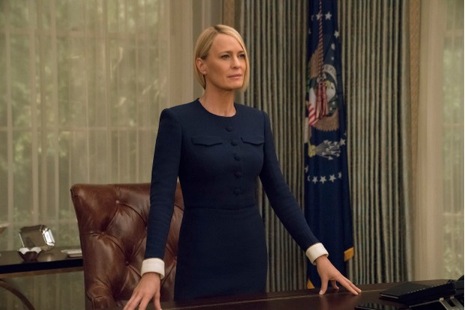 Power suited: Robin Wright as Claire Underwood. Neftlix photo
By ED BARK
@unclebarkycom on Twitter
The man who is not there both haunts and hovers over the last term for Netflix's game-changing
House of Cards
.
Specifically put, how did Francis Underwood die, after the man who played him, Kevin Spacey, killed his career?
Spacey, fired a year ago after multiple allegations of sexual misconduct, hasn't been seen or heard from in public since that time. The character he left behind also is unseen in any form during the first five hours of this final and shorter eight-episode season, which begins streaming in its entirety on
Friday, Nov. 2nd
.
Francis Underwood otherwise is very much heard
of
. Not only from steely Claire Underwood (Robin Wright) but by a steady stream of loyalists, enemies and grovelers. It may be "My turn," as Claire pronounced at the end of Season 5 after Francis bequeathed the presidency to her with the phony promise of a forthcoming pardon. But what he wrought -- and who or what did him in -- is still in the show's blood as it grapples with and sometimes staggers through dense thickets of wanton conniving.
All of this is tied to the overriding mystery of whether Francis in fact died peacefully (ha!) in his sleep or was fast-forwarded toward those White House-approved still pictures of the widowed Claire (and she likes it like that) affecting a somber countenance at his funeral.
Many of the show's familiar supporting characters, principally the supremely and pathetically dutiful Doug Stamper (Michael Kelly), are still plotting and being plotted against. But if that's not enough strings being pulled, there also are two new antagonists, Bill Shepherd and his sister, Annette (Greg Kinnear, Diane Lane). They're right-wing power brokers and industrialists modeled after the Koch brothers. And they want Claire to either be their puppet or be impeached to pave the way for toady vice president Mark Usher (Campbell Scott).
House of Cards
also brandishes and embraces the #MeToo movement, but in ways that might be seen as counter-productive. A flashback to an early incident in her life (we'll say no more) fuels Claire's fires -- but not for the sake of principles. Throughout these first five episodes, she's mostly determined to exact pure, unadulterated revenge on those who used to wear the pants -- but not pantsuits.
"Would you have asked me that if I were a man?" she bristles after addressing the troops during a Fourth of July rallying cry for her administration's new aggression in Syria.
In Episode 2, Claire proclaims, "The reign of the middle-aged white man is over." And in Episode 5, "Shall I resign for the high crime of being a female?"
But by the end of this hour,
House of Cards
is aces again, courtesy of a galvanizing and genuinely surprising gender-gone-wild twist. That's meant as a compliment --story-wise at least -- although Claire's motives remain the same. She'll do whatever it takes to remain in power, including the murders she's already authorized or committed herself. Claire is a feminist strictly on her own terms, with a long-acquired taste for the jugular. Perhaps a certain real-life sitting President would relish having someone like her as a running mate. Except that Claire would be calling the shots. All of them.
Emulating her late husband and de facto mentor, Claire also has taken to talking to the camera. During the re-juiced Episode 5, her seemingly darkest hours as President are no cause for worry. "Don't worry I have a plan," she assures living room onlookers.
Even so,
House of Cards
also can be a victim of its own excesses, which are now built up into a heavy goo of previous evil and investigations of same by the sometimes ridiculously dogged Tom Hammerschmidt (Boris McGiver). He's the high-strung and at times wrung-out investigative reporter who's still trying to piece together who killed former
Washington Herald
colleague Zoe Barnes (Kate Mara) near the start of Season 2.
House of Cards
devotees certainly will remember that then shocking scene. Since then, what really shocks anymore? The betrayals, bed-hoppings, fatalities and misdirections have piled up to the point where basically no one has clean hands. In her particular case, Claire has long believed what she tells the camera in Episode 4: "Presidents aren't allowed to be human. You have to choose: power or love. That was very clear from the beginning."
She learned from the master. And Wright's performance reflects all of her late husband's cynicism, calculation and deep, unhealed wounds that powered his engine, and now hers as a President who pledges allegiance only to herself and her gender.
Francis Underwood is an accessory to all of
House of Cards
' many crimes in this final season of divides and conquers. In the end, who will end up atop the Iron Throne? Oh wait, that's another TV series. But this one seems no less bloody. And yes, it's high time to put an end to it.
GRADE:
B-minus
Email comments or questions to:
unclebarky@verizon.net