Bobby Fischer Against the World is a thoroughly world class HBO documentary
06/03/11 11:33 AM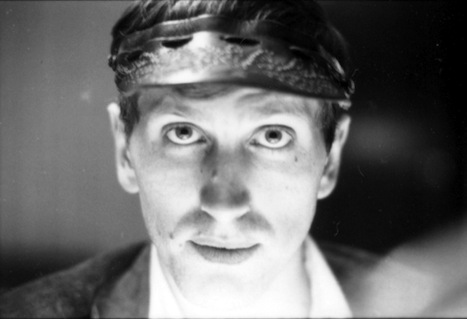 Bobby Fischer kept checkmating himself in game of life. HBO photo
By ED BARK
Chess master Bobby Fischer had a beautiful mind that made him its pawn.
In his angry and largely pathetic post-game period, he came to believe that everyone had conspired against him, most particularly the Jews. The superb documentary
Bobby Fischer Against the World
, premiering
Monday, June 6th at 8 p.m. (central) on HBO
, recaptures his life in painstaking but never pointless detail. Its director and co-producer,
Liz Garbus
, has authored a masterpiece replete with exceptional footage, images and insight.
Fischer, who died on Jan. 17, 2008 at age 64, remains a unique and unduplicated giant in a sport that demands a singular blend of strategy and staying power. His 1972 matches against Russian grand master Boris Spassky were an international sensation, with the former crewcut teenage U.S. champion matching wits and eccentricities with a heretofore unbeatable foe.
Estranged from both his mother, Regina, a communist activist, and his absentee father, Paul Nemenyi (whom he never really knew at all), Fischer grew up playing chess by himself, beginning at age 6. He wasn't "socialized the way the rest of us were," understates Shelby Lyman, who anchored and analyzed public television's original coverage of the Fischer-Spassky faceoff.
The 93-minute HBO film includes footage of 15-year-old Bobby as a guest on a 1958 episode of
I've Got a Secret
. He's a cute but painfully shy kid, as well as the new U.S. chess champion.
Early Bobby, even the one in his early 20s, is reasonably conversant and appealing while also always looking at least a bit ill at ease on camera. In one old black-and-white interview, he reveals that he doesn't watch TV because he's heard it can emit radiation. But he's an avid reader of
Confidential
magazine.
Fischer was 29 and notably more "difficult" by the time he took on Spassky in a best of 24-game match in Reykjavik, Iceland. He at first was a no-show and then a very demanding participant. The film brilliantly recaptures both the thrill of the competition and its backdrop as an even bigger mind game between a Communist superpower and the "decadent West." Daily results of the matches regularly led the network evening newscasts.
Bobby Fischer Against the World
also exhibits a treasure trove of still pictures by
Life
magazine photographer Harry Benson, who was granted up-close access to Fischer during his training for the 1972 matches. Many of the photos are being shown publicly for the first time.
Fischer also can be seen in an interview with Johnny Carson, who notes that "the entire world knows the name Bobby Fischer by now." Still, it must be a letdown for him now that the showdown with Spassky is over, Carson tells him. Fischer agrees that he "felt different" after his triumphant return home to the U.S. "Something had been taken out of me."
He was never the same, dropping out of public view and forfeiting his world championship by refusing to play No. 1 contender Anatoly Karpov. Another Russian chess ace, Gary Kasparov, says in a new interview that Fischer may have been "unable to cope with his own invincibility."
He resurfaced in 1992 to play Spassky again, but author David Edmonds compares it to "watching two old boxers come back into the ring for one last payday." Their comparatively dull matches were played in Yugoslavia in violation of United Nations-imposed sanctions against the country. Indicted by the U.S. government, Fischer became a fugitive abroad before making one last round of public appearances in 2005 after returning to Iceland.
By this time, Fischer was a bearded, balding, embittered know-it-all with anti-Semitic views on just about everything. The film includes his confrontation with Jeremy Schaap, son of world class sports writer/reporter Dick Schaap. The elder Schaap acted like a "typical Jewish snake" in first befriending him and later betraying him, Fischer tells Jeremy Schaap during a press conference. Specifically, Dick Schaap said publicly that Fischer was without a "sane bone in his body."
Jeremy then leaves Fischer speechless by telling him in a matter-of-fact tone that judging from what he's seen firsthand, his father indeed was correct.
Nonetheless, the announcement of Fischer's death is poignant, in large part because we've seen the shy kid and young adult he used to be before fame and his own self-destructive demons undid him.
Bobby Fischer Against the World
shows us all of it, and in never less than riveting fashion. So far it's the televised documentary film of the year, with its truths stranger than fiction from opening move to checkmate.
GRADE:
A+