Ryan & Tatum: The O'Neals gives Oprah's OWN a stiff pour
06/17/11 03:49 PM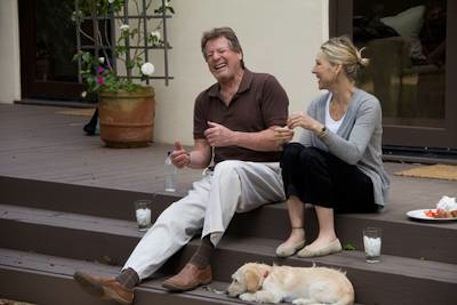 Father and daughter happy together. But for how long? OWN photo
Premiering:
Sunday, June 19th at 9 p.m. (central) on OWN
Starring:
Ryan and Tatum O'Neal
Produced by:
Tatum O'Neal, Ryan O'Neal, R. Greg Johnston
By ED BARK
Oprah Winfrey's still struggling OWN network may have a winner here. Although that's an odd thing to say about a series that tracks all the father-daughter fireworks and heartaches caused by Ryan and Tatum O'Neal.
It's tempting to root for a Hollywood ending here after Tatum decides it's time to reconcile with her combustible dad after an estrangement that endured for a quarter-century. But it's also nigh impossible not to wonder how much of this might be Hollywood artifice in the interests of two career resurrections. What's really to be believed anymore in times when confessional, bare-all "reality" series are standard operating procedure?
The eight-part
Ryan & Tatum: The O'Neals
just so happens to be premiering on Father's Day. And the first hour compellingly sets the stage with Tatum's 47th birthday party and her decision to invite her dad -- whom she mostly refers to as Ryan -- as one of a small group of guests.
Will he come? Well, yeah, he will. Because otherwise there's no launch pad for the seven episodes to come. By the way, her birthday was on November 5th, almost two months before the New Year's Day launch of OWN. So this show has been marinating for a while, assuming that nothing's been re-enacted.
Ryan, now 70 but remarkably well-preserved, is still very much both a showman and an elephant in the room. The man who loved the late Farrah Fawcett remains a big personality in his own right.
"Ya know, it isn't all red carpets. There's some black carpets," he says during the opening re-introductions of father and daughter, who made
Paper Moon
together way back in 1973. Tatum remains the youngest performer ever to win an acting Oscar for her role as headstrong Addie Pray. Ryan already was a major star at the time, courtesy of
Love Story
. Remember? Maybe not. Hence the repeated flashbacks of the way they were during Sunday night's scene-setter.
Tatum eventually had three children with tennis star John McEnroe during their otherwise very ill-fated marriage. Lately she's a recovering drug and alcohol addict who's been sober "for almost a year now." Her move back to L.A. from New York, coupled with Fawcett's death in June of 2009, supposedly prompted a decision to reach out to her father. Tatum's earlier 2004 autobiography,
A Paper Life
, was not received well by Ryan, who said in a statement, "It is a sad day when malicious lies are told in order to become a best-seller."
The prospect of seeing him again makes Tatum's stomach churn, but not turn. She also asks herself, "Can I have a relationship with my dad and not jeopardize my sobriety?"
Complicating matters is Ryan's recent blowup with Tatum's son, Sean. So she seeks a little counsel from one of her longtime friends, Peter Morgan, who also helps her pick out a birthday party dress. Meanwhile, Ryan is holed up in his longtime Malibu home, drinking white wine in a tank top as a lithe blonde pal named Marketa pops in. She's been asked to find some old
Paper Moon
pictures of the O'Neals, which he's sure will make a great birthday gift.
"I always believed that was something that would hold us together," Ryan says of the film. Instead they both carry more personal baggage than Oprah would on a two-week trip to Tahiti.
The birthday dinner, thrown by Tatum's raspy-voiced gal pal, Tarleton, is duly pumped up as a possibly transformative event in any daughter-father reconciliation. He's the last to show up, but is in good humor. But then Ryan asks, "Hey, where's Sean?" A little heart-pounding music kicks in, leading, of course, to a commercial break. Upon return, his question is repeated, just in case anyone's forgotten what happened a couple of minutes ago.
Nontheless, all of this is "good TV," at least within the confines of the "reality" genre. Ryan and Tatum end up meeting again at his house. And even with the cameras busily rolling, their back-and-forth dialogue seems to flow naturally. Then again, they
are
both actors.
Previews of coming attractions highlight both good and bad times ahead for the O'Neals. On the one hand, they joyously see
Paper Moon
together. On the other hand, he blows up at restaurant and walks out while Tatum weeps.
Damned if it doesn't pretty much work. The O'Neals are still quite a duo, whether they end up staunching a lot of those old wounds or opening new ones. OWN needs a watchable series like this to attract both audiences and advertisers. And in
Ryan & Tatum: The O'Neals
, the network has both a head-on collision for rubber-neckers and a life-affirming reunion that adheres to the uplifting Oprah "brand."
GRADE:
B-minus