Can NBC's Smash make a splash, or just a splish?
02/02/12 01:09 PM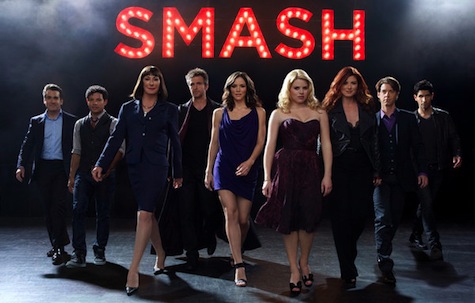 Smash hopes for a big open while its network sweats it out. NBC Photo
Premiering:
Monday, Feb. 6th at 9 p.m. (central) on NBC
Starring:
Debra Messing, Anjelica Huston, Katharine McPhee, Megan Hilty, Jack Davenport, Christian Borle, Raza Jaffrey, Brian d'Army James, Jaime Cepero
Produced by:
Theresa Rebeck, Neil Meron, Craig Zadan, Steven Spielberg, March Shaiman, Scott Wittman
By ED BARK
A far-flung "COMPREHENSIVE PROMOTIONAL CAMPAIGN" capped by Sunday's Super Bowl XLVI has made much of America at least peripherally aware that much is riding on NBC's
Glee
for grownups.
Now it's nearly time for
Smash
to fend for itself following Monday's last helping hand from a preceding two-hour edition of
The Voice
.
That makes for a very musically inclined night on a network that desperately needs a tune-up. If
Smash
ends up singing the ratings blues, then NBC's storied Peacock mascot might finally end up giving itself the bird before attempting to join a flock of seagulls.
It's hoped it won't come to that. Even TV critics most foul should have a rooting interest in
Smash
. It's bold, it's different and it even dares to sing show tunes. But the not-so-distant past of
CBS' Viva Laughlin
reminds us that many viewers say they yearn for something different -- and then revert back to the comforting ABCs of grisly crime and attendant solving.
Smash
is far surer-footed than
Laughlin's
musical mix of gumshoes and casino magnates. Its first two episodes come bracingly alive more often than not, although some of the spoken words don't exactly sing amid storytelling that can be too pat and predictable at times.
The crux is a new Broadway musical in the making based on the life of Marilyn Monroe. Vying for the title role are waitress/aspiring stage performer/Iowa-bred Karen Cartwright (former
American Idol
runner-up Katharine McPhee) and veteran chorus girl Ivy Lynn (Megan Hilty), who's spent a decade in the trenches while waiting for that one big break.
You won't have to wait long for at least a temporary resolution. By the end of Episode 2 (Monday, Feb. 13th), a winner is chosen for some of the wrong reasons. So she ends up happily singing "Sometimes even crazy dreams come true" while the vanquished hopeful is left staring vacantly.
But this is just the beginning of an envisioned long, winding road in which Uma Thurman will drop in later this year for a five-episode arc as "a famous and somewhat difficult movie star who flirts with the idea of starring in 'Marilyn'." Guest star appearances by Bernadette Peters and Nick Jonas also have been announced.
Two of
Smash
's regular cast members also are familiar faces. Debra Messing (
Will & Grace
) shines as Julia Houston, the married songwriting partner of openly gay Tom Levitt (Christian Borle). And Oscar-winner Anjelica Huston (
Prizzi's Honor
) sturdily plays producer Eileen Rand, who's intent on mounting the new musical while also in the throes of a contentious divorce.
The other key mover/shaker is brusque but accomplished director Derek Willis (Jack Davenport). He ramrods Karen in particular through the grueling audition process after Julia and Tom impulsively decide have to another go at a Marilyn musical after noting that a previous such Broadway attempt ended up bombing.
Filling out the bill are Julia's husband, Frank (Brian d'Arcy James), Karen's live-in boyfriend Dev (Raza Jaffrey) and Tom's wide-eyed eavesdropping new assistant, Ellis (Jaime Cepero). All add their own layers of "drama," some of it pretty clunky. In fact, Julia and Frank's on-off-on efforts to adopt a Chinese baby are a little too soapy for the Broadway business at hand. Perhaps he needs to get hit by a subway car or something.
The real joys of
Smash
are its performances and production numbers, some fantasized, others part of the bare bones auditioning process. Both McPhee and Hilty are terrific under all circumstances. But the end sequence of Episode 1 is particularly engaging, with both finalists singing their hearts out through the streets of Manhattan en route to another in-studio face-off.
Steven Spielberg again has his fingers in this one, as he did with Fox's
Terra Nova
and does with ABC's
The River
, which premieres on Tuesday, Feb. 7th. But whatever his input, the real behind-the-camera stars are co-executive producers Theresa Rebeck (also the series creator), Neil Meron and Craig Zadan.
The latter two are responsible for numerous other musical highs, including TV's
Life with Judy Garland: Me and My Shadows
and the big screen's
Chicago
. They bring a wealth of knowledge to
Smash
, which will have to keep raising the bar for its choreographed musical performances in order to remain a distinctively different weekly TV series.
NBC's thoroughly musical Mondays -- two hours of
The Voice
and
Smash
-- may be asking too much on a weekly basis. And the competition is pretty fearsome on all three rival networks, with attractions ranging from CBS' hit sitcom bloc to Fox's
House/Alcatraz
combo to ABC's
The Bachelor
and
Castle
.
Still, recording devices were made for such occasions. And it would be a shame if
Smash
ended up being another big disappointment for a network that's already on its knees.
Be assured that Broadway has never had it this good on network television, save for CBS' annual one-shot deal with the Tony Awards. And the NBC network has never had it this bad -- for this long -- in the prime-time ratings.
Smash
is a spirited big gamble in the best of times -- and on any network. In these worst of times for a once dominant NBC, it's a gut-churning roll of the dice in hopes that somehow, some way, everything comes up roses.
GRADE:
A-minus