NBC'sLove in the Wild gives hapless beauties more legs up over just plain folk
06/28/11 07:55 AM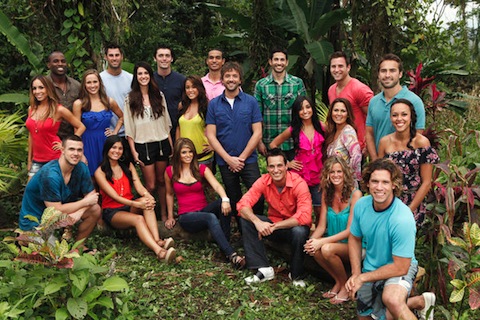 Meet yet another batch of lovelorn beautiful people. NBC photo
Premiering:
Wedneday, June 29th at 9 p.m. (central) on NBC
Hosted by:
Darren McMullen
Produced by:
Tom Shelly, Liz Schulze, Eric Gardner, Mark Allen
By ED BARK
Sometime in the very, very, very, very, very, very, very, very, very, very, very, very distant future, a group of genuinely ordinary looking singles will star in a network TV "reality competition" show about people who just can't seem to find a sustainable date or mate.
An added plus would be at least a semblance of believability. Dream on. The latest gambit in this genre, NBC's
Love in the Wild
, features another collection of sculpted beautiful people who supposedly are doomed to tread water in the universal dating pool unless they're thrown together in a Costa Rica jungle for a series of competitions spiked by snippy comments.
"How well they work together will determine if they're meant to be together," trills host Darren McMullen, who also helms the Australian version of
Minute to Win It
.
The 20 singles are first paired up as couples via a previous random numbers drawing. For the record, a 27-year-old hotel guest services rep named Dawn gets the first pick and takes 28-year-old student Jared. Either looks as though they could walk into a singles bar, snap their fingers and tell anyone on the premises, "You're comin' home with me." And that would be a done deal. But for the purposes of
Love in the Wild
, they're both desperately seeking mates after repeated failures off-camera.
The next step is a
Survivor
-like challenge. Contestants must build rafts and then paddle through what host McMullen says is a crocodile-filled river. No problem. Everyone paddles with their legs dangling in the water. And when a croc is sighted, it might as well be a mechanized creature from an NBC Universal theme park thrill ride. Still, one longs for a severed limb or two, even if most of the river's denizens might well prefer one of those much fleshier humans from NBC's
The Biggest Loser
.
The winning couple -- a map-aided jungle excursion also is required -- are immune from an Episode 1 eviction. They also get to spend a blissful night together in "The Oasis" before enjoying a nice lunch next to a waterfall that allows for further physical intimacy in swimwear. "I'm kinda giddy about it. I'm just goin' with it," says the winning woman before returning to another round of smooching -- and who knows what else -- with the winning man.
All of the runner-up couples get smaller two-person accommodations but of course have a communal hot tub at their disposal. Hot tubs are to TV dating competitions what ripe necks are to vampires. Gotta have 'em.
One couple eventually is sent home, with all of the contestants first getting a chance to change partners as part of their noble quests for true love.
Weepy Vanessa, who's also possessive, notes that "I'm looking for someone to spend the rest of my life with." Or at worst, at least a night, perhaps with protection from NBC Peacock brand condoms and/or contraceptives.
This is, however, one of those shows that a viewer easily can love to hate. And in that context,
Love in the Wild
is very well equipped to both go the distance and even be invited back next summer. By the way, the grand prize is a "first class trip around the world" for the last couple left standing. Even if Anthony Adonis ends up abandoning Candy Coating for Lucy Lush somewhere on a nude beach in Ibiza.
GRADE:
C-minus