29/04/13 10:10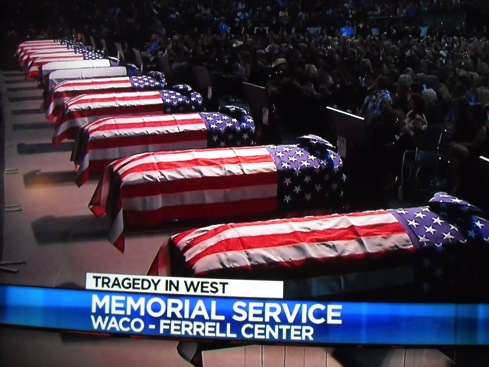 A lasting image from the West, TX memorial service. Photo: Ed Bark
By ED BARK
@unclebarkycom
WFAA8's decision not to join its D-FW rivals in continuous coverage of Thursday's West, TX memorial service continues to prompt pointed responses from readers, via both email and Facebook.
As previously posted
, WFAA8 instead aired syndicated episodes of
Anderson Live, Dr. Oz
and
Katie
, breaking in only for President Obama's remarks from 3:54 to 4:10 p.m. Fox4, NBC5 and CBS11 all preempted their regular programming to cover the more than two-and-a-half service from start to finish. WFAA8 news director Carolyn Mungo has not returned an email asking for an explanation of WFAA8's editorial decision.
All four stations offered wall-to-wall live coverage of Thursday morning's dedication of the George W. Bush Presidential Center.
WFAA8 has had subsequent investigative reports on the devastating fertilizer plant explosion, but wobbled again on Sunday's 10 p.m. newscast. Newly hired anchor Carla Wade introduced a followup report on the small community by telling viewers, "In West tonight, the final victims of the bombings finally see their homes." The station left the error intact for its post-midnight replay of the newscast.
Here's a sampling of readers' comments, beginning with portions of an email exchange with WFAA8 sent by reader/viewer Jack Wilson:
Wilson:
You did the area a great disservice by not carrying the Waco Memorial until the President spoke. You did your news station reputation a huge disservice.
WFAA8 representative Ann Clark:
The full memorial service has been airing on WFAA 8.3, TXCN and streamed online at wfaa.com.
Wilson:
(Verizon) Fios does not carry TXCN and it does not carry any of the digital channels. I doubt that Dish, DirecTV or Time Warner carry the digital channels either. Your programming staff needs to take that into consideration when deciding what to broadcast . . . I am a Channel 8 fan. If I am going to watch news, 99% of the time my TV will be on Channel 8. I was really surprised when I discovered that you thought talk shows were more important than a tribute to Texas heroes.
***
For the life of me, I can't comprehend WHAT is going on over at Channel 8. Could it be they just didn't want to lose the ad money? I can't think of any logical reason. --
holanasty 2***
I watched it on Channel 11. There was full coverage of the George W. Bush library by WFAA, and it was very good. I think it's good for the smaller stations to get a chance to cover a live event like the West Firefighter funerals. --
Lisa Lanier***
WFAA being such a powerhouse with all the staff and special toys, it's shameful they didn't cover. Such a bad decision, not only by news director (but the) producer and assignment desk. This was a major event that needed to be covered. Makes one wonder!? --
Jerry Jenkins***
They (WFAA) covered the ENTIRE morning with Pres. Library. And besides what's the point when all the other networks are showing it? Only so much audience that I believe wanted to see that. Not cold, just truthful. I could only watch it in snippets. Very painful and hard. They preempted their WHOLE morning, so (they) lost big ad revenue. --
Allison Wheeler Kelley***
I can't speak to why they didn't go live. But to WFAA's credit, it had an investigative reporter, investigative producer and spot-news reporter in West the two days I was there this week. Can't say that for the other stations. --
Reese Dunklin***
I know you remember me from when I worked at Channel 8. I sent you press releases and helped set up interviews when ABC stars came to town. Whenever the switchboard got flooded, the operators sent the overflow of angry viewer calls to Public Relations and Programming. Whenever soap operas were preempted, it was a nightmare. This time, I'll bet they had a flood of calls from people who were angry they DIDN'T preempt Anderson Cooper's show. --
Pam Brooks***
I totally agree with you on WFAA's bone-headed decision NOT to air complete coverage of the West memorial service. On a day when plenty of LOCAL news was happening, our own locally-owned and operated TV station was absent when it clearly should have been out in front. It's also curious given what I thought was excellent coverage (by Ch. 8) in the field when the blast happened. My only thought as to why there was this perceived stumble is that it wasn't a stumble at all. My guess is there was some back-and-forth between the news and programming divisions, and programming won out. The needed the ad revenue from the syndicated shows and the syndicators wanted the showings during a ratings (sweeps) period. How else can one describe this move? --
Christopher Skorz***
As a former News 8'r: Wow. Times have changed! --
Rick L'AmieEmail comments or questions to:
unclebarky@verizon.net