Hulu.com lets Stewart rip -- even though its co-owner also owns whipping boy CNBC
03/11/09 16:59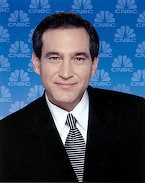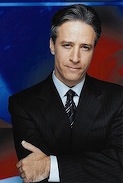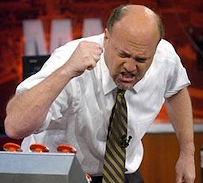 CNBC's excitable Rick Santelli and Jim Cramer flank Jon Stewart.
By ED BARK
Credit the co-parent of
hulu.com
with being able to take a punch -- and then another one.
I three-quarters expected hulu, owned by NBC Universal and News Corporation (Fox's parent company), to omit Jon Stewart's devastating
Daily Show
dissections of CNBC blowhards Rick Santelli and Jim Cramer. After all, Stewart makes both of them -- and their all-business network -- look like bear's asses. And that's not always good for business.
On the contrary, though, hulu carries both of these clips in its regular
Daily Show
section. A 30-second commercial paves the way, which may be the saving grace. But it's still a praiseworthy decision on NBC Universal's part, even if the corporation triggered Stewart's rants by allowing Santelli to belatedly back out of a scheduled
Daily Show
appearance shortly after he was targeted as a know-nothing by White House press secretary Robert Gibbs.
Here's video of the second and shorter Stewart bit, in which he zeroes in on Cramer and leaves him bent, spindled and mutilated. Mmm mmm good.