01/30/09 13:37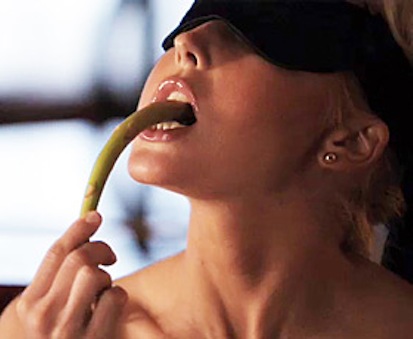 Veg-o-matic: Still pic of banned SB XLIII ad from PETA's Web site
By ED BARK
OK, I can kinda see why NBC rejected this now widely seen
PETA
ad for its Super Bowl XLIII festivities.
Still, vegetables never had it quite so good.
Basically, the 30-second spot depicts several scantily clad models pleasuring themselves with pumpkins, broccoli, eggplant and asparagus. The tagline: "Studies show vegetarians have better sex."
PETA is having a fine time chiding NBC over this, including the
publicizing of a letter sent to the organization
by the Peacock's vice president of advertising standards.
"The PETA spot submitted to Advertising Standards depicts a level of sexuality exceeding our standards," says NBC, which last spring presented a
30 Rock
episode built around a fake reality series titled
MILF Island
.
NBC's letter to PETA mandated eight editing changes. Some of the more printable ones are "rubbing pelvic region with pumpkin" and "touching her breast with her hand while eating broccoli."
PETA responds, "Wow, that list even made us blush!"
The infamous and by now exceedingly tiresome controversy over Janet Jackson's Super Bowl XXXVIII "wardrobe malfunction" continues to make all broadcast networks a bit gun shy. But at last glance, several youtube postings of the PETA ad have generated more than 400,000 views.
Here's the "offending" 30-second spot. Meanwhile, please pass the peas.
01/12/09 17:31
By ED BARK
Funnyordie.com
can be profane, inane but on occasion high-larious. Or at least in the ballpark.
Celebrities taking the time to do exclusive videos sometimes are promoting something, too. Not a big problem, though. Denis Leary, for one, only takes about three seconds to mention his bestselling book,
Why We Suck: A Feel-Good Guide to Staying Fat, Loud, Lazy and Stupid
. Otherwise he's gamely riffing on all the crappy movies he's made, including
Operation Dumbo Drop
and
The Matchmaker
, which he sums up as "Went to Ireland. Drank my ass off."
Tied to the above headline, here's a funnier, shorter video starring Will Ferrell as George W. Bush touting his one-man Broadway show "You're welcome, America." It opens on Inauguration Day.
01/08/09 13:56
By ED BARK
Have you hulu'd yet? You should.
Launched on March 12, 2008 by NBC Universal and News Corporation (parent company of Fox),
hulu.com
has grown to a mega-treasure trove for TV junkies of all shapes, sizes and guilty pleasures.
Its vast free-of-charge TV landscape -- a few feature films are offered, too -- accommodates both full episodes and clips of shows ranging from all-time classics (
The Mary Tyler Moore Show
) to quickly canceled little gems (
The Tick
) to irresistible, brain-decaying junk (
Tequila & Bonetti
).
You can watch every episode from the first three seasons of
MTM
, beginning with the "Love is All Around" pilot and ending with No. 72, "Mary Richards and the Incredible Plant Lady." Commercials occasionally intrude, but none are more than 30 seconds. And the episodes are all crystal clear and in wide-screen.
Hulu also offers the 1983 documentary
Amos 'n' Andy: Anatomy of a Controversy
among its hundreds of titles. All 20 episodes of CBS'
Square Pegs
likewise are in the hulu house. The 1982 CBS sitcom co-starred Sarah Jessica Parker as a dorky denizen of Weemawee High School.
Joss Whedon's Web-centric
Dr. Horrible's Sing-Along Blog
, starring Neil Patrick Harris, is on the hulu menu, too. Or maybe you'd like to catch up with or start watching Fox's
Fringe
. Ten full episodes are available.
We'll close with a timely hulu.com clip from
The Daily Show
. Now go see for yourself.