04/14/09 12:47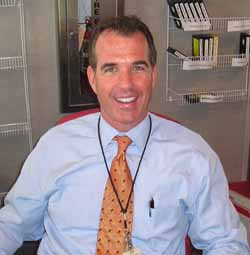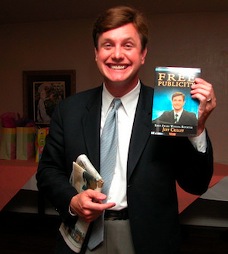 "The Two Jeffs:" -- Brady and Crilley say they've got news for you.
By ED BARK
"I have journalism in my DNA," proclaims former WFAA8 anchor/reporter Jeff Brady in the video hard sell for his newly formed Brady Media Group.
Oh yeah? And I've got printer's ink in my sweat glands and lately Internet links up my hard drive.
Anyway, this is Brady's way of saying that you might want to hook up with him if you want to make the news. Because as he elaborates in one of his
new Web site's
accompanying print pitches, "Journalists have never needed this kind of supplementary help more than now. Every newsroom in the country is being squeezed for personnel, time and resources. Budgets are tighter. And deadlines are shorter. We offer a lifeline to time-starved reporters who are being pulled four directions at once. We've already researched the story. We've already vetted the source. We've already done the research.
"Yes, some of our pitches represent paying clients. But in the end, a story is a story. And if it has journalistic merit, it should be reported. If not, it should be ignored, right?"
There's a lot of this going around,
much of it detailed
in a story I wrote for last August's
D CEO
magazine. In fact, one of Brady's new like-minded partners in his post-WFAA8 venture is former Fox4 reporter Jeff Crilley, whose Real News PR company opened for business last spring.
In a post titled "The Two Jeffs," Brady says he'll work with Crilley -- and vice-versa -- when it's deemed necessary to "pitch a larger client who may need the services of more than one small agency."
It's getting a little too easy to envision more TV news "expatriates" pitching stories than there are gullible TV reporters to catch them. But Brady's enthusiasm is undeterred, even if some of his verbiage might make your head hurt and would never get by a good editor. Such as this description of what he sees as "The Revolution" -- in a printed blog titled "The New Rules:"
"It's the movement AWAY from top-down, one-way autocratic broad-based big media content -- toward more unique, niche-based, on-demand, dialogue-format media in which providers actually try to educate, inform, entertain and engage a smaller, highly-focused digital audience."
Oh well, unclebarky.com will continue to just plod along, scratching out stories on its own with occasional tips from sources. Meanwhile, here's Brady's one minute, 3 second video pitch, which is nicely produced and priced to sell:
Jeff Brady Introduction
from
Jeff Brady
on
Vimeo
.
04/08/09 09:39
By ED BARK
Eminem's new video, perhaps his first since M&Ms went blue, includes mockups of Tony Romo and Jessica Simpson, with the uniformed Cowboys QB -- played by Eminem -- tossing her a burger in the closing seconds.
In
"We Made You,"
Eminem also messes with the likes of Sarah Palin, Kim Kardashian, Ellen DeGeneres, Lindsay Lohan, Elvis and Mr. Spock. You'll also see "Tony" and "Jessica" in the video's early seconds after Eminem begins with "Guess who? Did ya miss me? Jessica Simpson, sing the chorus!"
But that's not her, singing or otherwise. Here's the whole thing: