02/13/12 15:10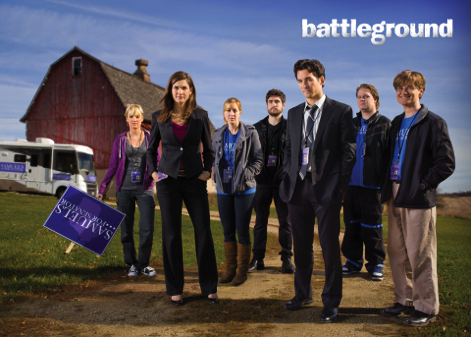 The new web-only series Battleground trains its sights on the minds behind a fictional Wisconsin Senate campaign. Hulu photo
Premiering:
Thursday, Feb. 14th on hulu.com and hulu plus
Starring:
Jay Hayden, Teri Reeves, Jack DeSena, Ben Samuel, Lindsey Cutter, Jordan T. Maxwell, Alison Haislip
Produced by:
JD Walsh, Hagai Shaham, Marc Webb
By ED BARK
The title is more than a little misleading, suggesting an intergalactic series or at least a bloody war front of some sort.
But during election seasons,
Battleground
also can be a hotly contested state. And hulu.com doesn't yet have budgets big enough to accommodate a lot of scope, costumes or special effects.
What we have here then is strictly earthbound and filmed in your friendly content provider's old school daze city of Madison, Wisconsin.
Battleground
, launching Tuesday, Feb. 14th on both hulu.com and hulu plus, is scheduled to run for 13 episodes in half-hour chunks. It's hulu's first original scripted series and for the most part plays like a semi-promising minor league pitcher without good enough stuff to play in the Bigs. Nice try, though, and everyone has to start somewhere.
Battleground
's theme song and talk-to-the-camera interludes are reminiscent of
The Office
and its numerous offshoots. It's also at least mildly derivative of HBO's landmark
Tanner '88
series, in which a fictional presidential campaign was tracked from the inside out.
Hulu's first two episodes of
Battleground
fall well short of both antecedents. The campaign staff for plain-faced, middle-aged U.S. Senate candidate Deirdre Samuels (Meighan Gerachis) is notably young and pretty but not very believable. And an incoming volunteer named Ben Werner (Ben Samuel) is impossibly naive and wide-eyed -- to the point where you'd like to grab his shoulders and shake him for the remainder of the premiere episode.
Running the show is Chris "Tak" Davis (Jay Hayden), who has
GQ
model looks but way too nice a temperament for a campaign manager of even a school board race.
Tak's chief media strategist, Kara "KJ" Jamison (Teri Reeves), likewise lacks the requisite bite. There's also one-note Jordan T. Mosley (Jordan T. Maxwell), who likes to think he's a key operative but is actually the campaign's "copy room advisor." Add speechwriter Cole Graner (Jack DeSena), who's romantically involved with KJ, and campaign helper Lindsey Cutter (Lindsey Payne), who's warming to Ben. And Ali Laurents (Alison Haislip) is increasingly indispensable as the "social media director."
The would-be senator they all work for is decidedly charisma-challenged, as is the show.
Battleground
's first two episodes, while not unwatchable, don't achieve enough liftoff to merit must-see return trips to hulu for further weekly adventures. The whole enterprise is too labored and forced for that. Waiting for
Battleground
to jell seems like too much of a losing proposition. A candidate who seemingly has nothing going for her only compounds matters.
GRADE:
An on-the-curve C in deference to
Battleground
's web origins