"Welcome to Cambio, where fans become friends"
06/16/10 10:12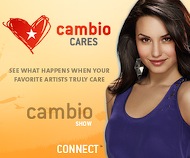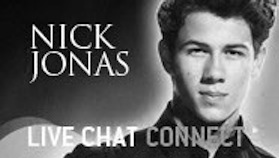 Up-close on their terms with Demi Lovato and Nick Jonas
By ED BARK
The new website
Cambio
is the latest way for celebrities of a certain age and status to blow past conventional media outlets and go directly to their fans.
In other words, it won't be warts and all. What you'll see is what they want you to get.
Launched Tuesday, Cambio (which means change in Spanish) is a production of AOL, MGX Lab and the Jonas Group, which reps the Jonas Brothers (who have a home in North Texas), Demi Lovato (whose mom was a Dallas Cowboys cheerleader) and Season 6
American Idol
champ Jordin Sparks among others.
Aimed at 13-to-24-year-olds, Cambio is a "safe environment" for stars to communicate with fans, Kevin Jonas Sr. told
The New York Times
.
A visit to the web site Wednesday immediately cued up a video of Lovato welcoming customers to Cambio and touting her filming of the premiere episode of
Cambio Cares
in Santiago, Chile.
The Jonas Brothers -- Nick, Joe and Kevin -- also provide a brief video taste of their new Road Dogs softball team, with more coming. For now you get a collection of squealing fans, a snippet of game footage and Joe Jonas declaring, "I'm not trying to boast. I'm just saying we're gonna win. We're gonna win with all my force." Whatever develops, you probably won't see any ground balls going through his legs.
Another early feature,
Cambio Connect
, is hosted by an aggressively exuberant guy named Quddus. Fans are encouraged to interact with Cambio's roster of stars via Twitter, Facebook and youtube. They're also urged to send in questions, but don't throw any sucker punches. In the first installment, Allison J 20 asks Sparks what it felt like to win
American Idol
. "It felt so amazing," she says in part. Sparks also experienced "surprise and awe."
Well, there you have it -- and welcome to it. And here's that Road Dogs video.