Highly unusual: Letterman meets the press before his CBS Late Show takes wing
07/05/15 09:03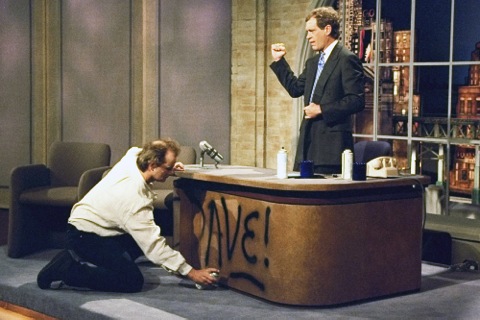 Bill Murray makes his mark on Letterman's first CBS Late Show.
Note to readers: David Letterman does press conferences about as often as Donald Trump admits a mistake. In other words, they're an extreme rarity. But he flew coast-to-coast in mid-summer 1993 to talk about his big, bold move from NBC to CBS after Peacock execs gave
The Tonight Show
to Jay Leno. Here's the way it was at a time when the fates of "Stupid Pet Tricks" and Letterman's nightly "Top Ten List" remained in the hands of corporate lawyers. (This article was first published on July 20, 1993.)
By ED BARK
@unclebarkycom on Twitter
LOS ANGELES -- David Letterman, cigar in one hand and CBS in the palm of the other, stepped to the forefront of the late-night television battle Monday night.
"I don't find myself in kind of a cloud of anxiety over this," he told about 150 television critics gathered on a sound stage at CBS Television City. "Of course, I'm full of gin."
There
is
a cloud of uncertainty over whether
Late Show with David Letterman
, which premieres Aug. 30th, can transfer the titles of hallmark comedy segments from his old show on NBC. The network has said it might take legal action if he uses "Stupid Pet Tricks" or "Top Ten Lists," which NBC claims to own.
Letterman said he plans to do both, but "if they (CBS lawyers) say don't do it, then obviously we won't do it." He expressed confidence, however, that both sides will "find each other all together on the high road."
"The whole thing has struck me as being silly," he added. "But if NBC is adamant and holding firm, it's not gonna break my heart."
There will be at least one casualty. The name Larry "Bud" Melman, a character played by Calvert DeForrest, is owned by NBC and will have to be changed, Letterman said.
Letterman took the stage with bandleader Paul Shaffer, uncustomarily dressed in a suit and tie, and producers Peter Lassally and Robert Morton. He is being paid $14 million by CBS, a figure he did not dispute, to battle NBC's
Tonight Show
this season.
"I'm certainly not worth that kind of dough," he said.
Letterman, 46, stood with a towering mockup of the New York City skyline behind him and with brightly lit "HOLLYWOOD" letters staring him in the face. A spangled CBS Eye logo hung behind him. Seldom willing to be interviewed during his NBC years, he alternately joked and answered questions seriously for one hour. Letterman even extended the interview session an extra 15 minutes after a CBS publicist tried to end it.
Letterman's new home base will be the historic Ed Sullivan Theater in New York City. Noting the "clouds of asbestos" permeating the theater, Letterman joked, "I just think it might have been easier to renovate Ed Sullivan than the theater."
Letterman said he wouldn't alter his irreverent style to fit an earlier time period. "It's going to be the same show," he said. On the NBC program, "I tried not to offend people, but it kept happening."
CBS began promoting Letterman's program during last Tuesday's All-Star baseball game. The tag line is "Same Dave. Better Time. New Station." The pitchman is Dave himself in more than 80 different on-air spots.
George Schweitzer, the network's vice president of marketing and communication, calls it "straight-ahead Dave." Some samples: "Love songs. Nothing but love songs." "You might remember me as The Fonz on television's
Happy Days
. Well, I'm all grown up now." "Don't you think that CBS Eye thing is kinda creepy?" "Here's the good news. We've been saving the funny stuff."
The disquieting news for CBS is Letterman's late-breaking starting time on one-third of the network's affiliate stations, including KDFW-TV (Channel 4) in Dallas.
Late Show
will go head-to-head with NBC's
Tonight Show
in only 67 percent of the country.
In the Dallas-Fort worth viewing area, Letterman's program will begin halfway through
Tonight
at 11:05 p.m. Channel 4 plans to air reruns of
Murphy Brown
immediately after its 10 p.m. newscast. The station bought the rights to
Murphy
more than a year before CBS landed Letterman.
"David Letterman will start with a significant handicap in terms of (station) clearance," said David Poltrack, CBS' vice president of planning and research. "Eventually, by year two, it will be a case of the best man winning -- and that will be David Letterman."
Email comments or questions to:
unclebarky@verizon.net