21/07/16 11:25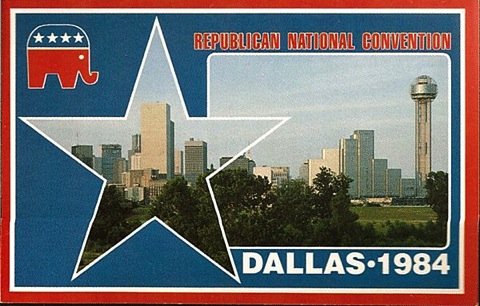 Note to readers: Your friendly content provider's first of 10 national political conventions was in 1984, when the Ronald Reagan-led Republicans took their show to Dallas to re-coronate him. ABC, CBS and NBC turned out in force while the still fledgling CNN tried to make its first big showing. Here's what many of the day's heavy-hitters said on convention eve before temperatures spiked to 106 degrees for opening day. This article originally was published on Aug. 19, 1984.
By ED BARK
@unclebarkycom on Twitter
Pile the imposing portable anchor booths atop one another and they stand 11 stories high -- three apiece for ABC, CBS and NBC, and two for CNN.
Can the networks possibly find that many big stories at this week's four-day Republican National Convention in Dallas? "You want to know how we're going to make it interesting," volunteered Reuven Frank, a 34-year veteran of NBC News and executive producer of the network's convention coverage. "I don't think that's our job. I'm not sure, if you're covering a baseball game, and it's 10 to 1 going into the eighth inning, that you make it interesting. If we find something interesting, we'll report it."
"Our job," said CBS floor reporter Bob Schieffer, "is to show up and see if anyone commits news. The Republicans are charged with coming up with the plot for this thing."
With the nominations of President Ronald Reagan and Vice President George Bush in the bank, the networks could be facing a series of thin plots and lopsided ballgames. Realizing the obvious, Republican organizers of the convention have condensed it and scheduled two-thirds of the abbreviated agenda in two-hour prime-time blocs. Some of the sleepier business will be dispensed with in two-hour morning sessions on Monday and Tuesday.
The rest of the convention schedule is an almost perfect match for the commercial networks' coverage plans: Two hours, from 8 to 10 p.m. on Monday, Tuesday and Thursday nights. Wednesday's nominating session, scheduled to begin a half-hour earlier, may or may not be covered in its entirety by ABC, NBC and CBS. It depends, in the words of a CBS press release, on whether the extra 30 minutes constitute "newsworthy convention activities."
By making ready for prime-time -- and little else -- the Republicans have come up only four hours short of foisting gavel-to-gavel coverage on the commercial networks. In San Francisco, the Democrats began at 5 p.m. (CDT) the first two days, at 2 p.m. on day three and 5:30 p.m. on closing night. Consequently, more than half of the convention could be seen only on cable television's CNN and C-SPAN, both of which will go gavel-to-gavel again in Dallas.
Still, the Democrats saved most of their big acts -- Mario Cuomo, Jesse Jackson, Gary Hart, Geraldine Ferraro, Walter Mondale -- until the commercial networks were ready for them. Even former President Jimmy Carter got into the prime-time act, although he originally wasn't supposed to be there.
"I think the convention planners have become a lot more realistic about the news value of their convention," said Jeff Gralnick, executive producer of ABC's convention coverage. "They have an understanding of which end of the dog wags which end of the dog."
"Every four years they try to orchestrate them more, and you can't blame them for that," Schieffer said. "Every day, in every town in the United States, people are trying to manipulate the news media. There's nothing immoral about that."
Some critics contend that the three commercial networks are morally obligated to carry a national convention's activities in full, no matter what the agenda or the Nielsen ratings. Whatever the excitement level, conventions are quadrennial reaffirmations of the democratic process.
CBS anchor Dan Rather was unable to convince his bosses that coverage should start immediately after the early evening newscasts. He also wanted some live reports of daytime sessions.
I don't think they'd (CBS management) want me in this job if I didn't feel that way about it," Rather said. "But in this particular year, it got very difficult to champion that cause. When you have a year in which both parties have settled on their nominees, it makes it hard to take my argument much beyond where I took it. I gave it my best shot. The decision went the other way and I'm comfortable with it."
Nielsen ratings were expectedly low for the commercial networks' convention coverage in San Francisco. Only 44 percent of TV viewers tuned in to watch the Democrats on CBS, ABC and NBC. In comparison, ABC's prime-time Olympics coverage drew 45 percent of the viewing audience during the week ending Aug. 5.
"If we were in the ratings business, we wouldn't be putting conventions on the air, because the political process is not a big ratings-getter," Gralnick said. "There's been erosion in the number of people watching political coverage, just as there's been an erosion in the number of people who vote. I think both are wrong."
On CNN, though, the Democratic convention unexpectedly drew substantially larger audiences than the all-news network's regularly scheduled programs. Robert Furnad, CNN's political news director, said advertisers therefore are paying four times as much for spots during the Republican convention.
"The commercial time was sold just like that," Furnad said. "Which helps, because we lost our butts on the other one, in terms of finances."
In terms of excitement, said NBC's Frank, the Dallas GOP convention is comparable to the 1956 Republican gathering at which Dwight Eisenhower and Richard Nixon were renominated.
"We didn't know how to do it as well as we do now," he recalled. "We actually reported one of our reporters being instructed in the hula by one of the delegates. I mean, there was nothin' going on. That's one of the things that happens with gavel-to-gavel. Not doing gavel-to-gavel this time will help us."
The conventions of the 1950s, and television's coverage of them, seem prehistoric now. Gralnick says that today's political conventions have become "dying dinosaurs" with little purpose other than to ratify decisions made by voters during the presidential primary season.
"Some conventions are more interesting than others, but that doesn't make them dinosaurs," Rather countered. "What we're all taught, by no later than the seventh grade, is that we are committed to the idea and the ideal that people choose their own leaders. The conventions are an integral part of that system, and we forget that or make light of that at our peril.
"Unfortunately, we've all gotten a little afraid to talk in those terms. We believe it, we know it, but it's become fashionable to say it doesn't amount to anything. If that sounds like someone's Fourth of July speech, then so be it. I believe it."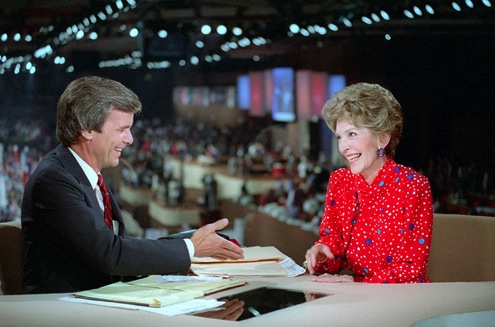 NBC's Tom Brokaw had a congenial chat with First Lady Nancy Reagan at the choreographed 1984 Republican convention in Dallas.
Tom Brokaw, anchor of NBC's convention coverage, said he doesn't expect a "three-ring, go-to-hell, knock-down, drag-out circus" in Dallas. But a little democracy in action goes a long way with him, too.
"I don't think you can just turn on the cameras and microphones and say this is a civics lesson," Brokaw said. "But, in the course of our coverage, we can in fact provide an important civics lesson for the country. That doesn't mean that we take on the role of instructors of Americana. But there is nothing more reflective or representative of the body politic in America than a national political convention. I think it's important to have this kind of electronic forum available."
Anchors with hands over hearts still have time to fill, though. Brokaw, Rather, ABC's Peter Jennings and CNN's Don Farmer all say they are convinced the Republicans will offer some real meat amid the filler. Would a self-respecting anchor say otherwise, though?
"Certainly, if the Republicans put on nothing but a steady steam of aging white men in gray suits talking about inflation, it's not going to be a very interesting convention," Rather said. "But I don't think that will happen."
Rather thinks that the party's divided position on taxes, for one, could be an interesting, significant story.
Brokaw says NBC will examine Reagan's presidency and the GOP's relevance to women and minorities.
"I think it's going to be very obviously a choreographed celebration of Ronald Reagan's four years in office," he said. "Our obligation is to provide some examination of that. We see it as an opportunity to raise before a wider audience many of the issues that are important to the country."
The tax increase/budget deficit debate between Reagan and Democratic challenger Walter Mondale undoubtedly will continue at the convention. That doesn't mean an anchor has to like it.
"It's one of the great silly issues of our day," said Farmer, one of CNN's three convention anchors. "You know, such garbage. Every credible economist and economic journalist I've read has said that of course we'll have to raise taxes. No question about it.
"I think our commentary and analysis will have less to do with the happenings at this particular convention and have more to do with the campaign," he added. "Because Mondale has been so vocal, he's given everybody a quick, and not very sneaky, preview of some of the themes of his campaign."
Of the anchors, producers and reporters interviewed, only ABC's Jennings thought that Dallas, and Texas, might get heavier media exposure than San Francisco did.
"I think Texas in general and Dallas will get quite a lot of coverage," he said, "because they are seen in the president's mind as being bastions of Republican strength."
NBC's Frank doesn't think Dallas will be much of a story.
"The thing I have found about conventions," he said, "is that they become sealed universes. Nothing outside seems to matter. We thought that San Francisco would be very important, and it wasn't. The importance of Dallas, when it was picked as a convention site, was a big story. But once Monday night rolls around, it could just as well be on the moon."
CNN plans to have stories on Billy Bob's Texas nightclub, convention security and the King Ranch. All the networks will cover any particularly picturesque demonstrations. There was this story idea, too, on an assignment sheet posted in one of CNN's work areas at the Dallas Convention Center.
"The Anatole may be the brick and glass equivalent of Sister Boom-Boom from San Francisco. We shall take a look at what will be the president's home during his stay here."
"We're proud to say that we're not doing anything on the
Dallas
television program," Farmer said. "And I don't think we're doing anything on the assassination route. I'm not saying we won't at some point allude to it, but it's certainly not something we're going to spend a lot of time on."
Schieffer and Rather, both native Texans, have homier feelings about the area they grew up in.
"Dallas is just like anybody else who's about to host a party," Schieffer said. "There's going to be a certain amount of nervousness, I'm sure. I think everybody wishes Dallas well on this thing. I sure do. It's tough to put on one of these things."
"So far, Dallas has gotten an absolute Niagra of good reports from the press," Rather said. "Reporters I've talked to are surprised by how much the area has grown and how much more sophisticated, how much less provincial the place seems to them. Dallas has won a lot of people over. It seems to have a better sense of humor about itself now than it once had. And that's helped enormously."
The networks, like Dallas and San Francisco before it, will be examined for warts and beauty marks during convention week. Some of the sharpest criticism of the Democratic convention coverage came from Thomas Griffith in the
Time
magazine "Newswatch" column.
"The arrogance of television," Griffith wrote, "is its assumption that its own maunderings are more interesting than what is being said on the platform."
Jennings strongly objects.
"I'm very self-conscious about that kind of thing," he said. "I never think it's particularly my role to blow smoke or blow wind. One of the things that we did quite a lot of in San Francisco was to go back to the floor and hear from other people. I would much rather hear what is happening at the convention than to hear me or any of my colleagues sitting around analyzing it to death."
An anchor, Jennings said, should be a "traffic cop."
According to sources at ABC News, Jennings was infuriated when his network blew the whistle on convention coverage during a lull before Jesse Jackson's speech. ABC cut away from its coverage, showed part of a
Hart to Hart
rerun, and then returned, reportedly at Jennings' behest, to catch part of House Speaker Tip O'Neill's warmup speech for Jackson.
Gralnick, who made the decision, still defends it.
"I haven't lost any sleep at all about that one," he said. "If we had a special edition of
20/20
that we cut to and then went away from, nobody would have said anything. But somehow there's this bugaboo about entertainment programming."
Marty Haag, news director at ABC affiliate WFAA-TV (Channel 8), termed Gralnick's decision "horrible."
"It's a tacit admission that you can't fill the time with reporters who supposedly have been with the candidates for some time," he said. "If a local station did that, we would have been bombarded with phone calls."
Frank, playing games with ABC, ran a synopsis on NBC of the
Hart to Hart
episode's conclusion during the closing credits of that night's convention coverage.
The Democratic convention's other celebrated incident, from a coverage standpoint, was the denunciation of CBS floor reporter Ed Bradley by Chicago mayor Harold Washington. Bradley had tried to arrange an impromptu floor debate between Washington and Chicago alderman Edward Vrodlyak, who are bitter political enemies.
"I'm stunned at a man of your high caliber who would stoop to such a thing," Washington told Bradley on camera. "You are one of the lowest possible individuals I have seen. How dare you call yourself a press man?"
Leaving Washington's insult unanswered, Bradley cut away by saying, "Dan, I think you see an example of the problems that the Democratic Party has."
During dead spots in conventions, "There's a danger of taking a slight ripple and making it into a whirlpool," CNN's Farmer said. "The 'Ed Bradley lesson' is not lost. Ed's a good man, but in my opinion he went too far. That's something that I hope our people won't do."
CBS had left Sen. George McGovern's podium speech for what turned out to be Bradley's uncomfortable scene with Washington. The timing was unfortunate, Rather said, but criticism of Bradley is "an unfair rap."
"I thought Ed handled it wonderfully. I don't know of anybody in the business who would have handled it as well," Rather said. "Was he trying to make something out of nothing? Absolutely not. The ill feeling between the different factions of the Democratic Party in Chicago is real. It's not something Ed Bradley created. It's a fact, and Bradley's reporting brought that to the television screen."
It is unlikely that comparable friction will be found between two Republican delegates from the same state. But there's got to be a ripple -- or maybe even a whirlpool -- somewhere on the convention floor.
"It's pretty hard to get this many members of a political party together at one time and not have something that's interesting," Schieffer said. "But if there's no story, there's no story. Some days you get the bear and some days the bear gets you."
Email comments or questions to:
unclebarky@verizon.net