29/06/17 14:31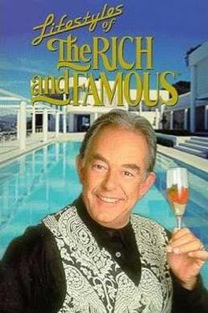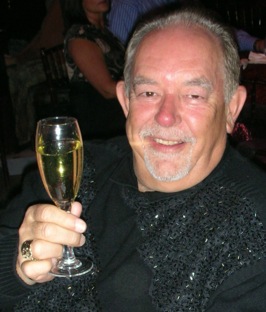 Note to readers: The downtown Dallas edition of The Palm restaurant is closing on Friday, June 30th after a 33-year run dating to May 1984. Your friendly content provider didn't get there very often because, well, the prices. But just over a year after The Palm opened, I had a still unforgettable lunch interview with Robin Leach, who was perfectly comfy with the high-cost menu. He was in the heyday of his signature show,
Lifestyles of the Rich and Famous,
which ended up enduring until 1995. Leach proved to be a delicious fount of gossip and pointed quotes, which is the way I'll always remember The Palm. This article was first published on July 17, 1985.
By ED BARK
@unclebarkycom on Twitter
Robin Leach is in Antigua, bawling loudly in that whiny cockney accent about "the ultimate playpen in paradise for the rich and famous!"
You'd need a butcher knife to cut through the goo.
"It was good to see 'Lizer' again," he says, speaking of "old friend" Liza Minnelli.
You'd need a hacksaw to cut through the glop.
"She's the star who gave it all up for love -- and is now right back in the swim of things!" This time Leach is talking about Esther Williams.
You'd need a bloody chain saw to cut through the effervescence flowing through each and every edition of
Lifestyles of the Rich and Famous
.
Leach nods agreeably from a table at The Palm restaurant, where the walls are thick with drawings of national and local celebrities. He has the shape of a Gummi Bear and a nose for gum-drop gossip. Sure,
The Love Boat
is hard-edged drama compared to
Lifestyles
.
And you know what?
So what.
"The show is fluff," Leach says. "I take no umbrage when critics say we're 60 minutes of bubble gum. Absolutely! But it's the best bubble gum on television. It's the best fluff on television. It's the best champagne and the best silk sheets on television."
It's winning its time slot here every Sunday at 11:30 p.m., when Channel 5 draws 25 percent of late-night viewers to the spectacle of Leach interviewing Julio Iglesias and then saying, "Julio Iglesias, truly a conquering hero!"
"Johnny Carson has called me a toady," Leach volunteers. "A lot of people have said that my last name fits the job that I have to do. But all I ask is that you remember the title of the show. It's
Lifestyles
. If it was 'crucify' or 'attack' the rich and famous, I'm quite capable of doing that."
Some of the rich and famous at first were reluctant to let the former tabloid reporter show America their boardrooms, bedrooms and bathrooms. During the first four months of the show, which premiered in March 1984, Leach says, he called on a lot of "semi-friends" to help get things rolling. Now
Lifestyles
is in 165 media markets. Stars are standing in line to be petted.
"Some of them thought it was going to be an expose of the wealth and waste and the conspicuous consumption," he says, "and that it would come complete with editorial comment condemning this horrendous misuse of money. But we didn't. Nobody appointed me judge or jury.
"I also believe that stars are made by the public, so why destroy the very person that the public wants to be a star in the first place? People want to see celebrities. And nobody has ever come on television before, I don't think, showing celebrities getting out of bed or getting out of bathtubs or taking showers. But people want to see whether the bathtub is 20-carat gold. They want to see whether the sheets are silk. They want to see whether they sleep nude or in pajamas. You see that on our show. We've done it."
Well, sort of. Dallas native Morgan Fairchild trusted Leach to the point where she willingly got into a bathtub for him while his cameras recorded the moment for
Lifestyles
. Sensational? Yes, says Robin. Scandalous? No. It was all in good taste, after all, and viewers didn't see any more of Morgan than they could by watching her between the sheets in a prime-time potboiler. But the very idea of Morgan taking a bath while Leach bubbled -- why, it's . . . sensational!
"I am a great believer," Leach says, "that you can be sensational without being scandalous."
He explains the difference.
Years ago, while interviewing actress Susan Anspach, he learned from her that she had two "illegitimate" children, one by actor Jack Nicholson.
Leach says he "broke" the story, but in a nice way.
"Instead of saying Jack Nicholson is a creep for having this baby, it was about why single motherhood can be important and can be beautiful," he explains. "It was a sensational story, but it wasn't scandalous."
Leach was in Dallas to do a piece on T. Boone Pickens, the nationally known corporate raider. Leach gets to Texas fairly often. During the show's first season, for instance, viewers were given a tour of Midland, home of "more millionaires per square mile than anywhere in the world."
Texas has a "tremendous amount of the
nouveau riche
wealth in America," Leach says. "I say it with love and affection that Texans know how to earn money and they spend it just as hard as they work to earn it. So it's a perfect stomping ground for me, because they do like their diamonds and their big houses and their chauffeur-driven limos."
A native of Harrow, England, Leach was weaned on British tabloid journalism before coming to the States, at the age of 21, in November 1963. His first job, during the Christmas rush season, was in the shoe department of a New York department store. He worked six months as a reporter for the
New York Daily News
before quitting to freelance for a variety of publications, including the
National Enquirer
and
Star
tabloids.
His first experience in television was frequent guest shots on
The Mike Douglas Show
. He became a regular on Vidal Sassoon's short-lived
Your New Day
program, reported Hollywood news for New York- and Los Angeles-based morning talk shows and worked with CNN for 18 months on a show called
People Tonight
.
His self-described "bizarre voice of mine" went nationwide on
Entertainment Tonight
, on which Leach seemingly attended every New York party and then gushed about it. He left
E.T.
in August 1983 to get
Lifestyles
in shape for production by his own Leach Entertainment Features. He also produces Steve Allen's
The Start of Something Big
, which premiered in April and is carried here at 5 p.m. Sundays on Channel 11.
There is a message, Leach contends, behind the swimming pools, movie stars and other gilt trips presented weekly on
Lifestyles
. The message was spelled out in a recent "Rags to Riches" segment about millionaire developer Ken Behring.
"Dedication pays big dividends," Leach said after Behring had showed off his mansions, his antique cars and his personal wine taster.
Lifestyles
is "wrapped up in 18-karat gold sugar," Leach says, "but underneath is a pill. It says if you work hard and if you pull up your socks and you get off your backside, there is no reason why in America you cannot have the same. That applies to every income level and every ethnic group in this land."
America must fight, he says, for truth, justice and the filthy rich.
"There is absolutely nothing wrong in being rich or being successful," Leach preaches. "If it wasn't for the rich people in America, half of your hospitals wouldn't exist. Rich people should never be condemned for their wealth. I come from a country where socialism was proven not to work. I come from a land of handouts to people who won't work. And what happens is that the poor soak the rich, so that the rich are no longer rich. And then the poor don't have anybody to get money off."
That said, Leach says he would "love nothing more" than to host a program called
Lifestyles of the Poor and Unknown
. A pity, he says, that such a show would have "the lowest ratings in the world."
"So if there's any blame to be laid at the feet of what television is in this country," he says, "it's the viewers themselves, totally."
Leach's lot in life, then, is to traipse through Antigua and other assorted play lands and palaces. "Silk pajama journalism," as he calls it, can be found almost anywhere a star is living the life expected of him or her. There are holdouts, though. Meryl Streep, Robert De Niro, Al Pacino -- they'll never let Robin magnify their lives. Robin doesn't care, either.
"They're boring," he says. "First of all, these people don't talk, which is very important. Those people mumble. Those kinds of people can't express themselves. They can't put sentences together. They can't deliver good conversation unless they're memorizing the lines written in somebody else's script.
"The people who share themselves with the public last a lot longer than the people who don't," he contends, using Joan Collins as an example. "I don't think the same charismatic excitement exists today about Robert Redford, whom you rarely hear about. You think of all these legendary names like Meryl Streep, De Niro, Pacino. I hate to say it, but they are not blockbuster box office."
Leach say he has had only one uncomfortable scene with a star in 25 years of covering show business. In this case it was a star made by Leach, whose "world exclusive" interview with Margaret Trudeau was an international sensation. Leach's story, which he says he censored, nonetheless included "fairly lengthy anecdotes about the night she slept with 21 men." Four months after the interview was published in
People, The Star
and other magazines, Leach and Trudeau met again at New York's Studio 54 disco.
"She came over to me, she slapped my face and she drove a six-inch stiletto heel through my shoe," he recalls. "I would say that is a fair description of being angry."
They made up, Leach says, after he told her, "I did not a print a thing that you did not say. The whole story was written by Margaret Trudeau, every word of it."
And so it goes.
"To be in show business journalism, one has to be a psychiatrist," Leach says. "You've got to listen to an awful lot of rubbish and an awful lot of ego. You've got to have a lot of patience. They're very suspicious people. Their friendships tend to be very, very small in numbers."
But in Leach they trust. And no wonder. Where can Julio Iglesias have it said, "He never forgets his fans and always finds time to thank them?"
On
Lifestyles
, of course, where "it never rains," says Leach, "and the roses are always in full bloom."
Email comments or questions to:
unclebarky@verizon.net