15/12/17 12:43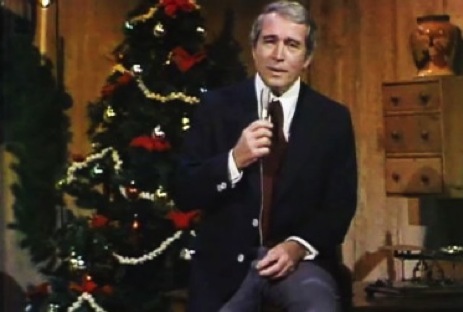 Note to readers: The late Perry Como's last ABC Christmas special aired in 1986. As a kid, your friendly content provider endured his annual holiday presentations. Later in life, I came to almost revere them, particularly his closing anthem, "Ave Maria."

Conveniently then, the climactic ABC special was taped in San Antonio, making it relatively easy to arrange a visit and companion interview with Como, who was 74 at the time and died on May 12, 2001 at age 88. Here's how it went. This article originally was published in November 1986.
By ED BARK
@unclebarkycom on Twitter
SAN ANTONIO — It's nearly noon on All Saints Day, and Perry Como`s fans are filing into the San Fernando Cathedral, awaiting a religious experience that, for them, transcends any celebration of a mere holy day.

Perry Como, who turned an ageless 74 in May, has taken his front pew seat next to actress Angie Dickinson. This is the first day of taping for the venerable and venerated Como's 33d Christmas special. Director-producer Bob Wynn, whose next assignment is a horror film being made in Rome, has been selected to call the shots for what folks on the set call a "sacred institution."
Wynn quiets the congregation, cues the cameras and shouts "Action!"

Como rises to the occasion, stepping from the pew as the introductory choir music is played for his newest, pre-recorded version of "Ave Maria."

"Ahhhh-ah-vey Mah-REE-ee-ee-ahhh. Grah-see-yeah play-ay . . . Cut!" Como, caught in a momentary reverie, has missed his lip-sync cue.

Unperturbed, he smiles and gently asks his cue-card man to be a little quicker on the draw. There is no loss of dignity, no sullying of the song that has become Como's anthem as well as an automatic tear-jerker for the many who revere him as their host of Christmases past. This is Como's crowd, already warmed by his bantering and unflagging good fellowship. Nothing can spoil the day.

"The audience knows I'm not going to do anything after all these years to upset them," Como says to an observer. "We haven't changed the specials a lot. Sometimes we feel that maybe we should change, but what do you do? How do you change Christmas music? These are more like prayers, you know."

On take two, Como gets halfway through "Ave Maria" before it's noticed that one of his shirt buttons is undone. A wardrobe man hurriedly re-buttons it before Como cracks, "See all this pampering now? I go home and my wife says, 'Take out the garbage.' " His soft voice projects the joke only as far as the third row.

The third try is the keeper. Como's longtime musical director, Nick Perito, is crouched a few steps in front of his boss, silently and
expressively urging him to give his heart to the song. A young crew member, perhaps one-third Como's age, stands transfixed, his face softened by an unwavering smile. The cathedral is dressed in holiday decorations, Como`s fans are being blessed. For these admirers, it seems, Christmas will almost be an anticlimax this year. They have spent their holiday with Como.

Having said amen to another "Ave Maria," Como is in his trailer, resting before the short drive to the afternoon's taping at the San Jose mission. He has quickly shucked his dress shirt, tie and light gray suitcoat for an outfit that more befits his "Mr. Relaxation" image. This sportier Perry wears a green-and-brown striped shirt and a green windbreaker. He thinks back to the 1984 Christmas special from London, which proved to be a crushing blow to fans. Como ended the show on a sour note, namely "O Holy Night" in place of "Ave Maria." How could he?

"I caught hell for it," Como says. Never again, he pledges.

"Ave Maria," the Shubert version, remains the most requested tune whenever Como sporadically hits the concert stage. This is where he takes a stand.
"I refuse to do it, and I tell them it's not the place or the time to do it," he says. "Some of them understand, and some of them don't. I just can't see doing it in a theater."

The version of "Ave Maria" to be heard at the close of the San Antonio special had been recorded two days earlier in a Los Angeles studio. All of Como's solos are handled this way, even though he says, "I'm a terrible lip-syncer. We all know it, and I know it.

"But you know," he adds, "you may come up empty, with this kind of voice. I've done a Christmas show where I couldn't even talk. It`s a protective measure."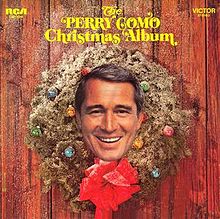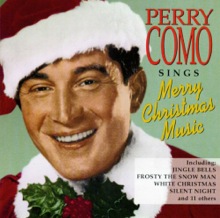 During the recent shooting schedule, Como and crew covered most of the principal San Antonio tourist attractions, including the Alamo. Como crooned with the San Antonio Symphony and with an Air Force choir. ABC will telecast the special on Saturday, Dec. 6, with Como joined by guest stars Dickinson, country-and-western singer George Strait and mezzo-soprano Julia Migenes-Johnson. Of Strait, he says, "I must admit that I've never heard him sing, but they say he's well-liked."

During his "Dream Along With Me" days, Como turned out 39 shows a season for NBC. When "The Perry Como Show" ended in 1963, he starred in frequent "Kraft Music Hall" specials until 1967.

"Now I've got it down to one show, and I'm trying desperately to get it down to a half-hour," he says. "No, I'm only joking. I get a kick out of these things. I really do."

But Como says there`s no business like yesterday's show business.
"I used to enjoy
it a lot better when they were live," he says of the Christmas shows. "See, now what we're doing is a movie in an hour. And I might say that some of them are pretty bad movies. You just don't have the time. Something like this you should take months to do, and do it properly. You don't get a chance to see too much of San Antonio. I think that's wrong."

This year's show will be "more of a people's Christmas," explains director Wynn, noting that Como "had never really sung 'Ave Maria' with a churchful of people."

"We're getting down to the people and touching them, and watching for their reactions," Wynn says.

During the taping at the San Jose mission, Wynn even has Como chasing after a runaway goat during the "Bless the Beasts and the Children" segment. Como sheds his coat, half-runs a few steps and then quits, throwing his hands up in mock resignation.

Dickinson, who last held hands with Como during his 1982 Christmas special from Paris, describes him as "quite like heaven. He's just so sweet and considerate, easy, laid-back, talented, beautiful."

Como shrugs off any adulation flowing his way. "Well, I just let them form their own opinions," he says. "It's a kick to me, you know. You see some of these elderly people and they say, "Oh God, I've been watching you for 50 years.' And it's true!"

Como and his wife, Roselle, whom he married in 1933, have two sons and a daughter and live in semi-retirement in Jupiter, Fla. Reared in Canonsburg, Pa., Perry is one of 13 children born to the late Pietro and Lucille Como. Pietro supported his family
as a mill hand employed by the Standard Tin Plate Corp. Perry ran his own barber shop for five years until successfully auditioning for the Freddie Carlone Orchestra in 1934.

His mother was a "wonderful" woman from the "old, old school."

He tries to continue, but his fans keep on trailing him.

"You're my era," says a middle-aged woman getting around on crutches.

"I'm everybody`s era," Como says, signing a dollar bill for her.

Another fan brings a collection of song sheets from the 1940s, including the big Como hit, "Prisoner of Love."

"The lover boy of the stone age," Como quips.

He signs a blood donor card and a little boy's shirt pocket. He obligingly takes a picture with a fan. Small children are patted on the head and adults get a wink, a grin or a one-liner. Como cradles babies in his arms. He applauds everyone, whether it's the equally gracious Dickinson or a priest offering a prayer during the taping in San Fernando Cathedral. Fans are ecstatic. Their hero stands taller than even they had imagined.

As TV audiences watch him sing "Ave Maria," however, he will not dominate the screen; the camera will pan to views of the cathedral interior and the happy crowd.

"It's a song that makes people think a little," Como says. "So they're going to show the beautiful paintings and so on.

"People," he adds, "don't want to see some joker up there for the whole song."

Email comments or questions to: unclebarky@verizon.net