27/10/08 18:09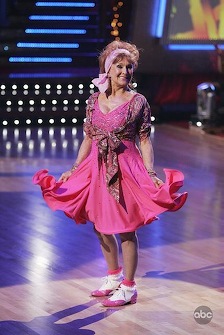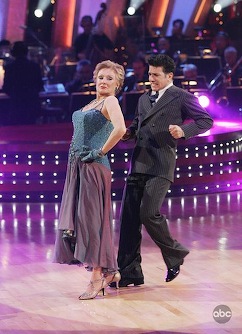 Note to readers: Cloris Leachman has won more individual acting Emmys -- eight -- than any woman in TV history. But at age 82, she's best known at the moment as the jaw-flapping flapper who will say just about anything that enters her mind during ABC's
Dancing with the Stars.
Last week, she dialed down to "skanky ho" in describing herself.

Consistently low scores from the show's three judges haven't been enough to evict her. Leachman keeps rebounding via America's phone-in vote. So she's still good to go at the show's halfway mark, already lasting longer than Dallas Mavericks owner Mark Cuban did last year.

Your friendly content provider interviewed Leachman in Dallas back when she was a comparative pup of 61. She was well north of eccentric back then, too. But she also proved to be bracingly insightful on the art of acting and her roles. Originally published on March 21, 1987, here's a look back at the future star of ABC's weekly floor show.
By ED BARK
Cloris Leachman is a little . . . different.
Agreeing to a late-morning interview, she appears in a bathrobe and spends the next 40 minutes preparing to face a reporter and photographer. Midway through this process, she descends the staircase of her two-decked hotel suite, buttons her blouse in clear view of her guests and asks whether she looks all right.
A subsequent careening conversation, during which Leachman often appears to be using the reporter as a therapist, ends with the observation that she "singlehandedly murdered" a Chicago newspaper columnist.
"He was fat, eating his head off, smoking, drinking, and of course I got him on a health kick," she says. "He slimmed down, stopped drinking, divorced his wife, turned gay, wore the gold chains, got AIDS and died. Isn't that horrible? I feel pretty bad about that."
She titters at the thought.
Leachman, winner of five Emmys and an Oscar, is a wonderful actress, a former Miss America pageant finalist and a creature from another planet on occasion. Hers is the psychic makeup of the artiste. Insecure, insightful and ingenious when left to her own devices.
"I pretend that I have these two 20-foot ghostly guides over me that go wh-o-o-o-o-sh," she says. "They whoosh me where I want to go."
Many of her answers are blowin' in that wind. She begins with a long discourse on the number seven, and how lucky it has been for her.
Seven dollars a week pay as one of the "Seven Beauties" on
The Barry Wood Show
, which originated from New York City in 1946. A Maxwell House coffee commercial for $7. Seven dollars a week rent while living in the attic of a small home in Evanston, Ill. during her college days. Piano and dancing lessons at the age of seven, the age at which she also read
Tic Tac Oz
while her mother was ironing. And then there was that visit -- at the age of seven -- to the Iowa State Fairgrounds.
"There was a gypsy there who read my palm," she remembers. "And she said, 'Someday you will be before millions of people.' Those were her exact words. Isn't that eerie?"
Leachman, 61 and still childlike, was in Dallas last weekend to serve as a celebrity chef at the March of Dimes Gourmet Gala. Other chefs, who operated out of a "Window on the World Fantasy Kitchen," included Zsa Zsa Gabor, Ruta Lee, Van Johnson, Hugh O'Brian, Dick (Mr. Whipple) Wilson and Oscar nominee Tess Harper. This brings us to the subject of how Leachman was "cooked."
The year was 1957. Leachman played the mother on CBS'
Lassie
series and Joan Collins took on t he role of homewrecker. Collins' 21-month affair with Leachman's husband, George Englund, is detailed at length in
Past Imperfect
, Collins' autobiography. The chapter on the subject begins with Collins' description of Leachman as "pretty, friendly and neurotic." As for Englund, Collins typically was "madly, passionately, blindly in love" with him.
"I'd come home like the farm wife, and she'd be Miss Glamorous. I was cooked," Leachman says. "My hair was all pulled back in a bun. I mean, can you blame anybody?"
Leachman eventually was divorced from Englund, with whom she had five children.
"Oh, I adore Joan Collins. I'm sure she's very fond of me. After all, we shared a lot," Leachman says, laughing a little sadly. "No, I don't blame her at all. Truly, I don't. It was part of those times and part of the way hormones work, you know?
"I think she brings a lot of joy to the world. She wakes people up. I think that's good. I like to wake people up, too. I like her because she never lied about who she is. She didn't pretend to be some chaste -- not c-h-a-s-e-d -- woman. She's a very generous woman. Very bright, great wit. And she's suffered a lot. She suffered certainly as much as I did in that situation. Deeply and greatly.
"Don't misunderstand me. I'm not some 'good' person who is so understanding and says everything is fine. It wasn't fine. It was very costly, very painful, very confusing to all of us. George, Joan and in a way, myself, are all larger than life. We're not just little follow-the-pack people. We break new ground in a sense.
"I think if we all met today as young people, I think it would have been different. Luckily, I have played the wife. I have played 'the other woman.' I've been all of those on-screen. So you can hardly do anything but see the bigger picture."
Told that
Past Imperfect
recently came out in paperback, Leachman says, "Oh, it did? Is it the one that says I'm neurotic? I should have called her up and said" -- her voice trails off -- "forget it."
Leachman has stolen more shows than Collins has husbands. Her Texas connections include
The Last Picture Show
, for which she won the best supporting actor Oscar; two made-in-Dallas movies --
The Acorn People
and
Miss All-American Beauty
-- and a small role as the late Henry Fonda's wife in
The Oldest Living Graduate
, which was staged at Southern Methodist University in 1980 as the first in a series of
NBC Live Theater
productions.
Among her five Emmys are two for the broad portrayal of Phyllis Lindstrom on
The Mary Tyler Moore Show
. But for classic camp, she may never top her Emmy-nominated performance as Ernie Kovacs' meddling mother, Mary, in the 1984 ABC movie
Ernie Kovacs: Between the Laughter
. Her late son, Bryan, who died last year, had a bit part as a cab driver. Leachman laughs and claps her hands with delight when reminded of Mary the kvetcher.
"I always work in between the lines with the life of the person I'm playing," she says. "I'm not the same all the time. I love to play old women. It so intrigues me. I come to things deaf, dumb and blind. I don't want to know the answers quickly. I know what's intended in the script. It's obvious. But to do only that would be like being a good girl for your daddy or something. You can't find the surprising things that way."
Mostly , she has taught herself to find the nuances and nubs of roles that most others simply learn by rote.
"Nobody ever became a guru to me, or like a feared one, or somebody who knew all the answers," she says. "So that, I think, has kept me from having fear in what I do."
Her first multilayered performance was Miss Chicago in the 1946 Miss America pageant. In those days, there was both a Miss Chicago and a Miss Illinois. Leachman made it to the final five.
"I really acted the part, that's all," she says. "I'm obviously not a beauty contestant kind of person. Being Miss Chicago in the finals of Miss America is hilarious to me. I was like Dorothy in Kansas, being whirled away in a tornado."
From that maelstrom has emerged a seemingly daft, but devoted actress with a sterling collection of on-screen performances. She currently is cruising as Beverly Ann on NBC's
The Facts of Life
, television's longest-running situation comedy but never mentioned in league with current-day classics such as
The Cosby Show, Family Ties
and
Cheers
.
"It's just no muss, no fuss," she says of
Facts
. "They're (her four co-stars) really skilled at this, and graceful about it . . . It's hard to do situation comedies because the jokes are in a rhythm, and you have to follow that pretty closely. I know how to be funny without the lines, with body language or with an object. I never want to get so shined up and skilled as a television actress that I wouldn't know what the fine stuff of storytelling is. If you can't go lengthwise, you go vertically."
And sometimes you simply look up to those "20-foot ghostly guides."
"I seem to have been blessed," Leachman says. "I seem to have things unroll before me just all the time. Just to a remarkable, ridiculous degree."