05/02/14 15:55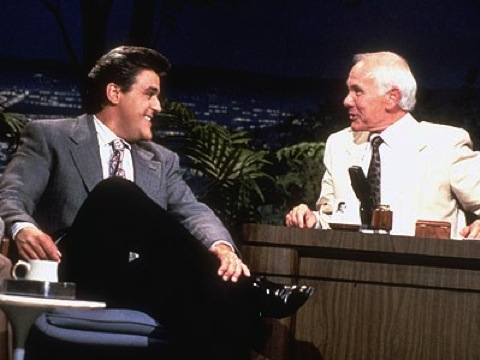 Jay and Johnny back when they seemed to enjoy one another.
Note to readers: It was mid-March, 1995, just a few months before Jay Leno exploded his
Tonight Show
ratings by asking Hugh Grant, "What the hell were you thinking?"

At the time of this interview, though, Leno was steadily gaining on CBS'
Late Show with David Letterman,
but hadn't yet surpassed it. I talked to an accommodating Leno in his office on NBC's Burbank lot after attending the previous night's show. Now we're nearing the night -- Thursday, Feb. 6th -- when he'll be leaving
Tonight
behind for a second time, again not by choice. Here's the way it was nearly 19 years ago. (This article was first published on April 2, 1995.)
By ED BARK
@unclebarkycom on Twitter
BURBANK, Calif. -- Early to bed -- 3 a.m. -- and early to rise -- 7:30 a.m. -- Jay Leno is in his smallish NBC office by 8:15 a.m. on most weekdays.
The latter-day hardest-working man in show business is soon digesting the first batch of some 250 to 300 jokes submitted for his latest
Tonight Show
monologue. A new pageful arrives every five minutes during our midmorning interview. Twenty-some jokes will make the cut.
"My credo, that nobody here agrees with, is that anybody can have a life, but careers are hard to come by," Leno says. "You can't spend time with your family! You can't do anything! You just make jokes all day. That's what you do. And if people aren't willing to do that . . ."
His voice trails off, but don't get the idea that Leno is a maniacal taskmaster. "If people aren't willing to do that" basically refers to himself. At age 44, he is married without children and unswervingly single-minded about what it takes to keep hitting in the big leagues. Your "tunnel vision" must be 20/20. You can't waste a minute of your time. In the end, David Letterman's worst enemy may be Jay Leno's sheer determination to be the last guy standing.
"You always have to be in the mode of writing down the ad-lib or the joke," he says. "You listen to music, you watch CNN and you say, 'Ah, there's a joke.' "
The Tonight Show
, which Leno inherited from Johnny Carson on May 25, 1992, lately has been coming closer to getting the last laugh on CBS'
Late Show with David Letterman
. The ratings gap between the two programs shrank to seven-tenths of a point during the February "sweeps." In the May 1994 sweeps,
Tonight
trailed
Late Show
by 1.3 points. And in their first week of head-to-head competition -- Aug. 30-Sept. 3, 1993 -- Leno emerged a badly beaten four points behind
Late Show
.
Tonight
's comeback is somewhat illusory. Leno's ratings have remained in place while Letterman's are slowly sliding south. NBC's resurgence in prime-time this season lends a firm helping hand. Leno is being promoted during hot new shows such as
ER
and
Friends
. He also is much more comfortable on a new, intimate
Tonight
set that bears little resemblance to Johnny's old digs. The makeover, on Sept. 27, coincided with NBC's unexpectedly strong liftoff last fall. Meanwhile, CBS has dropped from first to third place in the prime-time ratings. Anyone who doesn't know that hasn't been watching
Late Show
of late. Many of Letterman's monologues, even when he hosted on Oscar night, include a jab at his downtrodden employer.
"We're doing fine. Actually, we're doing terrific," Leno says. "Obviously the NBC prime-time lineup has improved, and that's helped us. But you really kind of stand on your own for the most part. If you don't do a good show, people don't watch."
Early on, he didn't blame them for tuning out
Tonight
.
"The first year of our show we made some huge mistakes," Leno says. "And I was just kind of standing around watching the world go by and thinking, 'Well, all right, these people know what they're doing.' And that was not the case.
"The first six months was
Tonight Show
by committee. The network would say, 'OK, we want to keep Johnny's audience, and we want to bring in new people. Why don't you get your hair cut this way and wear this kind of suit? Consequently, the show kind of lost its edge. And I realized that suddenly I was getting blasted for not being a very good comedian when I always got really good write-ups for doing clever material. I thought, 'Well, what am I doing wrong?' "
He reacted by dumping his longtime friend, Helen Kushnick, who was producing the new
Tonight
. Her abrasiveness reportedly had split the show's staff into warring camps.
"There was a lot of yelling and screaming going on," Leno confirms. "I realized we were at the point where even people who worked on the show didn't mind the show going down if it brought their enemies down, too. I said, 'Let's just put an end to that right now.' Everybody seems to get along real good now. We don't have those leaks that go out into the press. You know, little back-stabbing things. Because now everybody feels they're a part of the show. You try to make it a relaxed and comfortable atmosphere."
Tonight
's flailings and failings dovetailed with NBC's indecisiveness on whether to replace Leno with the discontented Letterman, who had outgrown his
Late Night
program. NBC entertainment president Warren Littlefield, who championed Leno and prevailed, endured the slings and arrows of those who thought he was nuts. He is feeling much better these days.
"I don't want to go out there and gloat, but you make your own conclusion as to what kind of tail wind the Oscars gave Dave," Littlefield says from his car phone. "Jay is really focused, and he's having a lot of fun. Take the late-night challenge. Watch the shows back to back and tell me who's giving the audience the best entertainment. We feel very good about the product right now."
Debbie Vickers, who worked on Carson's
Tonight Show
for 12 years, replaced Kushnick as producer in September 1992. She is not so much a show doctor as a holistic healer.
"I wish we did have a vision, if visions are what you're supposed to have," she says. "The one thing that we've tried to do is just make the show more free-flowing. More comedy, looser interviews and let Jay drive the boat a little more. He needs to go and do what he wants, and we'll follow him. It takes time. It is slow to maneuver the ship."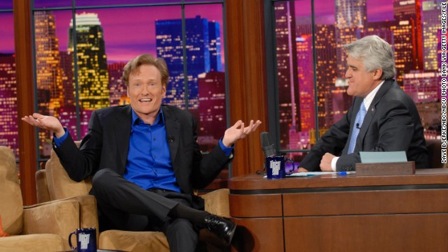 Leno and his first Tonight Show successor, Conan O'Brien.
The ship's captain is in his unvarying civilian uniform on this drizzly March morning.
"I always wear the same stuff," Leno says. Namely, that's jeans and a blue denim work shirt unbuttoned to the breastbone. His lone non-show business passion -- motorcycles -- is represented by two miniature choppers on his office windowsill. He laughs easily and frequently uses the phrase "It makes me laugh." Sources of amusement range from his cronies -- who convene on work nights at his house to bounce jokes off one another -- to a "harried laptop kind of guy" who asked him on an airplane, "Are those girls really naked in those Prell commercials?"
Tonight
tapings usually begin at 5 p.m. Los Angeles time. Leno heads for home at about 7:30 p.m. Preparation for the next night's show begins with a kitchen table joke-around that generally adjourns between 2 and 3 a.m. Mavis, his wife of 15 years, mostly comes into the picture on weekends and road trips.
"Saturday night is sort of date night," he says. "We go to a restaurant. Sometimes Friday night, too. She really likes to travel. I don't like it. So if I go on the road, she always comes along. So whatever town you go to, she can go crazy and have a good time. So we have a lot of fun."
The public's view of quintessential "show business life" -- wild parties, wilder spending -- is science fiction to Leno. Not that there aren't temptations.
"I mean, it's fun to do a show like this and have these attractive women come out, and you go, 'Ooooh!' Like Tori Spelling comes on the other night. Did you see that skirt she had on? (During a commercial break) she said, 'You know, I'm not wearing any underwear.' I said, 'Really.' And that's about as far as it goes. In your mind you can do whatever you want. But if you take it any further than that, you're dead! You're a dead man! You're screwed! So you just learn to keep things at a distance and have a good time. People think it's a lot of pressure. I supposed it is. But it's piecemeal."
Leno's first
Tonight
appearance, as a guest on the March 2, 1977 show, came after years of failed attempts.
"I finally asked someone why I couldn't get on," he recalls. "And I was told, 'Well, you're not very good.' "
It's still as simple as that, he says.
"When I first took over the show, a comedian who wasn't very good told me he never could get on with Johnny, but now he'd be able to and this would be great. I told him, 'Why is it great? You have to get better first. You can't come on just because I have the show. You have to come on because you're good enough to be on the show.'
"I have many friends in show business. But I don't expect them to come on this program because they're my friend. I expect them to come on because the show is good and they want to come on. And they look at the ratings, and they see that this show can help them sell whatever it is they're trying to sell."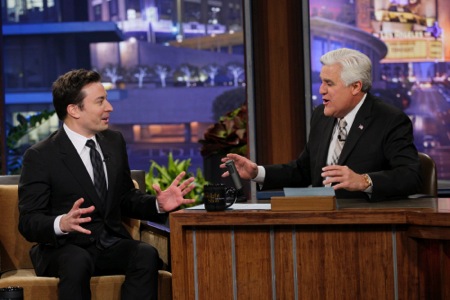 Leno and second Tonight Show successor, Jimmy Fallon.
Leno in turns sells himself both off- and on-camera. Unlike Letterman or Carson, he gladly poses for pictures and signs autographs before and after
Tonight
tapings. While warming up the audience for the March 9 show, he even agreed to ask Paul Reiser to autograph a fan's copy of his bestselling book,
Couplehood
. Mission accomplished during a commercial break.
"That doesn't make him a bad guy!" Leno exclaims when told of Letterman's comparatively impersonal hellos and goodbyes at
Late Show
tapings. Mingling with fans is "something you kind of learn from the country-Western stars," he says. "They're real good at that. And I come from a real small town (he was born in Rochelle, NY and raised in Andover, MD). Famous people hardly ever came there. And when they did, it was like a huge deal."
Win or lose the late-night wars, Leno says he'll roll with the punches in the press or otherwise.
"You'd go nuts if you hold grudges. You'd go batty!" he says. "I know so many people who just get eaten up by bitterness and anger."
He compares media coverage of late-night television to the ups and downs of "big-time wrestling."
"I don't complain about it. I don't think, 'Oh, they're being terribly unfair.' I'm terribly unfair to people every night of the week during the monologue. The press gives you a little jab. So what? You have good guy-bad guy. They beat you up for a while. And then it turns around and then they beat up the other guy."
At long last, it might be the other guy's turn.
Email comments or questions to:
unclebarky@verizon.net