23/06/09 09:28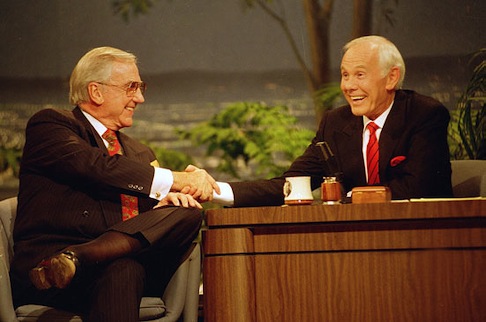 Ed McMahon, Johnny Carson call Tonight a night on May 22, 1992.
Note to readers: Ed McMahon, consummate TV sidekick and hail fellow, died on June 23 at age 86 after a long illness.

Best known as Johnny Carson's easily amused Sancho Panza during their 30-year partnership on NBC's
Tonight Show,
McMahon also pitched products, hosted
Star Search
and knew the drill when it came to the increasingly reclusive "King of Late Night."

Carson became famously and increasingly private the longer
Tonight
endured. But McMahon never seemed to resent being asked about him. And he often spoke candidly of Carson, amiably serving as a gateway for interviewers who invariably put Johnny first, him second.

McMahon's booming guffaw, trademark "Hi-yo!!!" salute and Budweiser/Publishers Clearinghouse ads were oft-parodied. He eventually grew independently wealthy and famous in his own right. But he also spent lavishly, leading to latter day financial problems that dogged him as his health deteriorated.

We remember him in these two previously published articles -- one post-
Tonight Show
and the other from a Dallas-based home builders' convention in which McMahon was still doing double duty as Carson's couch mate and America's pitchman.

The first piece initially was published on Aug. 14, 1997. And the second on Jan. 21, 1986.
By ED BARK
Wh-e-e-e-ere's Johnny? "Doing nothing, and he's doing it very well," says the man who knew him best during their 30-year partnership on
The Tonight Show
.
Ed McMahon nonetheless is perplexed. An era ended when Johnny Carson relinquished
Tonight
to Jay Leno in May 1992. but McMahon and NBC executives assumed he'd soon be back on television in some form. The network signed Carson to an exclusive deal calling for periodic prime-time specials of his choosing. But the onetime king of late night, now 72, instead has turned out the lights on his public persona.
His only appearance on NBC was at Bob Hope's televised 90th birthday celebration in 1993. Carson also has made two cameo appearances on CBS'
Late Show with David Letterman
. That's it, and there's nothing else imminent. McMahon says he knows better than to broach the subject during their sporadic get-togethers.
"I do keep in touch with him, but he is not a social animal, McMahon says. "Johnny never was, and he's happily married to a woman (fourth wife Alexis Mass) who doesn't want to go to the parties, do the black tie events or whatever. And he essentially has shut that off.
"We talk on the phone, and occasionally we have lunch together. But his attitude is, 'Ed, I did it.' That's it. No questions asked. Don't go there. It's over. And I have to respect that."
As late night percolates anew with
Vibe
and
The Keenen Ivory Wayans Show
, Carson seemingly is free of any withdrawal pains. McMahon said he's "very surprised" by his former boss's ability to quit cold turkey.
"He woke up every morning and just identified with
Tonight
," McMahon says. "Whatever was going on in the news, he was thinking about sketches and jokes for that night. He'd write jokes in the margin of the newspaper. And that's what he did every single day for 30 years. I didn't think he'd be able to shut that off."
McMahon envisioned Carson at least hosting the Oscars again. Or maybe doing a few science specials for public television.
"You know, we worked five nights a week, then four, then three," McMahon says. "So for the final thing, you go on one night a year for the Oscars. That would be the greatest. It would be like Bert Parks hosting the Miss America pageant again. Anyway, I thought for sure he'd be back."
Absent Johnny, McMahon, 74, is pushing on. He'll play the owner of a Midwestern TV station this fall in the new WB comedy series
Tom
, starring Tom Arnold.
"I love this business, and the chance to do my first sitcom came along, so I grabbed it," he says.
Hi-yo!!!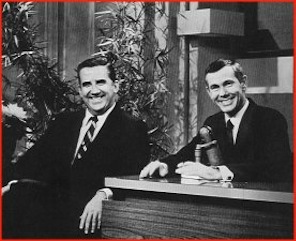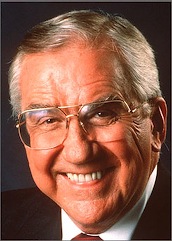 By ED BARK
Welcome to Ed McMahon land.
Cardboard McMahons, touting the stay-bright toughness of "Never-Wax" floors, stand tall in the Mannington Mills exhibit at the National Association of Home Builders convention. Onstage, a kid magician works "the magic of Mannington" into his act, assisted by a videotaped McMahon on a giant screen.
Presto, h-e-e-e-ere's Ed himself, arriving late Sunday because of a foul-up at the Atlanta airport. He does some schtick with the kid, signs a few autographs and then is whisked to a late lunch.
Lunch proves to be a long way off. McMahon and entourage walk a quarter-mile through the Dallas Convention Center's world of Celotex, Thermalite, Certainteed and American Technocrete.
"Hi, how are ya, hi, how are ya," Ed says whenever the dawn of realization hits a convention-goer. There are lots of dawns of realizations. Put Ed McMahon in front of anybody, and bet the house they'll know who he is. A member of the entourage recalls the "whoosh" of people who clustered around McMahon at the Atlanta and D/FW airports. Ed gets paid by the whoosh.
Finally transported to one of the convention center's hospitality suites, McMahon inhales a ham and cheese sandwich, washes it down with a screwdriver and then takes a reporter off to a corner and says, "Shoot."
Shoot, Ed, don't all these endorsements get a little dizzying? When's enough enough?
"I'm about there right now," he says. "I'm at a point where I can't do so many that I'm annoying people all the time. It's not my own physical ability or fatigue level. It has to do with how many people you can work for and still be convincing and honest and real."
Ed says he's currently being convincing, honest and real for about 10 companies whose products he swears by. His first big account, back in the mid-1950s, was Blue Cheer soap. As of Sunday, he's endorsing Mannington, Alpo, Budweiser, Chris-Craft, Publishers Clearing House, Texas Instruments, "a lot of different outfits."
"I'm at the point where I shouldn't take on any more," he says.
Besides the pitches, McMahon hosts the syndicated
Star Search
(now in its third season), co-hosts
TV's Bloopers and Practical Jokes
on NBC and, of course, keeps the couch warm for Johnny's guests on NBC's
The Tonight Show
. McMahon is everything Carson isn't -- garrulous, warm, fond of meeting people even when the price isn't right. Because Carson generally avoids the press, McMahon has become the spokesman for both the show and the star of the show. He'd adept at putting Johnny on a couch and analyzing him.
"He's cool, calculating, he is very much into his own thing," McMahon says of the man he has worked with for 27 years. "He doesn't need a lot of people around him. A lot of celebrities must have 50 people with them. Their dresser and their driver and their manager and their agent. He doesn't have any of that. When you are with Johnny, you are with one man. He functions that way. He goes to airports all by himself, he travels all by himself. He's very complete within himself.
"If he were in this room," McMahon adds, "he'd either be over in the corner by himself or he'd be entertaining. There's no in-between for him. He can't be comfortable in a casual setting. He's not a very social man, so he would be totally alien in this room unless he was performing or all by himself in the corner."
McMahon is in Carson's corner, but he's secure enough in his own separate business dealings to talk candidly about a man who perhaps has no future beyond
Tonight
. On May 16, Carson and McMahon will celebrate their 6,000th
Tonight Show
.
"He has said to me, 'Ed, if we don't do this, what else are we going to do?' " McMahon says. "And it's so true. He needs something. He's got to wake up in the morning and go somewhere, do something. He doesn't want to do specials. He doesn't want to do anything else. He wants to do
The Tonight Show
, so I think we'll be there for another three years."
There is an important business consideration, too. Without
Tonight
, Carson will "lose his power base," McMahon says. "Remember that all other activities stem from
The Tonight Show
."
The Monday night
Bloopers
series, co-produced by the Carson and Dick Clark production companies, is a "good example" of Carson's clout, McMahon says. During a recent press conference with TV critics in Los Angeles, NBC Entertainment President Brandon Tartikoff said
Bloopers
was finished unless it has a "resurgence in the ratings." Co-host Clark, in a later interview, conceded that
Bloopers
probably would be limited to a few specials next season.
But McMahon says those are "false reports." NBC is ordering 13
Bloopers
for next season, he says. Why? What Johnny wants, Johnny still gets, McMahon contends.
"He can go in to Tartikoff and say, 'I want this show renewed for another year.' If he has
The Tonight Show
, he can do that. With no
Tonight Show
, Tartikoff doesn't care. But they want to please Johnny, they want to work out something for him."
McMahon says he's confident that
Star Search
will continue for another 10 years. The product endorsements keep coming, and he'd like to act in a few more movies, too. Slowing down, he agrees, is "completely alien" to him, even though he and his wife, Victoria, have just adopted an infant girl.
"They're meeting me at the airport tonight. I can't wait," McMahon says.
But first things first. And on Sunday, a beautiful day in Dallas, Ed McMahon still had a few more appointed rounds with the Mannington magician.
Hi-yo!!!