Brokaw chafes at outset of his last convention as NBC's lead anchor
25/07/16 15:17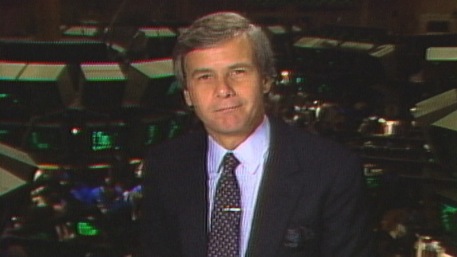 Note to readers: As the 2016 National Democratic Convention gets underway in Philadelphia, this is the fifth in a series of reprises from past such gatherings I've covered on-site. Up-close this time is NBC anchor Tom Brokaw, who wasn't terribly happy with the latest course of events when we talked on the eve of the 2004 Republican National Convention in New York. The article originally was published on Aug. 30, 2004.
By ED BARK
NEW YORK -- Tom Brokaw's last national political convention as NBC's lead anchor finds him fed up with choreographers from both parties and angry about the Commission on Presidential Debates' recent snub of his network.
His measured but firm responses came after a Sunday morning appearance on
Meet the Press
, where he and moderator Tim Russert closed the program by chewing on their favorite appetizer -- presidential politics.
Brokaw, 64 and retiring from the
NBC Nightly News
on Dec. 1, has a convention resume dating to the raucous 1968 Democratic gathering in Chicago. That makes this his 20th go-around and the last before he bequeaths
Nightly News
to Brian Williams.
"In those days, conventions were conventions," Brokaw said in a one-on-one interview. "Delegates were not implanted with a chip and told to say only one thing when they got on the floor."
He's still miffed about the waylaying of his planned interview with Arizona Sen. John McCain, who had agreed to appear on Monday's
Nightly News
. Convention organizers and McCain's staff reneged after learning that the senator also had agreed to be on NBC during Wednesday's prime-time coverage. NBC, CBS and ABC each could have McCain once, but not twice, Brokaw said he was told.
"I suppose I'm going to be a little nostalgic at the end of this convention. But what's so frustrating to me is that enterprise and the entrepreneurial spirit just don't count anymore. Everything is put through such a very tight filter by the party. So the vitality is drained from it, and the role of the journalist is more as a kind of concierge saying, 'If you make a turn over here to the right, you'll be hearing this speaker.' It'd be harder for me to walk away if I could go out there and get who I wanted when I wanted him without having to go through the politburo of the Republican or Democratic party."
Brokaw views the upcoming presidential and vice presidential debates as pivotal, however. So he's still boiling over the commission's selection of CBS' Bob Schieffer, ABC's Charles Gibson and PBS' Jim Lehrer as the presidential debate moderators, and PBS' Gwen Ifil for the lone vice-presidential face-off.
"It's not personal pique," Brokaw said. "Obviously I would have liked to have done one of the debates. But my big outrage is that they excluded our entire network. And I just think that's unconscionable. Even our competitors say, 'What? They left out NBC?' Tim (Russert) has the No. 1-rated Sunday show, I've got the No. 1-rated evening news broadcast, and we've done more debates than any other news division in the course of the past year."
The commission has declined to comment on its choices, other than executive director Janet Brown telling
The New York Times
that a star anchor might "overshadow" a debate.
Brokaw, who has moderated numerous primary season debates but never a post-convention one, said he's insulted by that rationale.
"It's not like I haven't done them before. And when I have, I'm happy to say there's been very little criticism about the anchor trying to get himself in the way. I hope at this stage of my career I have a certain standing as a political reporter who knows what the issues are and tries to generate a dialogue about them."
After leaving
Nightly News
, Brokaw plans to write more books, contribute periodic documentaries and otherwise live a life unfettered by urgent phone calls to report for duty.
"What I will not miss is the uneasy feeling that I'm missing something," Brokaw said. "I've been doing this for a long time. I'm ready to get de-coupled."
Brokaw was preceded on Sunday's
Meet the Press
by Sen. Hillary Rodham Clinton of New York, who exchanged pleasantries with previous guest Rudolph Giuliani before a Fox reporter briefly intercepted her.
Mrs. Clinton declined to commit when asked if she'd appear on Fox News Channel's highest-rated program,
The O'Reilly Factor
.
"Is there anything we can do to make that happen?" the reporter pressed. "We'll see," she said while exiting with her entourage.
Later Sunday, C-SPAN's continuous live coverage of a protest through central Manhattan was spiced with repeated chants of "Down with Fox" and "Fox News Sucks." The "fair and balanced" network's corporate offices and studios are located along the protest route.
Email comments or questions to:
unclebarky@verizon.net