Stiff-arming Stewart and The Daily Show at the 2000 Republican convention -- even with Bob Dole as a commentator
19/07/16 09:44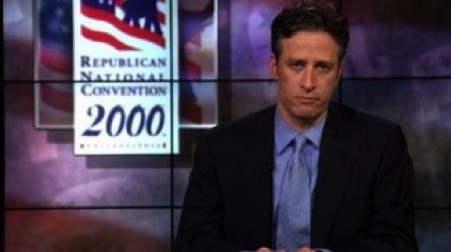 Note to readers: Your friendly content provider's checkered past includes on-site coverage of 10 national political conventions in presidential years. In tandem with the ongoing Republican National Convention in Cleveland, here's the second in a series of look-backs. This article was originally published on Aug. 1, 2000.
By ED BARK
@unclebarkycom on Twitter
PHILADELPHIA -- The joke is on Comedy Central this week. Courtesy of the Republican National Convention, its
Indecision 2000
team is being housed on rubber-coated cots in the University of Pennsylvania's graduate dormitory.
Anchor Jon Stewart isn't taking it personally.
"Republicans aren't inherently funnier than Democrats. They're inherently more evil," he said Monday. "Therefore it's easier for us to poke fun. Does that make sense?"
Beginning Tuesday at 10 p.m., Stewart will preside over four convention-themed editions of Comedy Central's flagship "news" program,
The Daily Show
. Look for Bob Dole, too. Hired as a commentator in January, he'll deadpan his way through the Tuesday and Thursday editions. The 1996 Republican nominee also is scheduled to address convention delegates Tuesday night as part of a salute to World War II veterans.
Dole, who has declined to do interviews in connection with his Comedy Central activities, "has been an excellent addition to our staff," Stewart said. "None of us knows who any of the politicians are. So oftentimes I'll say, 'Who's the guy in the brown coat?' And he'll say to me, 'Oh, that'd be the Speaker of the House.' He's very dry and very funny and, uh, no comment."
Even with Dole aboard, "I don't think the Republicans know who we are," Stewart said. "Or they might not think we're funny, which is entirely possible. There are other people in America who feel that way as well."
Running
The Daily Show
is executive producer Madeleine Smithberg, who said it's been tough getting the Republicans to play along. Sen. John McCain of Arizona has agreed to be interviewed, she said, and U.S. Rep. Mary Bono of California is booked as a
Daily Show
guest. No one from the George W. Bush campaign has responded yet, though. And the GOP so far hasn't given the show any convention floor passes.
"I must say that the Republicans are really controlling this thing tightly. We really aren't getting much cooperation," Smithberg said. "Whereas the Democrats have already given us our own liaison for their convention."
The Daily Show
plans to retaliate on several fronts. One of the featured presentations will be a mock Bush biographical film titled "From Wealth to Riches: The Story of An American Hero." It will detail the "adversity he has under-come," Stewart explained.
Bush and his running mate, Dick Cheney, are a comedy team by default in Stewart's view. It's always that way, he said, when two politicians are thrown together on what amounts to a "blind date."
"You pick a guy, and then the two of you have to travel around the country as bunkmates. So it's like watching two people trying to dance together for the first time. Humor is mostly in the facade that candidates put up as they go about their business of theater and advertising."
Bush may be a "more relatable" candidate to baby boomers than any of his opponents, Stewart said. There is, of course, a punch line coming.
"We all knew a kid in school whose dad had connections with the local authorities. A kid who always had the best weed. So there's an affinity for him."
The Democrats will get their turn later this month at a convention that likewise is expected to be shorn of suspense or controversy.
"We're a fake news organization, and this is a fake news event," Stewart said. "So I think we're the only ones that should be here. You people should go cover actual news."
Email comments or questions to:
unclebarky@verizon.net