Don Hewitt does Dallas -- and receives a lovely parting gift
19/08/09 11:26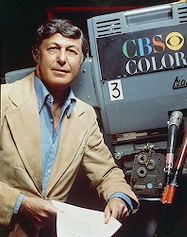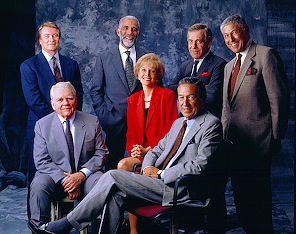 Note to readers: The recently deceased Walter Cronkite clearly was a giant at CBS News. But behind the scenes, producer/director Don Hewitt was a mega-giant.

Hewitt, who died on Wednesday, Aug. 19 at age 86 of pancreatic cancer, created
60 Minutes,
presided over the first televised presidential debate in 1960 and also directed the first network television newscast on the night of May 3, 1948.

He remained with
60 Minutes
from its launch on Sept. 24, 1968 until stepping down as executive producer in 2004.

Outspoken and demanding, Hewitt lived by the credo, "Tell me a story." In November of 2002, he received the Algur H. Meadows Award for Excellence in the Arts from Dallas-based Southern Methodist University.

"A lot of nice things have happened to me in my life," he said upon accepting the honor. "But this takes the cake."

I interviewed him for the last time on that occasion and also shared a panel with Hewitt during a series of events tied to the Meadows award. The following article was first published on Nov. 9, 2002.
By ED BARK
DALLAS -- It took Don Hewitt just a minute or two -- not 60 minutes -- to realize that his life's calling would be the words and pictures residing within a new contraption called television.
"Whata-vision?" had been his initial incredulous reaction in the late winter of 1948. Fortunately for CBS News, he quickly saw the endless possibilities.
"People say to me, 'what time do you go to work in the morning' Do you know what I say? 'I don't go to work. I haven't gone to work since the day I got there.' I've had a love affair with that place, from (Walter) Cronkite and (Edward R.) Murrow down to Mike Wallace and the rest of the guys. So I don't go to work. I've never considered it work."
In some ways, it's harder work being appreciated. Hewitt, who turns 80 next month, has been Southern Methodist University's resident deity since Wednesday of this week. He's granted interviews, attended six journalism classes and several luncheons, been the focal point of two evening panel discussions and finally will cap it all off Saturday night by accepting the Algur H. Meadows Award for Excellence in the Arts at a black-tie dinner ceremony.
The creator of
60 Minutes
and the producer-director of TV's first presidential debate is also the first journalist to be honored by Meadows. His august company includes actress Angela Lansbury, composer Stephen Sondheim, musician Wynton Marsalis, choreographer Martha Graham, playwright Arthur Miller, film director Ingmar Bergman and opera singer Leontyne Price.
Not generally known for exhibiting a cuddly grandpa's demeanor, the outspoken Hewitt has been basking agreeably.
"Did you ever meet a ham who didn't like it?" he asks. "Yeah, I love it. It's very nice."
It's his first visit to Texas since 1971, when Hewitt and senior
60 Minutes
correspondent Mike Wallace visited former President Lyndon Johnson and his wife, Lady Bird, at their ranch outside Austin. He vividly recalls a crack-of-dawn convertible ride with LBJ, who gobbled a candy bar and then instructed Hewitt to deposit the wrapper in a nearby trashcan.
"Then he drove off and left me. I was running down the road after him. I guess he was trying to show me who was boss on his ranch."
Back home in present-day New York, another indignity might be looming. Hewitt's 35-year reign over
60 Minutes
reportedly is imperiled, even though CBS News president Andrew Heyward responded by telling the Associated Press, "I certainly hope that Don is part of CBS for as long as he wants to be."
Although it's still prime-time's most-watched news program,
60 Minutes
has dropped out of the top 20 in total viewers. Even worse, it attracts the oldest audience of any CBS program. A 30-second commercial on
60 Minutes
sells for a relatively puny $90,000, according to estimates by the trade magazine
Advertising Age
. The WB's
Smallville
has a $111,500 price tag despite averaging 6 million fewer viewers this season than
60 Minutes
. That's because most of
Smallville
's audience is comprised of advertiser-craved younger viewers.
Hewitt, still a relative kid compared to Wallace, 84, and
60 Minutes
commentator Andy Rooney, 83, vows to leave CBS on his own terms, and probably not anytime soon. He estimates that
60 Minutes
has netted the network $2 billion in profits during its long run.
"Listen, at 80 years old, maybe somebody should be thinking about what they're going to do next," he says. "But I don't think anything's imminent. I'm signed for three more years, I've got no problems. I've gotta tell you the day will come that I don't want to work there faster than the day will come that they don't want me to work there.
"But they're not about to do anything," he adds. "
60 Minutes
makes CBS respectable enough to do a lot of the other stuff that makes them money, such as
Survivor
. It's still considered the gold standard and I think they're aware of that."
Hewitt lately has watched ABC's
20/20
take dead aim at a younger audience by heavily hyping Barbara Walters' series of November "sweeps" interviews with Justin Timberlake, the Osbournes and Brandy. Next week, Diane Sawyer will gab with Jennifer Lopez on the network's
Prime Time Thursday
news program.
"The suggestion is that
60 Minutes
do profiles on some of these younger personalities," Hewitt says. "But we'd have to change who we are and what we are. I'd do Britney Spears if she had something interesting to say to me. But I'm not interested in doing bubbleheads to reach a bubblehead audience."
"I would venture a guess that we'll end up with bigger ratings doing what we always do than she (Walters) will with Justin Timberlake and the Osbournes and God knows what else. Barbara is a force of nature. She just keeps going and going. I once said to her, 'Do you realize that we'll still be on the air when Jane Pauley's dead?' They're desperate at ABC. They're so desperate that they're going to take a big-name newsperson and use her to increase their audience with younger people. That's a desperation move. Not on her part. On the part of her bosses."
Whatever his fate at CBS, Hewitt can look back on a singular career in which he's both worked with television's greatest journalists and been an eyewitness to many of modern history's towering events. The coronation of Queen Elizabeth II. Winston Churchill's funeral. Omaha Beach on D-Day. John Glenn's first space flight.
"I don't know, it just seems natural," he says. "It doesn't seem like 'Oh, gee whiz' to me. I've had a great life, but life is finite. You know it's going to end. All you want to do is end it in a good place. If it ended right now, talking to you, that ain't a bad place.
"It's better than being in an old man's home."
A LIFE IN THE NEWS
Don Hewitt and CBS News are in the 55th year of a remarkably productive relationship. Here are some high points of his life life -- and the network's.
Ed Bark
Dec. 22, 1922
-- Born in New Rochelle, NY, the son of Frieda and Ely Hewitt.
Dec. 7, 1942
-- Arrives as a cadet at the Merchant Marine Academy at Kings Point, NY.
July 1943
-- Becomes night telephoto editor for ACME News Pictures.
March 22, 1948
-- Joins CBS News, where his first assignment is associate director of the nightly 15-minute
Douglas Edwards With the News
.
June 2, 1953
-- Produces and directs CBS News' coverage of the coronation of Queen Elizabeth II.
Sept. 26, 1960
-- Produces and directs first nationally televised presidential debate between John F. Kennedy and Richard Nixon.
Sept. 24, 1968
-- Creates
60 Minutes
, which originates with Mike Wallace and Harry Reasoner as anchors.
1990
-- Is inducted into the Television Academy Hall of Fame.
Nov. 9, 2002
-- Will become the first newsman to receive the Algur H. Meadows Award for Excellence in the Arts.