Dave does Vegas -- and welcomes crossbow artist Hans Pantar
06/05/15 09:43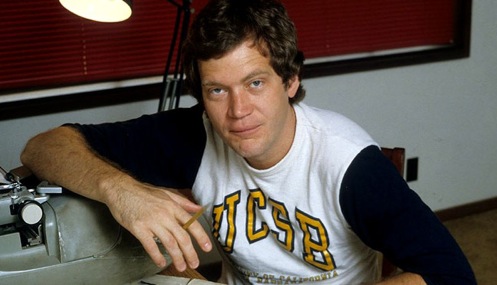 Early days: David Letterman during his NBC Late Night years.
Note to readers:
One of David Letterman's early road trips, as host of his old NBC Late Night
show, took him to Las Vegas for a week. He was more media-accessible back then, as was his idol, Johnny Carson, during the formative stages of his career. A handful of TV critics were invited to join Letterman and his crew in Vegas for interviews, behind-the-scenes access, etc. Here's how that went down. (This article was first published on May 24, 1987.)
By ED BARK
@unclebarkycom on Twitter
LAS VEGAS -- Live from Greenwich Village, it's the
Merv Griffin Show
!!!
O-o-o-o-h, stranger in a strange land. But consider the flip side: hip David Letterman on stage with Merv's motherlode -- Lola Falana, Robert Goulet, crossbow artist Hans Pantar and Clint Carvollo and his Exotic Birds. A fish out of water in the land of the jumbo shrimp cocktail --
Late Night with David Letterman
meets Vegas. Va-va-voom.
"Is there an absurdity to doing the show in Vegas? Yeah, I think so, Letterman says from
Late Night
headquarters at Bally's Hotel, where Dean Martin and the Golddiggers are the headline act. "I think there's an absurdity to the town being her at all. It's a sociological phenomenon. It's fascinating. You may love it or you may hate it, but you're going to be intrigued by it.
"Nothing's really changed. The fact that the Golddiggers are still in business and they're still appearing with Dean Martin -- certainly the sensibility of the place hasn't changed. It was never our intention to make fun of it, but for 60 minutes a night you sort of give a feel of it."
Letterman and Vegas tend to mix like showgirls and Fred Rogers. He has packed no polyester for this visit to Wayne Newton's kinda town. For an interview he wears a gray George Washington University T-shirt, red shorts and a Los Angeles Dodgers cap. Later he can be seen bouncing a baseball through the hotel casino.
"One night, in a matter of minutes, I lost 21 bucks playing blackjack," he says. "And I just thought, 'Boy, even if I'd won, it wasn't fun.' I mean, I could go into a casino and say, 'Here's 21 bucks, talk to me for half an hour.' And it would have been about the same feeling."
Until last week's four shows, taped in the Ziegfeld showroom at Bally's, Letterman had never performed in Vegas, nor visited it for recreational purposes. There was Lake Tahoe, though, a Nevada death trap for him when he opened for Falana at the Sahara in the late 1970s.
"I did my standup every night to absolute dead silence," he recalls. "You could hear people with dull knives cutting through prime rib. From the time I appeared out of the wings until the time I got to the microphone -- maybe 30 feet -- the applause would die about 10 feet into that walk. So I got to walk the last 20 feet in complete silence. And the ignominy would build from there. If I had to come here and do my standup act in front of these people, they'd eat me alive."
The
Late Night
tapings in Vegas have a life insurance policy. Tickets for the shows were handled through NBC's New York offices, ensuring that Letterman's audience would be predominantly young and suitably crazed.
"They're here for us. They weren't on the way to the Liberace museum," says Barry Sand, executive producer of
Late Night
.
Some 15,000 requests were received but only about 4,000 lucky winners can be squeezed into the gaudy Ziegfeld showroom for the four mid-afternoon tapings of
Late Night
. Lines wind through the mammoth Ballys casino, past the slots, roulette wheels and gaming tables. Even Vegas is impressed.
"This is perceived as an extremely big deal," says an entertainment writer for the
Las Vegas Review-Journal
, which is giving front page coverage to
Late Night
's visit. Radio DJs are sponsoring "Dave Watches," with prizes awarded to listeners who spot Letterman and identify his whereabouts. Try the Hoover Dam, which he toured before turning it into a miniature chowder crock during Monday's segment on "New Gift Items" from Vegas.
"Have you ever been to this thing?" he asks. "It's unbelievable. No society builds things like that anymore. It was a real statement of our position in the world. I mean, it's quite an edifice. You walk around, and your jaw just drops. And then you're 30 minutes in a car and you come back and it's Dean Martin and the Golddiggers. So it's just, you know, it's great."
***
The roads to Ballys are lined with Vegas goop.
"Bob Stupak for Mayor? You Bet!" reads a placard promoting his candidacy. It's a campaign peculiar to this town. Stupak owns the gargantuan Vegas World hotel and casino. And his placards are affixed to newspaper racks advertising hotel room service by "The Sexiest and Most Beautiful Triple X-rated Bodies in Las Vegas."
Outside the main entrance to Ballys is a fountain featuring a humongous nude Greek god circled by four maidens whose bared, hand-cupped breasts spurt streams of water.
Another entrance leads to a mall area where one can gaze upon a life-size plaster statue of Wayne Newton. A commemorative plaque reads in part: "Although his talents have brought joy to many, he has endeared himself even more through his generosity in giving of himself for the benefit of others less fortunate. For this reason, Wayne is considered by many to personify the word 'outstanding.' "
Newton, who recently won a $19 million libel judgment against NBC, was willing to do
Late Night
had he not been otherwise engaged in Atlantic City.
"Oh yeah, he had no problem with that," Sand says. "Once the 15 rounds are up, you usually shake hands and go to dinner."
Sand also wanted Bobby Berosini and his orangutans, but "I guess that somehow they thought we were going to make fun of the orangutans. And the orangutan community would have been very upset."
Hans Pantar, the crossbow expert, provided a chilling moment on Monday's show when he blindfolded himself, turned his back on his wife and then shot an arrow through the target she held over her head. The seemingly gruff Hans had no time for Letterman's small talk.
"We were his first television exposure," Sand says. "He had maybe 10 minutes of rehearsal. You know, a millimeter off and she's a dead person. And I'm saying, 'Could you move it along, please?' So this guy had a lot of pressure on him. He's trying to think about how not to murder his wife, and we're trying to kid around with him. Plus, he's a pretty intense guy. It's an intense profession, crossbow work."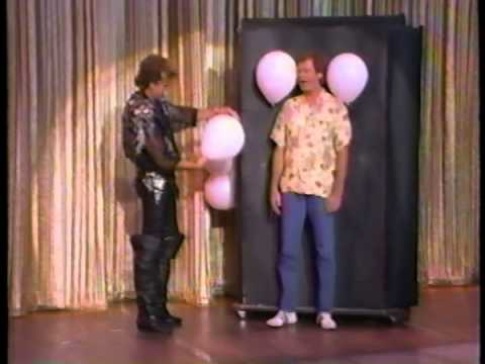 Different temperaments: Letterman and crossbow artist Hans Pantar.
Vegas has a high-mockability quotient, especially from
Late Night's
perspective. But Sand is an admirer of the city's grind-away glitz.
"It's show business," he says. "It's like being close to the reactor. It's very hard to say it, but this is getting down in to the bowels to find out where the heating system is. We're just getting sort of whiffs of show business in television. But the real core of it is Las Vegas. Just go to any of these casinos, and you'll know what show business is. It is an am-a-a-azing place. I'm going to have a bellyful of show business when I go back to New York."
***
It seems an impossibility, but David Letterman turned 40 on April 12th.
"For me, it came and went with little impact," he says. "There was no celebration to speak of. The folks at the office gave me little token mementos, and that was about it. No trauma. I've never been a real good celebrator of anything, and 40 was no exception. It has had, at this point, no major impact on my emotional stability."
Letterman continues his longtime relationship with Merrill Markoe, a
Late Night
writer and producer of the remote segments that in Vegas took him to Hoover Dam, through wedding chapels and on a tour of the city with Elvis impersonator Tony Roy and a 57-year-old drifter who ended up signing autographs for tourists.
The Letterman/Markoe partnership has endured through the brief run of his daytime show on NBC and through five years and three months of
Late Night
.
"I really would love to have kids," he says. "I'm tired of spending all my waking energy worrying about the show, and I wish I had a more normal anchoring system, like everybody else in America. I wish I had a reasonable home life and stuff, but you work so hard and so long to get something that you want that you're hesitant to relax -- at least I am -- because you're afraid it might go away.
"I'm not lying to you. I do feel that way. And I know other people feel that way, because I had the same talk with Jane Pauley years and years ago, and she feels the same way, about it all slipping away. I don't know why I just can't sort of relax and be a little easier-going about it, but I can't seem to do it."
Told that Burt Reynolds seems to be doing an "I want to be a father" interview every other month, Letterman laughs and rejoins, "See, nobody should be in show business, because if you're not an asshole, it'll turn you into one. There should be no show business. It shouldn't be allowed. You don't need to be entertained, for God's sakes."
***
Late Night
bandleader Paul Shaffer is still knocked out by the experience of doing an arrangement for Sammy Davis Jr., who sang "For Once In My Life" on Tuesday's show.
"I love Sammy Davis," he says in a voice that seldom rises above a golf announcer's whisper. "People don't understand. Or maybe I'm different than other people. A lot of people kid him, but I think that he's just an incredible talent. Yeah, I got off on the experience of working with him. When Sammy sings, you gotta respect that."
Bruised by negative reviews of his current cable special,
Viva Shaf Vegas
, Shaffer is wondering why nearly everyone nailed "what I thought was a pretty far-out show."
"People didn't get it. Nobody got it," he says. "People don't understand that I love these performers. I think I'm more of a celebrity here than anywhere else because people understand my 'take' on Vegas here. They don't think that I'm putting them down. They have a sense of humor about themselves, and when I do my Vegas shtick,I think they appreciate that. I came to do my show here because I love the town. I don't know -- Letterman -- why he came here. I think we're all a little unclear as to what our attitude's supposed to be."
Although he has a reputation as a Vegas hound, Shaffer's last visit, until this year, was as a 13-year-old boy whose lawyer father took him to all the top shows.
"Now that I think back on it, that's what started me on this fascination," he says. "My dad came to see good shows. We saw Nat King Cole, Juliet Prowse, Sarah Vaughan in a lounge. He refused to take me to the schlocky things. Ben Casey -- (actor) Vince Edwards -- was playing in a show. 'Can't we go see him?' He refused. 'No, that's not any fun.' And I sure never forgot it."
Shaffer speaks glowingly of Wayne Newton "giving me a huge show business introduction!" upon spotting him in the audience. It's a shame, he says, that Vegas has been cheapened by the likes of Larry Linville of
M*A*S*H
, advertised in Army fatigues as the star of
Never Too Late
at the Union Plaza showroom.
"I hate to say it, but that's what Vegas is becoming now, a place where old TV stars can play and still live off their reputations."
***
We pause now for a few riffs from Dave the Vegas tourist.
"I want to see the Brazilian show down the street. Fabulous Brazilian babes. It's Oba, Oba, or Uba, Uba. Something like that."
"And I did see
Legends with Tony Roy.
It's an odd show. It's all people impersonating dead folks. And I was thinking, if I die suddenly, I'd like to be part of the show. I went backstage and had my picture taken with 'Marilyn Monroe' and 'Louis Armstrong.' It was just kind of an odd reach to the other side, almost an another-world experience. The kind of thing you read about in
The Enquirer
."
***
He's the son of Bob Elliott, of television's storied Bob and Ray comedy team. His birth amounted to a commercial break.
"It was, 'Dad, I gotta do homework.' He'd say, 'Well, let's watch some TV first, young man.' The TV was always on, from the early evening news to
The Tonight Show
, when I fell asleep."
Whether he's Conspiracy Guy, Fugitive Guy, Regulator Guy or the host of "Nightlife," Chris Elliott's contributions to
Late Night
are shot from a cathode-ray gun. On Monday's show from Vegas, he played Skylark, a fictional Chris Elliott impersonator appearing in Kenny Kerr's "Boy-lesque" revue at the Silver Slipper.
"Bad TV, that's where I find most of my stuff, yeah," he says. "The
Mannixes
and the
Cannons
and the
Medical Centers
are sort of gold mines for me. My goal is to have my own cop drama one of these years. I'd definitely like to have my own kind of
Mannix
show."
***
"It's only TV" is a trademark Letterman kiss-off. But he doesn't really feel that way.
"I'm not that cavalier about it. I wish I was," he says. "I wish I could say it's vapor, it goes out into the universe and you never see it again. But I can't be that relaxed about it. I know that on any given night we can do a pretty bad show ourselves. So I don't want to sound effete and aloof and condescending, because I know we have cluttered up the airwaves with our share of crap.
"I do know, though, that I'd rather have something on television that would cause people to wince or look cockeyed, than to talk to somebody about
Knots Landing
. You know, 'Tell me how your character has grown, tell me about that cliffhanger.' We do so much of that on our show that I feel kind of oily sometimes. We're as guilty as anybody else."
For Letterman, the kick is to walk a tightrope between put-on and put-out. Was actor Charles Grodin really peeved at his host when he aggressively defended
Ishtar
against a dig Letterman took before introducing him?
"I think it was a put-on," Letterman says. "But it's fun to sit at home and wonder, 'Is the guy really ticked off or not?' You hardly ever see anything on TV that you can't figure out. I was watching Ted Koppel interview Ferdinand Marcos one night. And during a commercial break I turned over to watch Grodin and (Johnny) Carson. And I never went back to Ferdinand Marcos because it was one of those deals where Grodin was just working him and working him.
"He'd say, 'Well, Johnny, what makes you tick? What makes you laugh? We don't know anything about you. Who are you?' It was relentless, but it was fascinating. I think Grodin's absolutely great. He comes on with that snitty, little wimpy kind of weaselly attitude, and it's quite amusing."
Letterman remains acutely aware that a number of critics and entertainers consider him to be a jerk of an interviewer. Cher used stronger words a year ago when Letterman asked her why she finally had agreed to do the show.
"Because you thought I . . ." he began. She finished his sentence with an expletive.
"The trouble with me and our show is I still get people feeling that I'm nasty and that I'm hurting people's feelings," he says. "In the beginning it really bothered me that people had that perception. So I would work on trying to hold back and assess the situation a little bit better before I went in there. But I still get criticized. So for all my vigilance, it hasn't paid off."
NBC is paying Letterman multi-millions of dollars under the terms of a new three-year contract that will take
Late Night
into the 1990s.
"I'm just sure I've been screwed, but it's nice to know you have a job," he jokes. "It's my constant fear that sooner or later the show will just start to erode and defuse and it just won't be as good. Then again, I don't know how good it ever was.
"I hesitate to say this, but I've always felt that maybe the show could never really live up to the impression many people have of it. I think that some people who don't watch the show think it's a much bigger, much more important show than it actually is.
"Then they turn it on and say, 'This -- this is what they're all talking about?' "
Email comments or questions to:
unclebarky@verizon.net