Dale Hansen is cutting back at TEGNA8 while also extending himself
10/25/17 11:56 AM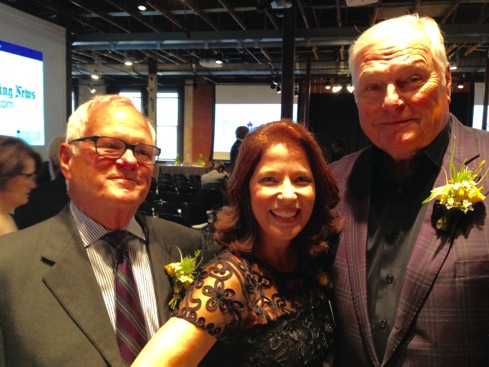 Dale Hansen (right) with fellow honorees Byron Harris and Janet St. James at last June's North Texas Legends event held by the Press Club of Dallas at the downtown Sixth Floor Museum. Photo: Ed Bark
By ED BARK
@unclebarkycom on Twitter
Dean of Dallas sports anchors Dale Hansen is lightening his workload but remaining in place at TEGNA8 through 2018.
The announcement of his new regimen came Monday via a release funneled to Fort Worth's
Star-Telegram
, which has a content-sharing agreement with the Dallas-based ABC affiliate. TEGNA8 intentionally bypassed unclebarky.com, which has been the norm in recent years. It's the price of being independent, although no other Dallas-based station operates in this fashion.
Effective next year, Hansen, 69, will anchor only the 10 p.m. weekday newscasts under his new one-year deal while also continuing with his Sunday night
Sports Special
.
"I have waited more than 40 years to have Johnny Carson's schedule," he said in the release. "My biggest challenge may be whether I can live to see the end of this new contract."
Hansen has been with TEGNA8 (formerly home-owned by the A.H. Belo Corp.) since 1983, when he
arrived shortly after being fired
by crosstown rival KDFW-TV (now known as Fox4).
In separate comments to unclebarky.com, Hansen said he'll remain a full-time employee with benefits despite his lessened work schedule.
And yes, he has thought about staying too long at the party, and risking a "senior moment" that could tarnish what has been a notably distinguished and long-running tenure. Hansen's occasional "Unplugged" commentaries have brought him national recognition, including a
guest appearance on Ellen
(where he received a standing ovation) and a recent
feature story in The New York Times
.
"It's something I think about every day," Hansen said of knowing when to quit. "I have told Sean Hamilton (TEGNA8's director of sports and special projects). "My wife. My friends. Damn near everybody. That if they let me stay too long they will disappoint me a great deal. I really am afraid of that, but obviously don't think I'm there yet . . . I've seen it happen to others. I don't want it to happen to me. I hope to leave before they kick me out."
Hansen said he signed just a one-year deal in part because of those fears and also "because I don't think anyone really knows where we're going. As a 70-year-old. As a station. As a style. All of that."
No one is indispensable. But Hansen's one of a kind, and nothing or no one will ever change that.
Email comments or questions to:
unclebarky@verizon.net