04/30/09 11:34 AM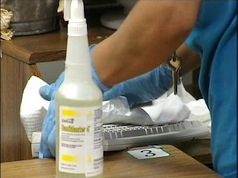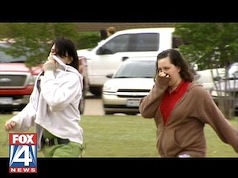 Swine flu blues: FWISD shutdown leads newscasts. Photos: Fox4
By ED BARK
The surprise, swine flu-fueled shutdown of Fort Worth's public school district rightly led Wednesday's late night newscasts on the four major providers.
Fox4, with a one-hour jump on competitors, paid the most attention during its 9 p.m. edition. WFAA8 paid the least. Here's a breakdown.
Reporter
Brandon Todd
, stationed in outdoor Fort Worth with umbrella in hand, began Fox4's coverage of what he termed a "monumental decision" to close schools until May 11th. He had the night's only live interview with Tarrant County Public Health Director Sandra Parker, a less than dynamic presence on camera.
Fox4's
James Rose
, also in the Fort Worth dark, then got very revved up about "a huge story that no one saw coming."
"I mean, we got some really raw reaction," he told anchor
Heather Hays
. Some people that really didn't even believe us. They were just stunned that an entire school district the size of Fort Worth could shut down. Take a listen to some of this
raw
reaction that we got first-hand."
It wasn't that raw at first. A male parent said calmly, "It's sort of scary. I've got two kids myself, so I mean, (we're) very, very alarmed about the situation."
But it got rawer.
"You're kidding," said another student's mother. "That's what she's telling me. Oh my god, why? It's that bad? Is there something they're not telling us?"
And rawer still.
"Yay," said a giggling middle school girl.
"Yay?" her mother rejoined off-camera.
Kid: "Yes, I'm happy."
Mom: "That's serious. People are dying."
Kid: "No, I'm talkin' about no school."
Rose again noted that parents were "shocked and stunned" before Hays wondered how working parents would deal with a situation in which students are being told not to gather in large groups anywhere. So who's going to take care of them?
Many disbelieving parents were waiting for confirmation of the closure on Fox4 before making plans, Rose said. That's because "they were just shocked and stunned."
OK, got it.
Fox4 reporter
Sophia Reza
, who's notably improved since joining the station last July, added to the swine flu coverage with a report on scheduled school athletic events also being canceled until at least May 11th.
Fort Worth-based NBC5 had "team coverage" from
Scott Gordon, Omar Villafranca, Ellen Goldberg
and
Randy McIlwaine
.
Gordon's piece, which led the newscast, included video of a male middle school student enthusing, "The hallway was filled with kids, and you just hear screams, like, 'School's out! School's out!' "
Or to put it another way, Spring Break II after a lone case of swine flu was diagnosed at Tarrant County's McLean Middle School.
Gordon was the only TV reporter to note that Fort Worth's annual Mayfest could be canceled due to swine flu fear. On Thursday he turned out to be right. The cancellation has attracted a
hail of comments
on the station's nbcdfw.com Web site.
Villafranca covered extra precautions by the Dallas Catholic Diocese, which has asked churches to cease serving communal wine for now during services. McIlwain had a story on the less than enthusiastic reaction by Celina High School baseball players and their coach, whose playoff season could be waylaid.
"It seems to be a very drastic action for all that we know right now," said the coach.
Goldberg submitted viewers' swine flu questions to so-called experts during a later "Swine Flu: Fact or Fiction" segment.
One viewer asked, "Is the media making too big a deal out of this?"
No, it's not, said Dallas County health director Zachary Thompson.
Well, OK then.
CBS11 had reporter
Katherine Blake
in Fort Worth for its top-of-the-newscast swine flu story. The station's
Carol Cavazos
then had the best story of the night on the very real problems many parents will face this week and next.
"Parents are now scrambling to find relatives or friends to watch their kids, or probably stay home themselves," Cavazos said.
WFAA8 also led its 10 p.m. edition with the school shutdown. But its only reporter-driven story in the news portion of the program came from
Chris Hawes
live in Fort Worth. The closing sports segment then included a story on the postponement of high school athletic events.
WFAA8 instead broke relatively quickly from swine flu to cover late-breaking flooding conditions in Gainesville, with
Steve Stoler
reporting live on a mess that rival stations basically ignored.
"The situation took a dramatic turn for the worse" 90 minutes earlier, Stoler told viewers. So much so that police called for an evacuation as water began flowing down Main Street from nearby Pecan Creek. Vivid pictures of rushing water underscored the urgency.
"With more rain in the forecast and with the creeks rising, the situation here in Gainesville is expected to get worse," Stoler concluded.
Missing from any of Wednesday's late night coverage was perspective on why Fort Worth is closing its school system with just one confirmed case of swine flu while the Dallas Independent School District hasn't taken such measures despite three confirmed cases to date. Is the FWISD over-reacting? Is the DISD under-reacting? Those questions need to be addressed in depth during upcoming coverage.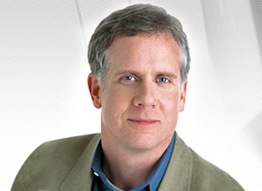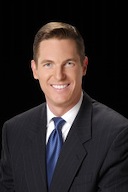 WFAA8 investigator Brett Shipp and NBC5's all-purpose Brian Curtis
GOTCHA!
-- No one puts the clamps on wrongdoers better than WFAA8 gumshoe
Brett Shipp
On Wednesday night he trained his howitzer on get-rich-quick real estate huckster Cliff Robertson, who allegedly has bilked a number of his ongoing radio show's listeners. One of them is retired high school football coach William Hunt, who was trying to ensure long-term security for himself and his disabled son. Hunt turned over most of his $70,000 in life savings to Robertson. All he has to show for it are two basically worthless dilapidated houses that Shipp's story pictured.
Shipp said that Robertson initially said he was eager to talk to WFAA8, but then repeatedly reneged. Shipp caught him on camera anyway.
"There's a lot more to it," Robertson said while getting into his car.
"Here's your opportunity to explain that," Shipp told him to no avail.
It could be argued that Robertson's alleged victims stupidly turned over their money to him, and in a way got what they deserved. But a crook is a crook, and the FBI plans to go after Robertson after one agent termed him a "one-man wrecking crew" who must be brought to justice.
KID CARE
-- CBS11's Cavazos did double duty Wednesday night. Besides her swine flu reporting, she had an interesting story on a loophole that exempts fitness centers from child care licensing requirements. The state says this is because parents on site and their children usually are watched for under two hours.
One aggrieved mother told Cavazos that her two-year-old son was allowed into a bathroom by himself and emerged soaking wet, possibly from falling into the toilet. The fitness center, whose managers wouldn't talk to Cavazos, supposedly joked about the matter.
CHEEKY ASIDE
-- Fox4's nightly "News Edge" segment is supposed to have a little bite to it. Anchor Hays made sure of that Wednesday after a brief on how FEMA had yanked a kids coloring book --
A Scary Thing Happened
-- with pictures of the 9/11 attacks, other burning buildings and "torrential" flooding.
"Can you say Katrina?" Hays jabbed. "Kinda clears up why the whole agency is messed up."
DELIVER US FROM DEPRESSION
-- CBS11 has its "Survive in 09" segments, WFAA8 has a "Job of the Day" feature and now NBC5 has a new "Ready For Recovery" series launched Wednesday.
Its point man is anchor/reporter
Brian Curtis
, who initially focused on the very upbeat and still jobless Coretta Turner.
While unemployed, Turner is volunteering. And in Curtis' rather overblown view, "By helping others, Coretta Turner sends a clear message to the world and herself."
Added Turner, "I'm not my job. So the job goes away, and I'm still here."
Curtis then told viewers that he's looking for "hiring information, money saving secrets, inspirational people, whatever you have."
Colleague
Brendan Higgins
, whose primary post is NBC5's early morning show, followed with a "Deals or Discounts" segment on Peacock Alley, where designer linens can be had at 75 percent off their original and no doubt inflated prices.
"This isn't one of those bait-and-switch warehouse sales," Higgins assured before bending down and intentionally mispronouncing the Alexandra Matelasse collection.
"Mat-el-leh-
say
," some employees said in unison as Higgins was hit with a designer towel thrown from off-camera.
"Exactly," he said. Bah-da-bing-bam-boink.
Fifteen nights to go.