08/17/17 01:06 PM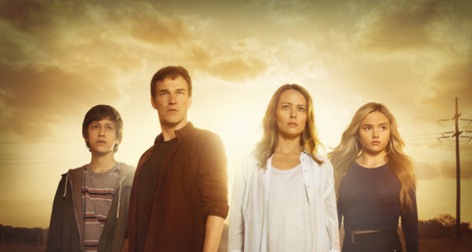 Mom, dad & their Marvel-ized mutant kids in The Gifted. Fox photo
By ED BARK
@unclebarkycom on Twitter
It's not as if the world needs yet another movie or series bearing the Marvel brand.
But D-FW and the Dallas Film Commission certainly could have used Fox's
The Gifted
as both an economy- and morale-booster.
Instead, despite show runner Matt Nix's best efforts, the mutant-rich drama series has relocated to Georgia (specifically Atlanta) for future episodes after the pilot was filmed earlier this year in Dallas. The culprit? Mainly tax incentives. Georgia has them in abundance. Texas lately does not -- and increasingly is paying a price while the nearby Peach state is now a mecca for film and TV production.
In an interview with unclebarky.com following Fox's Beverly Hills-based "press tour" panel for
The Gifted
, Nix said that incentives were "certainly a factor. I don't know all of the details of the decision to move the show out of Dallas. They (Fox) said, 'Look at the numbers' blah blah blah. When they say 'look at the numbers,' a lot of that is taxes." (Fox Television co-chair and CEO Dana Walden earlier said economics were the overriding reason for
The Gifted
's evacuation.)
Nix said it was his idea to film in Dallas after a far lengthier stay in the city for Fox's 2010 comedy cop series
The Good Guys
, which co-starred Bradley Whitford and Colin Hanks. It got canceled after 20 episodes, but originated entirely from North Texas.
"I love shooting in Dallas," he said. "It's not an over-shot city. It's really an underrated location."
Many local crew members from
The Good Guys
were re-gathered by Nix for
The Gifted
. "
The Good Guys
was such a great experience," he said. "The first day (on the set of
The Gifted
), the second catering assistant came up and gave me a big hug. Everybody was wearing their
Good Guys
gear. Dallas is such a fun, friendly city, and the crews are great. And I really loved it."
The pilot for
The Gifted
, screened earlier this month during press tour, has been virtually scrubbed clean of all things North Texas. Remaining, though, is a reference to Garland and a few scenes from the "Garland Detention Center." Nix said that an earlier "alt-version" tried Lubbock on for size, but "we figured more people would know that's in Texas."
Via email Wednesday, longtime Dallas Film Commissioner Janis Burklund said, "It was indeed VERY disappointing to lose them. We felt like we had a really good thing going given that Matt very much likes (Dallas) and wanted to be here."
Before
The Gifted
's post-Dallas destination was known, Burklund had
told The Dallas Observer
that "the show was not only going to spend more than $25 million in six months, but it was going to potentially last for years."
Fox was on a "very tight timeline," though, Burklund said. "It's a big show. They had lots of sets to build and things to get ready. They also had an air date, and they delayed it as long as they could. But they had to make a decision because the (state) legislature wasn't done doing their stuff" (regarding both any approval of tax incentives and a then pending "bathroom bill" which finally was killed this week).
Fox initially has ordered 10 episodes of
The Gifted
, which is scheduled to premiere on Monday, Oct. 2nd in tandem with the network's returning
Lucifer
.
The series will have plenty of company in a bullish state where
film and TV production reportedly had a record tax incentive-driven
"economic impact" of $7.2 billion in fiscal year July 1, 2015 to June 30, 2016.
Besides
The Gifted
, upcoming new series being filmed in Georgia include Fox's
The Resident
, NBC's
Good Girls
, The CW's
Valor, Black Lightening
and its
Dynasty
reboot, ABC's retitled
Kevin (Probably) Saves the World
and Netflix's
Insatiable
and
The Haunting
.
Georgia also is home to a wealth of returning series, including AMC's
The Walking Dead
, FX's
Atlanta
, CBS'
Macgyver
, Fox's
Star
and CW's
The Originals
.
Additionally, at least 17 feature films and 11 "reality" series have set up shop in Georgia.
For now, the Dallas Film Commission mostly is licking wounds from series that got away or pilots that never made it to the next level. That includes the Reese Witherspoon-produced
Broken
, which was filmed in the city last year with an imposing cast that included Anna Paquin (as a "ruthless" Dallas divorce attorney), Blair Underwood and Penelope Ann Miller.
But ABC took a pass after seeing the pilot for
Broken
. And now
The Gifted
has gone thataway to deepen a slump that began when TNT abruptly canceled its new version of
Dallas
in 2014 after a three-season run that ended with an unresolved cliffhanger.
Burklund notes at least one bright spot beneath these otherwise gloomy skies. The first two seasons of USA network's
Queen of the South
were filmed in Dallas and surrounding areas. USA recently picked up
Queen
for a third season, but it's "yet to be seen," Burklund said, whether the show will remain here or be lured elsewhere.
Given the state legislature's intransigence when it comes to increasing tax incentives for filmmakers, just about everything is anything but a done deal these days.
Email comments or questions to:
unclebarky@verizon.net