09/27/11 09:56 AM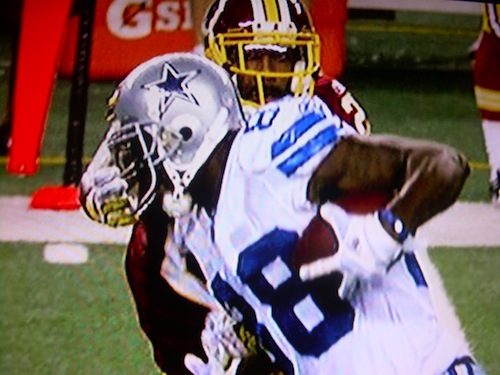 Dez Bryant makes key catch; add facemask penalty. Photo: Ed Bark
By ED BARK
Fox's big two-hour premiere of its dinosaur-laden
Terra Nova
had no chance in D-FW against the Cardiac Cowboys Monday night. But it was pretty terra firma in competition with mere mortals.
The Cowboys' 18-16 win over the Redskins, highlighted by QB Tony Romo's gutty play with a busted rib, drew 833,214 viewers on ESPN and added another 575,799 for the TXA21 simulcast. That's a grand total of 1,409,013 viewers, better than Game 2's 1,274,329 on Fox but short of the season opening 1,648,317 on NBC's
Sunday Night Football
.
(Note: under the
new Nielsen estimates
, which went into effect Saturday, each rating point equals 67,741 total viewers, down from the previous year's 69,257. So the Cowboys are battling ratings deflation as well as opponents.)
Cowboys-Redskins also romped with advertiser-coveted 18-to-49-year-olds, drawing 461,131 on ESPN and adding another 233,768 on TXA21. The game ran from 7:41 to 10:43 p.m., and these tabulations reflect that running time based on Nielsen measurements for each 15-minute increment.
In the non-Cowboys universe,
Terra Nova
opened with 250,642 total viewers in the 7 to 9 p.m. slot. That outdrew ABC's competing two-hour
Dancing with the Stars
performance edition (223,545 viewers) as well as CBS' 7 to 8 p.m. combo of
How I Met Your Mother
(243,868) and
2 Broke Girls
(223,545). But CBS controlled the 8 to 9 p.m. hour with
Two and a Half Men
(467,413) and the Season 2 premiere of
Mike & Molly
(304,835).
In the 18-to 49 demographic, the CBS comedies ran the table, with
Terra Nova
in second and
Dancing
limping along to a distant third-place finish. NBC's 7 to 9 p.m. attraction,
Sing-Off
, came up empty all night among the Big Four broadcast networks.
The CW's new
Hart of Dixie
had just 54,193 total viewers for its 8 p.m. premiere but did manage to outdraw the second hour of
Sing-Off
in the 18-to-49 measurement.
ABC's
Castle
handily won at 9 p.m. with 298,060 total viewers while also dominating among 18-to-49-year-olds. NBC's second episode of
The Playboy Club
barely registered in fourth place with 67,741 total viewers. It also was clubbed in the 18-to-49 numbers.
The 10 p.m. local newscasts went into the teeth of the Cowboys game and predictably had diminished returns. WFAA8 won in total viewers with just 128,708 of 'em. But CBS11 ran first with 25-to-54-year-olds, the main advertiser target audience for news programming.
NBC5 edged Fox4 in total viewers at 6 a.m., with those finishes reversed in the 25-to-54 demographic.
Fox4, NBC5 and WFAA8 tied for the top spot in total viewers at 6 p.m., with Fox4 claiming the 25-to-54 gold for itself.
NBC5 prevailed at 5 p.m. in total viewers, but Fox4 ran first with 25-to-54-year-olds.
Now let's look at some highlights from the other nights.
SUNDAY
NBC's
Sunday Night Football
matchup between the Pittsburgh Steelers and Peyton Manning-less Indianapolis Colts dominated the prime-time Nielsens with 582,573 total viewers, nipping Fox's mid-afternoon/early evening Green Bay Packers-Chicago Bears game (569,024 viewers) for the day's overall top draw. Both games also had the lion's share of 18-to-49-year-old viewers.
ABC's launch of its new
Pan Am
series ran second on both counts at 9 p.m., drawing 264,190 total viewers. In each case that was only a slight drop-off from ABC's preceding
Desperate Housewives
, which began its final season.
SATURDAY
ABC had the day's biggest crowd with its afternoon matchup of Top 10 teams Texas A&M and Oklahoma State. It averaged 257,416 total viewers. The network's prime-time attraction, LSU vs. West Virginny, fell to 176,127 viewers but still easily won its time slot.
FRIDAY
The Texas Rangers-Seattle Mariners game on TXA21 won the first two hour of prime-time in total viewers before CBS' season premiere of
Blue Bloods
edged the North Texas Nine in the 9 p.m. hour. But NBC's
Dateline
had the most 18-to-49-year-old viewers from 8 to 10 p.m.
The 7 p.m. premiere of CBS medical/supernatural
A Gifted Man
had mixed results. It ran second in total viewers, behind the Rangers, but dove into sixth place with 18-to-49-year-olds, where the Rangers, Fox's
Kitchen Nightmares
and The CW's Season 2 launch of
Nikita
ran one-two-three.
In Friday's local news derby results, CBS11 logged a 10 p.m. win in total viewers while NBC5 took the 25-to-54 gold.
Fox4 swept the 6 a.m. competitions and WFAA8 had a big day in the early evening, running the table at both 5 and 6 p.m.
THURSDAY
Fox's second night of
The X Factor
held steady from 7 to 9 p.m. with respectable but hardly imposing numbers. It averaged 332,434 total viewers on the last day of the old Nielsen measurements, running a solid second to CBS' one-hour season premiere of
The Big Bang Theory
and the network's launch of
Person of Interest
.
X Factor
also fell a bit short with 18-to-49-year-olds, finishing second to
Big Bang
from 7 to 8 p.m. and losing to the season premiere of ABC's
Grey's Anatomy
in the 8 p.m. hour.
Grey's
second hour and CBS' season premiere of
The Mentalist
tied for first in total viewers at 9 p.m.
Grey's
cruised with 18-to-49-year-olds, though.
The 9 p.m. opener of NBC's
Prime Suspect
ran fourth in both measurements on what amounted to another dismal night for the Peacock. At 8:30 p.m., NBC's premiere of
Whitney
likewise finished fourth across the board.
ABC's 7 p.m. premiere of its
Charlie's Angels
re-do came up fourth from 7 to 7:30 p.m. in total viewers before inching up to third in its second half-hour ahead of NBC's
Parks & Recreation
.
It was pretty much the same story among 18-to-49-year-olds, with one exception. CW's competing
The Vampire Diaries
eased ahead of
Angels
for the full hour. For ABC, that's not exactly a halo effect.
Finally, in Thursday's local news derby numbers, WFAA8 swept the 10 p.m. races while Fox4 scored twin wins at 6 a.m.
Fox4 added 25-to-54 victories at 5 and 6 p.m. while tying for first in total viewers at 5 p.m. with WFAA8 and CBS11. The latter station won at 6 p.m. in total viewers.