08/27/10 02:08 PM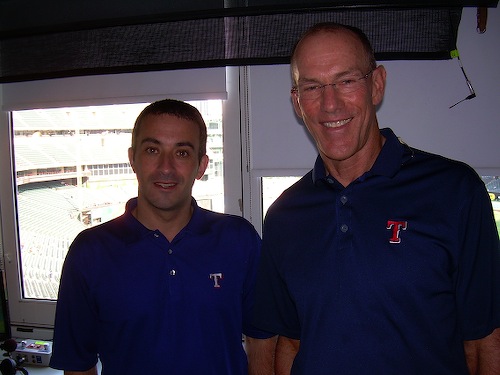 Rangers TV team of Josh Lewin, Tom Grieve. Photos: Ed Bark
By ED BARK
ARLINGTON -- Josh Lewin's rookie season with the Texas Rangers didn't go particularly well.
The 2002 edition of the team finished 31 games out of first place with a 72-90 record. By the time August and September hit the fan, most area sports fans once again were fixated on the Dallas Cowboys while the Rangers continued to flail away in their still relatively new ballpark.
These are much happier days for Lewin and his TV announcing partner, former team general manager and player Tom Grieve. As September nears, the Rangers are eight-and-half games in first place with as many wins -- 72 -- as Lewin witnessed during the entire 2002 season. An important three-game home series with the second-place Oakland A's starts Friday.
"For me, the one thing that's changed a lot is not having to 'yuck monkey it up,' " he says during a pre-game interview in the booth before Thursday's game against the Minnesota Twins. "I've always felt a responsibility to the team and to Fox to make sure we've got the most possible eyeballs we can get. And that's always meant reaching a little bit further than you normally would if the team is like, 50 and 72. There really hasn't been a game since early June where I've felt like, 'OK, I've got to put my tap dancing shoes on.' For me it's almost like enjoying the fruits of our labor. We can finally let the games speak for themselves."
The eyeballs also are taking care of themselves this season during what seems to be the Rangers' inevitable march toward their first post-season appearance since 1999. Fox Sports Southwest, venue for most of the games, has shown a 29 percent ratings increase over last season at this time, according to network research drawn from Nielsen numbers. The most-watched attraction ever on FSS was the Aug. 11th home game against the New York Yankees. And that broke the record set on the previous night, when the Yankees also were in town.
TXA21 also has enjoyed robust ratings for its weekly Friday night Rangers telecasts, which likewise are handled by Lewin and Grieve. On a number of nights this season, the Rangers have outdrawn all network prime-time competing programs while also delivering a blow to the 10 p.m. local newscast ratings when the games run long. Meanwhile, those same newscasts have pretty much been forced to lead their sports segments with Rangers results before quickly segueing to Cowboys training camp in Oxnard, CA.
Grieve, in his 16th year as the Rangers' TV analyst, knows what it's like for the team to win. He was in the booth for the Western Division championship years of 1996, '98 and '99. The Rangers then were bounced out in the first playoff round, each time by the Yankees. But Grieve, like Lewin, has watched losing teams in six of the last eight seasons before last year's 87-75 team ran out of gas down the stretch and finished 10 games behind the Angels of Anaheim -- or whatever they're called lately.
"I don't think we're naive enough to think it has anything to do with us," Grieve says of the bigger crowds for Rangers telecasts. "We're essentially the same announcers we've been. It's just that we have a better team to talk about . . . The thing that makes the job easy and fun for me is the caliber of players we have on the team. They're fun to be around, they don't make excuses and they play hard. You don't pick up a newspaper and worry about what these kids did the night before. Now that we're in first place, it's kind of the perfect storm for a fan."
Assuming that Texas doesn't have a cataclysmic collapse, both Grieve and Lewin will have to turn the team over to other networks once post-season play begins. Unlike the Dallas Mavericks' local announcing team, they don't get to do a companion home-flavored telecast for at least the first round of the playoffs.
Grieve agrees that it's a bit deflating to serve all those appetizers and then not be invited for the main course. "I would like to be up here broadcasting the games, but I'll probably be just as happy and might enjoy it even more if I'm just down there watching it and not having to worry about what I'm saying."
Lewin rationalizes that "it's a whole lot better to have loved and lost" after the regular season than to endure another losing Rangers team. And should the Rangers almost miraculously get to their first World Series, Lewin says it's OK with him "If the call for the ages is being made by the signature voices of baseball -- (Joe) Buck and (Tim) McCarver on Fox. That'd be pretty cool. We'll be sitting here clappin' and yellin' and getting vuvuzelas or whatever."
But wait. Fox Sports Southwest publicist Ramon Alvarez interjects to note that the network will be doing live post-game shows for any and all Rangers playoff games. And that Lewin and Grieve will be a part of them.
"That's the first time I've heard that," Lewin says. "But I'm happy to do it. I'm showin' up either way."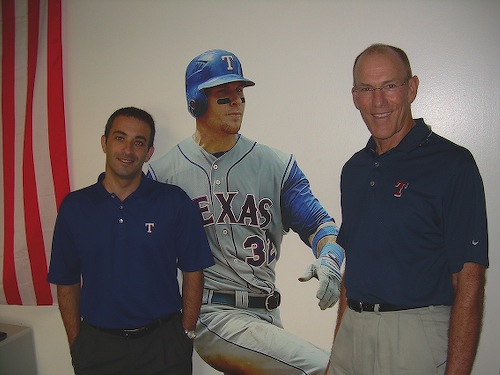 Grieve, by the way, does not appear to be a big fan of McCarver's on-air work.
Asked to name his top 3 favorite former athletes turned TV analysts, he initially singles out Bob Brenly, who currently does games for the Chicago Cubs. He's then stuck for a No. 2.
"A lot of 'em I don't like. I'll tell you that," Grieve says, declining to name any of them. When his questioner mentions McCarver, Grieve says, "Tim" -- long pause -- "You know what? I'm going to respectfully decline to answer your question."
He says this pleasantly, and later adds the retired Tony Kubek as "my all-time favorite. And I like Brenly because he's low-key. Doesn't try to show off. Just analyzes the game."
Two of Lewin's play-by-play heroes are late legends with whom he's worked. He teamed with Harry Caray in 1997 on Cubs telecasts and joined Ernie Harwell in the booth for Detroit Tigers games from 1998 to 2001 before coming to Texas. ESPN's Jon Miller and the Dodgers' longtime signature voice, Vin Scully, are other members of his personal "Mount Rushmore."
"It's so subjective," Lewin says. "I liked everybody growing up because I wanted to be every single one of 'em. Harry's point was that baseball's supposed to be fun. It's supposed to be a diversion. He took the game seriously, but he didn't take himself seriously. Ernie was the consummate pro, a terrific wordsmith, a gentleman's gentleman."
Caray was known to consume more than a few Budweisers in the booth. Lewin and Grieve are better known for harboring cookies, cakes, pies and other sweets baked by Rangers fans and brought to the booth by security personnel who expect to get tastes in return.
This brings us to the subject of whether baked goods and baseball telecasts mix. Grieve has been twitted by some, including this writer, for spicing most Rangers home games with individual thanks for each and every treat-maker.
Foremost among them is the original "Cookie Lady," Shirley Kost, who began baking for players and broadcasters a number of years ago.
"It's like a soap opera, especially for older people," Grieve says. "They watch every single game. And when it unfolds slowly, we talk about the food. Now that more people are watching, there's more people that like to bake. It's getting a little out of hand. But I think people genuinely feel like they're part of the broadcast."
Grieve is the point man for baked goods announcements, but Lewin is a very willing imbiber and co-conspirator.
"It's almost like people saying we're all family together," Lewin says. "Not to get all weepy and sociological about it, but I think it's beautiful. It's heartfelt from these people and it's heartwarming because of that."
Lewin says it's all about something he learned from Caray.
"He used to stay stuff like, 'Hey, Irma Smedley's here from Dubuque.' And WGN (longtime home of Cubs telecasts) would get all these letters from people saying, 'C'mon, why are you doing this? It's 3-to-3 in the eighth.' Harry would say, 'Look, now Irma Smedley is the biggest deal in her church for the next year.' And it's two seconds out of a three-hour ball game.
"He was passionate about that. And my thought always was if it's good enough for Harry, who am I pass to judgment on it? It's a small thing you can do for somebody. So until they tell us to shut up . . ."
But back to what prompted this visit in the first place -- winning Texas Rangers baseball and big TV ratings to match.
Lewin: "I'm getting paid to watch a pennant race. This is a job in a candy store. The players do all the heavy lifting and all I've got to do is put the caption on the picture. It speaks for itself when Josh Hamilton hits one 460 feet. It's just great theater."
Grieve: "If your mentality was to give your best as a broadcaster throughout the bad days, then all you've got to do is keep doing what you've been doing. Because the game is what they want to watch now -- not listen to us."