CBS11 turns to former NBC5 anchor Higgins in hopes of waking up its early mornings
06/11/12 04:42 PM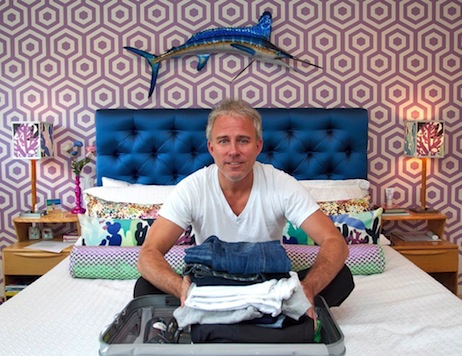 Brendan Higgins had been chillin' since leaving NBC5. Now it's back to the early morning grind, this time at CBS11.
Facebook profile picture
By ED BARK
@unclebarkycom
Early mornings just got even more interesting with CBS11's surprise announcement Monday that former NBC5 anchor Brendan Higgins will return to the a.m. wars.
Higgins, who worked the Peacock's waker-upper shift from 2004 until January 2010, will be teamed with
newcomer Adrienne Bankert
, who hasn't yet appeared on CBS11. They'll make their debut together from 4:30 to 7 a.m. on the June 25th edition. CBS11 currently ranks a distant fourth at those hours.
Incumbent Keith Garvin, as rumored, will be taken off the early shift but remain with CBS11 as a reporter and fill-in anchor, director of communications Lori Conrad confirmed Monday. Garvin did not return previous emails inquiring about his situation at the station while Conrad declined to comment earlier this month.
Garvin, who wasn't mentioned in the CBS11 release heralding Higgins, had joined Lisa Pineiro on October 24th of last year after previously anchoring sister station TXA21's since canceled prime-time local newscasts. But
Pineiro was recently dropped
by CBS11 after just a year and a half as the early morning co-anchor.
Higgins, who left NBC5 over a contract dispute, said in a CBS11 publicity release that he's "thrilled to be part of the team at CBS11 . . . There's an amazing sense of camaraderie here. I think viewers will sense that, and they're going to like what they see."
While at NBC5, Higgins sported a puckish sense of humor that now apparently is deemed essential in the early mornings. NBC5 has an affable chuckler in
newcomer Mark Hayes
, WFAA8 continues to sell anchor Ron Corning via an extended series of comedy spots and Fox4's Tim Ryan is the time period's dean of rib ticklers. Well over a dozen male anchors have passed through the early morning portals of rival D-FW stations during Ryan's almost 17 years in the early morning saddle.
But CBS11/TXA21 president and general manager Gary Schneider of course is adopting a sunny side up outlook as the station tries again.
"Brendan is well-known and well-liked by local viewers," he said in a statement. "We believe he and Adrienne will make a strong connection with morning news viewers based on their knowledge, experience and warm personalities."
One cautionary note: Higgins marks CBS11's second hiring in recent years of a competing station's early morning discard. Scott Sams, who previously anchored at WFAA8, arrived at CBS11 in April 2007 but was shown the door four years later.
Meanwhile, Pineiro says on her
Facebook page
that "CBS11 gave me a fantastic opportunity . . . and we part with good feelings on both sides. I was fortunate to work with people who became like family, many of whom I will have in my life forever."
Pineiro also said that "you haven't seen the last of me on TV. I have wonderful people working on my behalf to make sure I land someplace soon, whether in DFW or someplace else."
Until then, Pineiro said she hopes to develop her "hobby of healthy baking into a viable side business. Stay tuned for the launch of 'Little Sweet Nothings.' "