Local Nielsen ratings snapshot (Tues., Nov. 24) -- WFAA8 wins big, but CBS11 still on top in 10 p.m. news combat
11/25/09 11:12 AM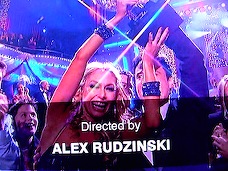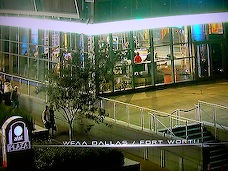 Pictures tell the story in this pair of frame grabs. In one instant: Donny wins Dancing. In the next: WFAA8's 10 p.m. news -- at 9:59.
By ED BARK
WFAA8 bolted out of
Dancing with the Stars
faster than sports anchor Dale Hansen from a vegan dinner Tuesday night.
It then used a baseball bat to club arch rival CBS11 in the frenetic 10 p.m. newscast ratings race.
Still, it may not have been enough. CBS11 has retained a tissue paper-thin lead in the late night news ratings with only Wednesday remaining in the four-week November "sweeps." For obvious reasons, neither station will divulge whether it plans to "throw out" the Wednesday edition by taking the traditional "H" for pre-Thanksgiving Day holiday travel.
Should CBS11 figuratively "take a knee" and stay with the ratings number it has? Or should it count on the usually potent lead-in from CBS'
CSI: NY
? As noted in previous posts, CBS11 has never won in total viewers at 10 p.m. in one of the three principal ratings sweeps months -- November, February and May. And it very much wants its first gold. The promotional possibilities are endless -- and priceless.
Meanwhile, should WFAA8 go for broke Wednesday night in hopes of pulling into a first-place tie with CBS11? That's a considerable risk, though, because ABC's 9 p.m. lead-in is the little-watched
Eastwick
, which is running out the string after being canceled. Live, nude anchors maybe?
OK, here's where we stand.
WFAA8 easily won Tuesday's 10 p.m. battle, drawing 352,888 D-FW viewers after the last quarter-hour of
Dancing
furnished 373,280.
Runner-up CBS11 had 244,307 viewers for its late nighter, coming off a not-too-shabby 9:45 to 10 p.m. lead-in of 291,811 viewers from CBS'
The Good Wife
.
That pulled WFAA8 to within one-tenth of a rating point (6,786 viewers) after 19 of 20 weeknights. Or to get down to the real nitty gritty, CBS11 now has a 3.384 Nielsen rating (which rounds off to 3.4) while WFAA8 is at 3.329 (which rounds off to 3.3).
It wouldn't take all that much for WFAA8 to creep up to a 3.350 -- which would go down as a 3.4 in the Nielsen books. That likely would leave the two stations in what basically is a statistical tie. And realistically, that's the best that reigning champ WFAA can hope for.
All of this may seem insignificant. But as noted, it's a promotional and morale-boosting giant step for CBS11 to finally climb the mountain at 10 p.m. They might even have a hoe-down.
WFAA8, on the other hand, has all but clinched a 10 p.m. win among 25-to-54-year-olds, the main advertiser target audience for news programming. The ABC station doubled CBS11's audience in that demographic Tuesday night.
In Tuesday's other local news derby results, NBC5 ran the table at 6 a.m. and looks as though it will score narrow November sweeps wins over Fox4 in both total viewers and 25-to-54-year-olds.
The Peacock also won at 5 and 6 p.m. in total viewers while Fox4 did likewise with 25-to-54-year-olds. WFAA8 is safely in the house with twin sweeps wins at 6 p.m. and likely will scratch out a narrow first place finish at 5 p.m. in total viewers. But Fox4 looks like the 5 p.m. sweeps gold medalist in the 25-to-54 demographic.
Because of the holidays, full ratings results for local newscasts might not be available until Monday.
And oh, by the way, Donny Osmond and Mark Cuban's former pro partner, Kym Johnson, won
Dancing with the Stars
. But the finale still wasn't Tuesday night's top draw in D-FW. CBS'
NCIS
wore that crown, pulling in 359,674 viewers in the 7 p.m. hour to top
Dancing
's 346,101 from 8 to 10 p.m.
Note to readers:
It's Thanksgiving eve and lots of us have fun things to do. So we're going to bag the "Night in the Lives" content analysis for Tuesday night's 10 p.m. festivities. We'll be watching Wednesday's 10 p.m. news, however, in case anything really weird happens. Have a great holiday!