Local Nielsen ratings snapshot (Wed., Feb. 24) -- Idol again spanks Olympics; Mavs-Lakers endgame whips 10 p.m. local newscasts
02/25/10 10:49 AM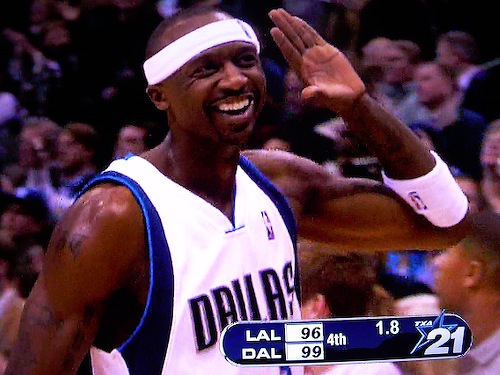 Can't hear you!!! Mavs rock/sock Lakers at AAC. Photo: Ed Bark
By ED BARK
It proved to be a
tough night for North Texas' male quartet
, but another good night for
American Idol
Wednesday.
The Fox cash cow again easily outdrew NBC's Olympics in their 7 to 9 p.m. matchup.
Idol
had 542,904 D-FW viewers this time while the Winter Games averaged 346,101 viewers. The Olympics' overall average of 386,820 viewers from 7 to 10:37 p.m. easily was the lowest total through the first 13 nights of coverage.
Meanwhile, on TXA21/ESPN, the resurgent Dallas Mavericks were beating the Lakers 101-96 in a spine-tingler that tipped off at 8:11 p.m. and ran until 10:44. The game averaged 176,444 viewers on the home station and had another 74,649 on ESPN. From 10 to 10:30 p.m., Mavs-Lakers had a combined total of 278,239 viewers, easily enough to outdraw CBS11's front-running 10 p.m. local newscast (162,871 viewers).
Fox4's 9 p.m. local newscast again took the silver at that hour, with the No. 1 Olympics upping its audience after being freed from direct competition with
Idol
.
In other local news derby results, CBS11's 10 p.m. win in total viewers didn't hold up among 25-to-54-year-olds, the main advertiser target audience for news programming. WFAA8 narrowly ran first with that crowd in the downsized three-way news competition.
At 6 a.m., WFAA8 scored a rare win with total viewers, nipping both Fox4 and NBC5. The Peacock retorted with an equally narrow win among 25-to-54-year-olds.
NBC5 won at 6 p.m. in total viewers and tied for first at 5 p.m. with Fox4, which ran the table among 25-to-54-year-olds.