Talking points in D-FW television
07/25/11 01:10 PM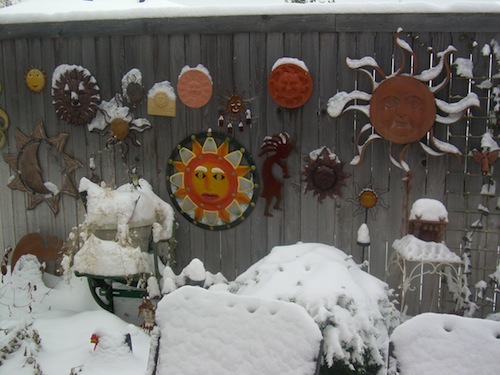 Everything but the kitsch-en sink would make Uncle Barky's backyard a perfect all-weather locale for TNT's new Dallas.
By ED BARK
The producers of TNT's new
Dallas
series are looking for a few good locales before shooting begins this fall.
Dallas Film Commissioner Janis Burklund put out the word in a news release Monday. "Maybe your home showcases how some of us live in this diverse and fourth largest metropolitan region in the nation," she said. "Or maybe you'd like to draw tourists to your property, or grow your business."
If so, just email dallastv@dallascityhall.com with "Dallas TV Series Locations" in the subject line. You'll also have to include a phone number, email and street address in addition to a photo(s) of your property, a brief description of it and why you'd like to participate.
"We'll pass the information along, and residents may soon find themselves talking to a representative of the show about how their property can play a part in shaping the world's future view of Dallas," Burklund says.
For more information,
go here
. The new
Dallas
is scheduled to premiere next summer, with Larry Hagman, Linda Gray and Patrick Duffy all returning to the cast along with a younger generation of connivers.
***
The Alliance for Women in Media is throwing its annual fall TV premiere party on Thursday, July 28th from 5:30 to 8 p.m. at Dallas' Granada Theater, 3524 Greenville Ave.
For $35, you'll get sneak peeks, assessments of which networks are taking the biggest risks, etc., etc. Drinks and appetizers are included, with a portion of the proceeds going to the tornado victims of Joplin, Missouri. For more information and to purchase tickets,
go here
.
***
WFAA8 sports anchor Dale Hansen's extended vacation goes on. Which it does every summer. He took off after the Dallas Mavericks' June 16th victory parade, with some readers now wondering what's happened to him.
The station's vice president of product development, Dave Muscari, says he answers inquiries this way: "Good to hear from you, and thank you for the concern. Dale's taking vacation time, as he does most years around now. When Cowboys Camp starts, he starts 'the season,' so to speak, and doesn't wind down until after the BCS Championship, Super Bowl and so forth. He'll return soon."
So there.
(Update: Hansen returned to WFAA8 on Monday, July 25th, just in time for the end of the NFL lockout. Now he'll be heading to Cowboys training camp in San Antonio.)
***
Reader Don Kotria passes along the news that a behind-the-scenes D-FW television pioneer,
Homer Venso
, died on July 12th at the age of 87.
Venso worked at WBAP/KXAS-TV for 40 years and "pretty much hand-built the first generation of ENG (Electronic News Gathering) trucks, including the very first 'Live On Five,' " Kotria says. "He trained me on this truck, and we went out and did some of the very first live shots in the D-FW market."
Kotria notes that Venso also was the camera operator in the basement of the Dallas Police Department whose pictures were being shown live nationally when Jack Ruby shot and killed Lee Harvey Oswald.
"This guy was a TV legend," Kotria writes. "Just not one of the guys you saw on the screen every night."