Briefly in D-FW television news
08/16/12 05:59 PM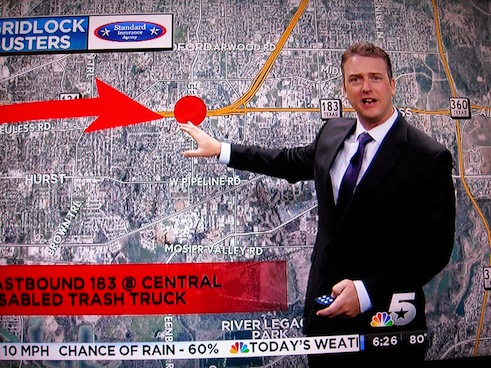 Hi, I'm NBC5's Grant Johnston. Perhaps you know me better as . . .
Photos: Ed Bark
By ED BARK
@unclebarkycom
Yes, that's NBC5 meteorologist Grant Johnston doing the traffic reports this week on NBC's early morning news program.
And so far he hasn't reported any high pressure fronts on Central Expressway. Well, in a way he has.
The Fort Worth-based station is still searching for a permanent traffic cop after veteran Tammy Dombeck and NBC5 reached a contract impasse. Andi Parker was named to fill in after Dombeck's departure on July 27th. But Johnston lately has been the designated "Gridlock Buster."
NBC5 news director Susan Tully relayed a comment via email, saying that Johnston "offered to help out on traffic, as we are still searching and there's vacation scheduling on top of it. It is not permanent by any means, even though he's doing an awesome job!"
Johnston likely is the first male to be deployed as an NBC5 traffic-meister. Vice president of programming Brian Hocker said he would ask Johnston "if he's ever done this before." Still waiting on an answer, although weathercasters have a leg up in this particular domain, having already grown accustomed to "green screens" and pointing at things.
***
CBS11 reports
that one of the station's photojournalists, Edgar Solis, had his Richardson home destroyed by lightning during Tuesday night's storms.
Solis told CBS11 reporter J.D. Miles that he and his two children were asleep when the lightning hit, starting a fire in the attic of their home.
"I gotta laugh. It's all I can do. It's Mother Nature," Solis said.
CBS11 director of communications Lori Conrad said that a relief fund has been established at Chase Bank for Solis and his family.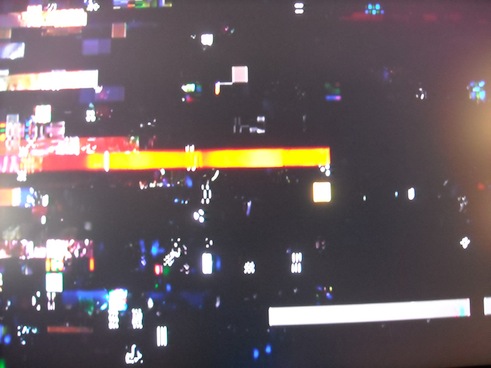 Verizon Fios subscribers couldn't see WFAA8's HD channel during part of the early evening Wednesday. Got a light show, though.
***
Part of Wednesday's 5 p.m. newscast on WFAA8 and Diane Sawyer's entire 5:30 p.m. ABC
World News
were rubbed out in homes with Verizon Fios. But it was only on WFAA8's HD channel.
Respondents using other cable providers apparently experienced no such outage. Alerted by your friendly content provider, WFAA8 vice president of product development Dave Muscari said the station eventually determined that it was not at fault.
"Fios told us the problem was on their end. They know about it and are working on the issue," he said.
The issue was resolved just as WFAA8 began its 6 p.m. Wednesday newscast. There were no further problems, at least not at unclebarky.com central.