WFAA8's Gary Reaves decides it's time to retire (updated)
07/16/11 08:46 AM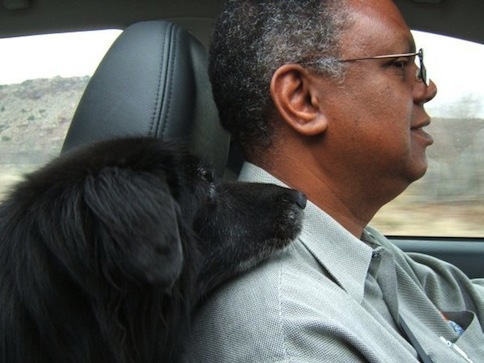 Gary Reaves in a signature picture from his Facebook page.
By ED BARK
Reporter Gary Reaves, a stalwart at WFAA8 in two tenures totaling 24 years, is retiring from the Dallas-based station. His last day will be on August 1st.
Reaves rejoined WFAA8 in 1991 after working five years for CBS News. His first shift at WFAA8 was from 1982 to 1986. Later Saturday, he forwarded the note he sent to his station colleagues Friday.
"It is with mixed emotions that I have come to the decision to make a change in my career," Reaves said. "After 35 years of going to work every day in a newsroom, I have decided it is time for me to move on. It is difficult to decide to leave WFAA. I have had most of the best moments of my work life here. I have been blessed to work with many of the best people in the business. I have been privileged to travel the world, from East Texas to East Jerusalem, from South Africa to South Dallas. However, after some 10,000 days on deadline, I have decided it is time to take a break."
In an interview with this writer when he was still with CBS, Reaves sent signals that he wasn't entirely happy at the network news level. In fact he seemed pretty miserable back in 1989.
" 'Humbling' doesn't even begin to cover it," he said. "It's funny, because you would think it would be this incredible boost to your ego, having been picked. But they sort of re-train you, and so that's pretty humbling."
During his first go-around at WFAA8, "I knew I was pleasing the people I worked for every day," Reaves said. "Here, there's a half-dozen people in New York who go over every word you write and sort of by committee decide whether it's good enough. It seems like when you do get a story on, the stress that you go through is so much greater that it almost takes away the satisfaction . . . There have been many times when I have turned to my wife and asked, 'Why am I doing this?' "
Reaves, a native Oklahoman, could be counted on to bring a light touch to feature stories and a hard nose to the breaking news of the day. He has been a quintessential general assignment reporter, one of the best this market has ever had.
In a Q&A segment attached to his WFAA8 bio, Reaves says that for him, being a success in TV news means "doing my job every day with consistency. Whether it's a fun feature story or a tragedy, I am successful when I make the most of the time I have to produce, and the time I have on the air to tell it."
Whatever the story, he says, "you need a reason in your heart that makes you feel strongly that what we do is important."