Local Nielsen ratings snapshot (Tues., May 25) -- Idol and Dancing dominate while CBS11 closes in on historic 10 p.m. "sweeps" doubleplay
05/26/10 12:52 PM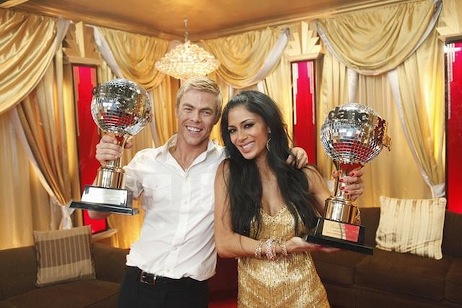 Winning Dancing duo of Derek Hough/Nicole Scherzinger. ABC photo
By ED BARK
American Idol
's final sing-off between Crystal Bowersox and Lee DeWyze powered Fox to a runaway victory in Tuesday's opening prime-time hour before ABC's
Dancing with the Stars
won in total viewers but not with advertiser-coveted 18-to-49-year-olds.
Idol
drew 488,614 D-FW viewers in thumping CBS' runner-up season finale of
NCIS
(278,238 viewers). The 18-to-49 crown also went to
Idol
, with the first hour of NBC's
Biggest Loser
closer sliding into second place ahead of
NCIS
.
Based on Tuesday night's performance, Bowersox should be
Idol
's Season 9 champ when Wednesday's verdict comes in. She blew away DeWyze, who looked cowed and throughly defeated in the end. But their two support camps might already be set in cement. In that case, DeWyze gets a prize he doesn't deserve -- and knows it.
Dancing
, which crowned Pussycat Doll Nicole Scherzinger and pro partner Derek Hough, won the 8 to 10 p.m. slot in total viewers with 373,247. But the hoof/puff extravaganza bombed in its opening hour with 18-to-49-year-olds.
From 8 to 9 p.m.,
Dancing
ran fourth in this key demographic behind NBC's pace-setting
Biggest Loser
, Fox's
Glee
and CBS'
NCIS: Los Angeles
. The concluding 9 to 10 p.m. hour of
Dancing
then vaulted into the top spot with 18-to-49-year-olds, besting NBC's second place
Parenthood
, CBS'
The Good Wife
and Fox4's local newscast.
In local news derby results, WFAA8's 10 p.m. edition badly needed a big number after coming off a major lead-in advantage from the final 15 minutes of
Dancing
. It didn't get it.
WFAA8 instead lost a big hunk of its inherited audience while barely beating CBS11 in total viewers. The score was 244,307 to 230,734.
Among 25-to-54-year-olds -- the main advertiser target audience for news programming -- WFAA8 fell to second place behind CBS11. That score was 113,553 to 92,070.
With just Wednesday night remaining in the 20-weeknight May "sweeps," CBS11 is solidly positioned to take the golds in both ratings measurements for the first time in its history. It leads WFAA8 by one-tenth of a point in total viewers and by two-tenths of a point among 25-to-54-year-olds, where WFAA8 also trails NBC5. A likely strong lead-in from Wednesday's season finale of
CSI: NY
obviously won't hurt CBS11's chances. WFAA8 will have to sink or swim with ABC's three-hour presentation of the well-worn
Transformers
movie while NBC punts on closing night of the sweeps with a
Law & Order: SVU
repeat.
At 6 a.m., NBC5 leads Fox4 by one-tenth of a point in both ratings measurements at the 19-day mark. So it's looking pretty good for the Peacock, which won in both ratings measurements on Tuesday.
The 5 and 6 p.m. golds among 25-to-54-year-olds will go to Fox4. That's a considerable sweeps achievement in time slots that WFAA8 used to dominate. Fox4 won at 5 p.m. Tuesday, with CBS11 on top at 6 p.m. But Fox4 already is safely home, particularly at the later hour.
WFAA8 has the 5 p.m. total viewers race locked up, and leads CBS11 by one-tenth of a point at 6 p.m. CBS11 won by a fairly commanding margin at 6 p.m. Tuesday, and has been closing in fast by winning three consecutive weekdays. So it may not be quite over yet.
Also of note: No single station is dominating any of the four principal newscast races. In fact the biggest lead in any time slot belongs to Fox4, which leads WFAA8 at 6 p.m. by four-tenths of a rating point (just 12,276 viewers) in the key 25-to-54 demographic.
WFAA8 likely will end the May "sweeps" with no wins among 25-to-54-year-olds. WFAA8 management issued a statement after the November sweeps saying that this is the only audience demographic that matters to any station. WFAA8 won November in the 25-to-54 measurement at both 6 p.m. and 10 p.m.